Longtime readers know I invest almost exclusively in megatrends…
I'm talking about trends so massive they reshape society…
Impact millions—even billions—of people…
And hand out massive profits in the process.
We've profited off some of the world's top megatrends right here in the RiskHedge Report with exciting sectors like genomics, solar, edge computing, and more.
But today, I'll show you the most unstoppable one I've ever written about.
While some megatrends last years—this one will hand out big returns for decades.
It's the kind of no-brainer sector you can invest in today and forget about for 5 years.
I'm talking about cybersecurity.
Cybersecurity companies protect companies, governments, and other organizations from hacks and other forms of cybercrime.
The service they provide is critical to our modern digital world.
Cybercrime is projected to cost the global economy $6 trillion USD globally in 2021.
That sum of money alone would be the world's third-largest economy after the US and China…
And that figure will only swell in the years to come!
It seems a week doesn't go by these days without a major hack.
In March, Microsoft (MSFT) was the victim of a state-sponsored cyberattack by Hafnium, a Chinese hacking group. Over 30,000 organizations were affected by this breach.
The following month on April 3, 533 million Facebook (FB) users had their personal information leaked to a hacking forum after the website was hacked.
Do you remember the "panic at the pumps" earlier this year? In May, the Colonial Pipeline, which delivers around 45% of the fuel consumed on the East Coast, was shut down by a cyberattack. It sent gas prices through the roof.
And just a couple weeks ago, Fox reported that the US State Department was hit by a "possible serious breach."
Unfortunately, we'll likely see far more breaches like these in the coming years.
In the United States, more than half of the adult workforce now works remotely.
According to Pew Research, 57% of people working from home use instant messaging platforms such as Slack or Google Chat to communicate with their coworkers. 80% use programs like Zoom or Webex to converse over a video call.
Most of these people deal with sensitive information while working.
Having employees working from home exposes far more vulnerabilities in a company's network. More than ever before, private data must travel over the internet to reach employees who aren't working from a secure office server.
Global data usage was already surging. Now, it's poised to skyrocket: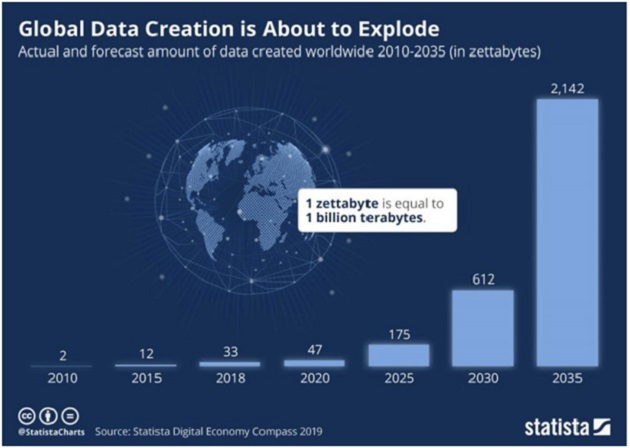 Source: Statista
As you can see, the amount of global data is set to spike more than 45X between now and 2035! As data increases, the need for data protection will too.
The threat of cybercrime has never been higher…
Companies are shelling out big bucks to protect their data and customers.
Two weeks ago, Microsoft announced that it's going to spend $20 billion on cybersecurity over the next five years. That's billion with a "B."
And Microsoft is far from alone.
Fellow tech giant Google (GOOG) recently said it will invest $10 billion over the next five years to expand "zero-trust" programs to enhance its open source security.
Implementing these programs will ensure that every transmission of data will be verified and vetted.
IBM (IBM) is also hopping on this trend. It plans to train 150,000 people in cybersecurity skills over the next three years.
Tech giants aren't the only ones prioritizing cybersecurity…
On August 25, President Biden met with private sector and education leaders to discuss how to address cybersecurity threats.
Biden held this meeting because in his view, "US public and private sector entities increasingly face sophisticated malicious cyber activity." He even went as far as to call cybersecurity "a national security and economic security imperative" for his administration.
All this means one thing for cybersecurity companies: explosive growth that is virtually guaranteed to accelerate.
All told, the global cybersecurity market is projected to grow nearly 11% per year over the next seven years.
In contrast, the International Monetary Fund (IMF) expects the global economy to expand by 6% in the next year.
In other words, the cybersecurity market is projected to have nearly double the growth of the global economy!
You can easily make money off this unstoppable megatrend by investing in the ETFMG Prime Cyber Security ETF (HACK).
This fund invests in a basket of cybersecurity companies, including Cloudflare (NET)—which has handed my IPO Insider readers nearly 600% profits since we added it to the portfolio less than two years ago.
As you can see below, HACK just broke out of a multi-month trading range. The last time this happened, it rallied nearly 50% over the next six months: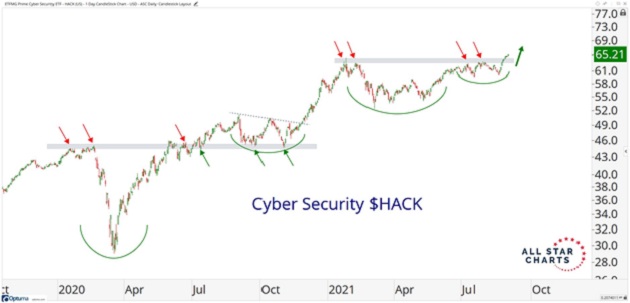 Source: All Star Charts
In other words, cybersecurity stocks are likely in the early innings of another major move higher.
Consider buying HACK to profit off this unstoppable megatrend.
Justin Spittler
Chief Trader, RiskHedge