"What game are you watching?"
My dad asked my brother this a few weeks ago.
I laughed before explaining to my dad that my brother wasn't watching a game.
He was playing a video game called NBA2K20.
To be fair, I can see why my dad confused NBA2K20 with the real thing. The graphics are breathtaking...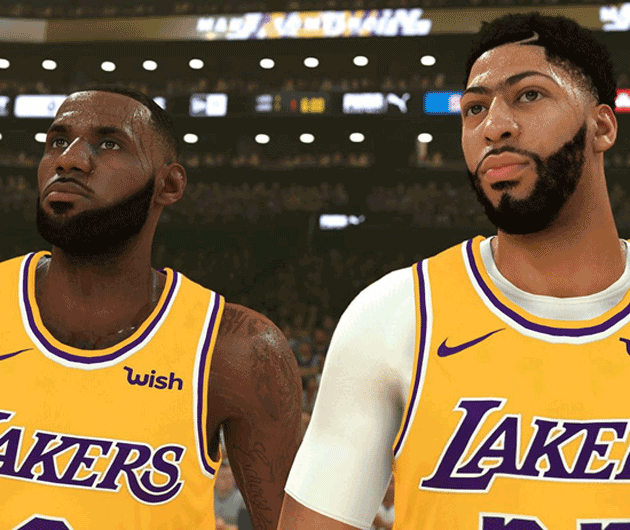 Source: venturebeat.com
Video games have come a long way…
Here's what GoldenEye 007—one of the most popular games from my childhood—looked like 20 years ago.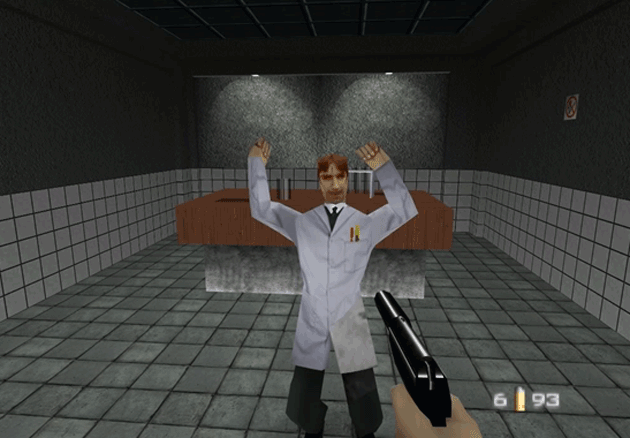 Source: JOE
The difference between this and today's video games is night and day!
Of course, you may not be interested in playing video games.
But that's no reason to ignore this technological breakthrough.
You see, the same cutting-edge technology that transformed video games is powering today's most promising megatrends.
Megatrends completely reshape society…
They impact millions of people, sometimes billions.
And they play out over many years.
The rise of the internet, the "digitization" of money, and the rapid growth of social media are among the biggest megatrends of the last three decades.
Looking ahead, the Internet of Things (IoT), 5G, self-driving cars, and virtual/augmented reality will define the next 20 to 30 years.
They transform the world in ways we can't even fathom…
And there's one technology that connects these trends together: semiconductors.
Semiconductors are the "brains" of modern electronics…
They're how computers search, process, and deliver information.
They're why today's iPhone has far more computing power than all of the computers used by NASA to put Neil Armstrong and Buzz Aldrin on the moon in 1969!
But semiconductors aren't just in computers and smartphones these days. They're now in everything from pacemakers to "smart" lightbulbs to the Alexa in our kitchen.
And this trend is only strengthening.
The world is becoming more "connected" by the day. According to Statista, more than 75 billion Internet of Things (IoT) devices will be online by 2025. That would represent a three-fold spike from today!
That's a big reason why semiconductor demand for "smart watches" is growing 24% per year.
But the IoT will be much bigger than just Fitbits, Alexas, and smart thermostats.
Entire cities will eventually be "smart." Our cars will "talk" to other vehicles on the road, traffic signals, and even devices in our homes.
Of course, none of this will be possible without the latest semiconductors.
According to the renowned research firm Gartner, the number of semiconductors in vehicles will grow nearly 50% between now and 2022.
5G will also require massive amounts of high-performance semiconductors…
5G is short for fifth-generation wireless technology. It will be 100x faster than 4G, which is what most cell phones run on today.
Like IoT, this lightning-fast cell network would be impossible without semiconductors.
The same goes for virtual reality (VR) and augmented reality (AR). In fact, semiconductor demand for head mounted displays is already growing at more than 35% per year! And it's still the very early days for VR and AR.
I could go on and on. But you get the point.
Every one of today's megatrends depends on semiconductors…
That makes semiconductor stocks one of the surest long-term bets in an uncertain world.
So, it shouldn't come as a surprise that semiconductor stocks have been top performers for years.
The VanEck Vectors Semiconductor ETF (SMH), which invests in a basket of semiconductor stocks, has climbed 13% over the past 12 months. The S&P 500 is down 6% over the same period.
That's impressive strength. But the best semiconductor stocks have delivered even bigger gains.
Nvidia (NVDA) is one of the top-performing stocks of the last decade…
Nvidia is a revolutionary semiconductor company. It invented the graphics processing unit (GPU).
This specialized microchip revolutionized video graphics. It's a big reason why today's video games look so lifelike!
But GPUs do much more than supercharge the video game experience…
They also power personal computers. The laptop I'm writing this essay on is powered by a Nvidia chip.
Facebook (FB) also uses GPUs in its facial recognition and image classification systems.
Waymo—a self-driving car company owned by Google (GOOG)—uses Nvidia's chips to "train" the brain of its self-driving car.
Microsoft (MSFT) is using Nvidia's chips to power its edge computing network.
Nvidia is easily one of today's most disruptive companies...
And yet, it's far from a household name. Most investors couldn't pick Nvidia's logo out of a lineup if their life depended on it.
But savvy investors know the stock well.
Nvidia's surged more than 2,400% between 2012 and 2018!
After taking a short breather, Nvidia's stock began surging again in late 2018. It's rallied an incredible 131% since the start of 2019… outpacing the S&P 500 by nearly four-fold during that stretch!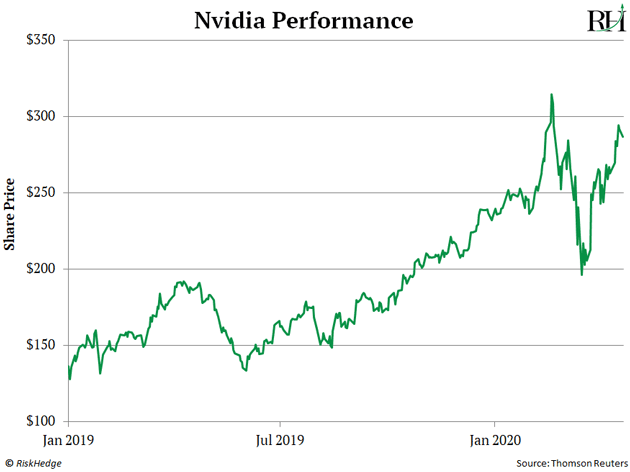 Advanced Micro Devices (AMD) is another "millionaire-maker" semiconductor stock…
Like Nvidia, AMD is a major player in the GPU market. It controls about one-third of this highly lucrative market.
And it manufactures GPUs for the Xbox One and the PlayStation 4, which is the console my brother owns.
AMD is also developing the world's fastest supercomputer called El Capitan. This supercomputer is projected to be "more powerful than today's 200 fastest supercomputers combined!"
El Capitan's primary mission will be to safeguard America's nuclear weapons stockpile.
AMD is a game changer. It's no wonder it's been one of the most explosive U.S. stocks. The chart below says it all.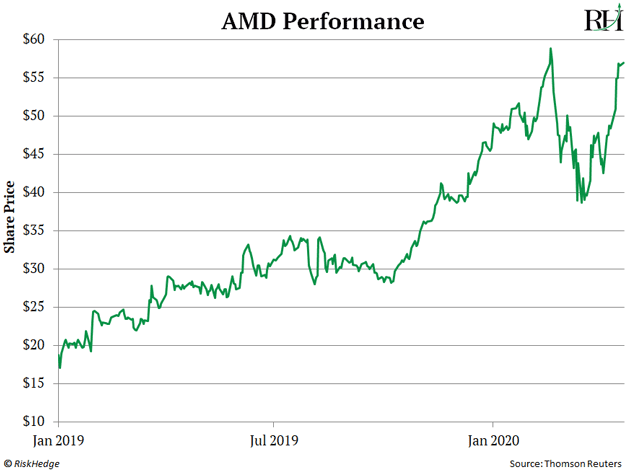 AMD has soared 213% higher since the start of 2019. That was good enough to make it last year's top-performing stock.
These red-hot stocks should continue to crush the broad market for a simple reason…
They're displaying a ton of relative strength.
You can see what I mean below. This chart shows the performance of SMH versus the S&P 500. When the line on this chart is rising, it means semiconductor stocks are outperforming the broad market. When it's falling, it means they're underperforming.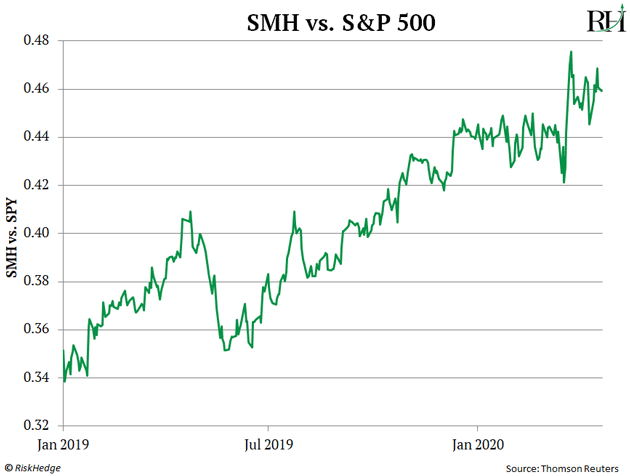 Semiconductors have been leading the market since late 2018. And "leaders" are the only stocks you should own in the turbulent market.
Now, most investors would do fine investing in SMH…
But it's not my job to help you merely beat the market. It's to help you crush it.
And you do that by buying the best stocks in the strongest sectors.
Nvidia and AMD are certainly among today's top semiconductor stocks.
You should also take a look at Inphi Corporation (IPHI).
Inphi is smaller than Nvidia and AMD. But it's laser-focused on one of today's most exciting industries: the booming data center market.
Two-thirds of its business is for high-end data centers. The company helps smaller data centers connect with each other to function as one mega data center.
As you can see below, the stock has performed exceptionally lately.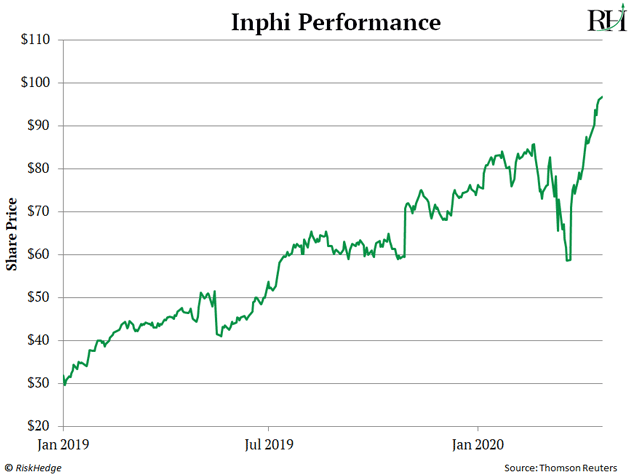 It's rallied 31% in 2020, despite the broad market meltdown. More important, the stock has held its 200-day moving average strongly. So, it's still in an uptrend. And it broke out to all-time highs last week!
Inphi is a leader in every sense of the word. And those are the only stocks you should own in this environment.
Still, I'd wait for the stock to calm down before taking a position. The same goes for Nvidia and AMD.
Investors who do this should set themselves up for big long-term profits.
Justin Spittler
Editor – IPO Insider
Omaha, Nebraska