It was one of my most popular (and controversial) essays to date…
Last summer, I laid out my case for why "college is never coming back"…
Of course, it wasn't the first time I wrote about this idea. That was back in 2019.
But last year made the idea "real" for most people…
COVID was a lightning bolt of disruption that fried the business model of college practically overnight.
At the time, I wrote, "Mark my words… coronavirus will be remembered for transforming college forever."
So… where are we today, over a year later? Was I right… or dead wrong?
Today, I'm sharing an update on the end of college. As you'll see, things are playing out even quicker than I originally thought…
I'll also share a new stock pick to profit off this trend.
First… here's where we stand—in one simple number:
This spring, college enrollments plunged by 750,000.
I repeat: 750,000.
That's the largest decline ever.
As you can imagine, this is terrible for schools that rely on tuitions to keep the lights on. In fact, over 100 colleges shut their doors in the past 12 months.
After hiking prices relentlessly over the past 40 years, many schools are now cutting tuitions to attract students.
North Carolina froze its tuition for the first time in a quarter-century…
Rider University just announced its slashing tuition for new students by 22%...
Fairleigh Dickinson University's cutting tuition by 25%...
Southern New Hampshire University? It's giving students a massive 50%+ discount next year… And offering a free year for freshmen on campus this fall!
Now of course, this won't happen with every school in America. Top schools like Harvard and Yale will always attract elite kids and command huge tuitions. They're "disruption proof."
But the thousands of schools that sell "standard issue" degrees are a dying breed.
I predict at least half of the 6,000 middle-of-the-road US colleges will go bust in the next decade.
Think of them as the new department stores. You know how unspecialized, middle of the road retailers like Macy's and Sears are dying off? The same disruption will eat no-name colleges dotted across America.
Now, I know what you're thinking…
"If my kids don't go to college, then what will they do?"
College critics could never answer this question… until now.
Professionals like mechanics and chefs don't typically get degrees. Instead they learn through apprenticeships, a few years of on-the-job training.
"Vocational training" for engineers or computer coders never existed.
Now that's changing.
Software developers are one of the highest paying jobs in America. The average coder earned $107,000 last year, according to Glassdoor.
Google will train you to become a data analyst—a job with a median yearly wage of $66,000. You can also learn all the skills to be a "user experience" designer. These folks get paid over $80,000 a year.
And here's the kicker… these courses take roughly six months to finish and only cost a few hundred bucks. Best of all, Google "will consider [its] new career certificates as the equivalent of a four-year degree."
In other words, you don't have to bury yourself in student debt to get a job at Google. Now you can "qualify" for a high-paying job in less than a year!
If you can earn $80,000 after taking a $300 course, then what's the future of the $50,000 four-year degree?
Several of America's top companies like Walmart… Intel… Sprint… and Bank of America have jumped on board too. They recognize a Google Career Certificate as the same as a college degree.
This is the future of education.
Google is a household name. Its certificates can be recognized across the world. In fact, they are worth more than a degree from some middle-of-the-road college.
It's silly to think certified colleges are the only ones who can offer an education. I stopped believing in the magic of college when the free YouTube lectures I watched were better than the ones I paid thousands of dollars for.
Here's a way to profit from the disruption of education.
Despite all the stats I just showed you…
Students unenrolling from traditional colleges at a record pace…
Colleges all across America slashing tuitions…
The disruption of college is still in its early innings.
As learning moves from dusty lecture halls into the real world, many companies will continue to eat away at colleges' monopoly on formal education.
Names like 2U (TWOU) and Coursera (COUR) could end up being big players. 2U, for example, runs online classes for 73 of the world's best colleges including Yale… Cambridge… Georgetown... and NYU.
It's only a matter of time before online disruptors like 2U or Coursera start offering their own degree courses.
But one stock I really like today to play this trend is Duolingo (DUOL).
If you've never heard of Duolingo, it's the world's best way to learn a language. You can download its app for free and learn Spanish, French, Japanese, or dozens of other languages.
It turns learning a language into a fun game where you answer questions, speak into the phone, and translate sentences.
I used it to learn Spanish when I lived in Argentina and I loved it. I know dozens of folks who've used it to learn languages without ever stepping foot inside a classroom.
Right now, roughly 1.2 million college students in American are studying foreign languages.
But I believe more and more will ditch the traditional college classes and start using apps like Duolingo.
Duolingo is growing rapidly. Its app has been downloaded over half a billion times. It now has over 40 million active users.
And it grew revenues 47% last quarter to a record $60 million.
Duolingo IPO'd back in July, and it's been on a tear ever since—jumping 20% to a record high this month.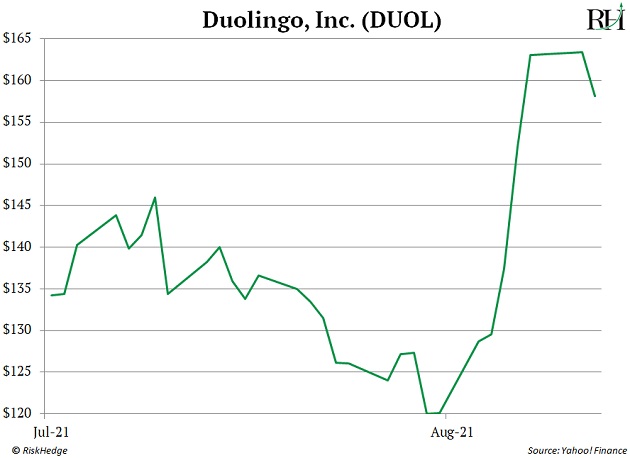 Colleges used to have a monopoly on education.
They don't anymore.
Duolingo is one of the companies leading the shift away from traditional college… and one to consider for your portfolio today.
What do you think of how college works in America today? Let me know at Stephen@riskhedge.com.
​Stephen McBride
Editor — Disruption Investor