What do an iPhone and Nike sneakers have in common?
Both are made by iconic American companies...
But both are made in China.
American goods used to be made in the good old US of A…
Then cheap labor transformed China into the "world's factory."
Today we get 80% of our air-conditioners… 70% of TVs… and 60% of shoes from China.
But there's one disruptive area that America still dominates…
One that could produce huge stock market profits... OR huge losses... depending on how America's trade war with China shakes out.
Computer chip manufacturing is one of the last great "made in the USA" industries.
As regular RiskHedge readers know, computer chips serve as the "brains" of electronics like your phone and laptop.
These days, chips are no longer just in computers and phones. They're part of everyday life.
Not long ago there was only a handful of chips inside the average car. Remember when you had to crank a knob by hand to roll your car window up?
Thanks to computer chips, that's all changed. There are 1,500 computer chips packed into a Tesla Model 3 electric car, according to investment bank UBS.
Total spending on chips has surged 15x over the past decade...
American companies control over half of this colossal $469 billion market.
Companies like Intel (INTC)… Qualcomm (QCOM)… and Nvidia (NVDA) dominate in computer chips.
As the use of computer chips has exploded, so too have their revenues.
Since 2009 Intel's revenue has more than doubled. While Nvidia's has surged 240%... and Qualcomm's has jumped 120%.
According to the Semiconductor Industry Association (SIA), computer chips are the US' third largest export.
No country has been able to challenge America's superiority in computer chips. The reason is their complexity. Computer chips are one of the most complicated and costly things on earth to develop.
It took American companies decades and hundreds of billions of dollars to master chipmaking. It will likely take another decade, at least, for any other company to catch up.
Despite their stranglehold on the market, US chipmakers have a big vulnerability…
According to SIA, they get over 80% of their revenues from other countries.
Worse, more than half comes from China.
China is by far the world's largest buyer of computer chips. According to "Big 4" accounting firm PWC, it bought almost 60% of all the computer chips America produced last year!
China spent $260 billion on computer chips in 2018. It now spends more on buying chips than it does on oil... which is astounding when you consider it's also the world's #1 buyer of oil.
It's scary how reliant many American chipmakers are on China...
Radio-frequency firm Skyworks Solutions (SWKS) gets 84% of its revenues from China
Chinese companies account for close to two-thirds of 5G leader Qualcomm's sales.
And graphics chip leader Nvidia (NVDA) gets 44% of its sales from China.
Doing business in China has been great for these companies. It's been a main source of their tremendous sales growth over the past decade.
But with the "trade war" between the US and China getting worse, worried investors are dumping their stocks, as you can see here: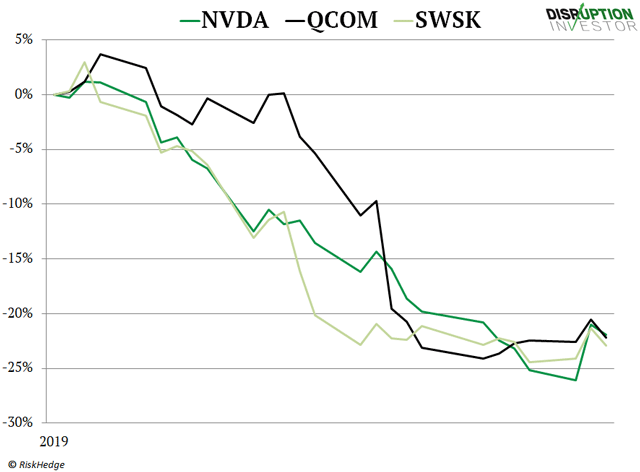 But... this is a MUCH bigger problem for China than for the US.
In short, China's largest and most important companies have a hopeless dependency on US chips.
As I mentioned last week, smartphone giant Huawei spent $20 billion on US chips alone last year. Almost every phone it makes runs on American chips.
China needs US chips, and the US Government knows it. That's why Trump is using it to twist China's arm in trade tasks...
Last summer, the US ordered a ban on chip sales to phone maker ZTE (ZTCOY).
Without access to US chips, ZTE had to shut down production.
When I say "shut down," I mean literally. Its factories had to stop making phones.
ZTE, which employs over 75,000 people, was dead in the water without US chips.
Its stock plunged 55% in weeks. ZTE was on the verge of going out of business until the White House lifted the ban a couple weeks later.
As you might know, China has its own versions of many big American companies.
Baidu (BIDU) is China's Google. Alibaba (BABA) is China's Amazon. China Mobile (CHL) is China's AT&T.
All three are massive buyers of US chips. The US Government knows it can suffocate them by cutting off supply. Look at how their stocks have crashed lately as trade talks have fallen apart.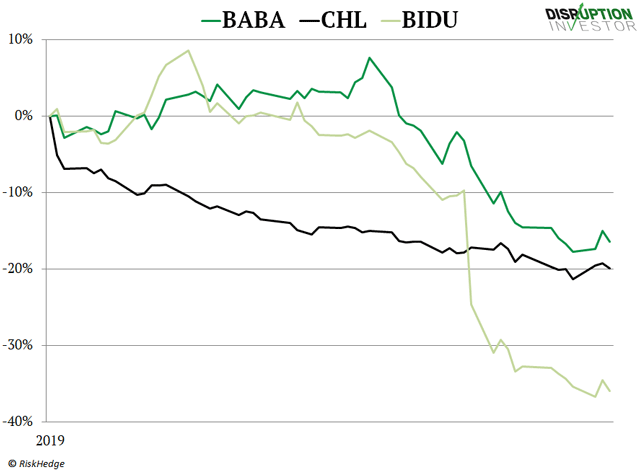 Chip stocks will continue to fluctuate wildly as long as the trade war drags on.
When a US-China trade deal looked to be headed in the right direction late last year, the US chip ETF (SOXX) shot up 48%.
But since talks fell apart in late April, it's plunged more than 15%.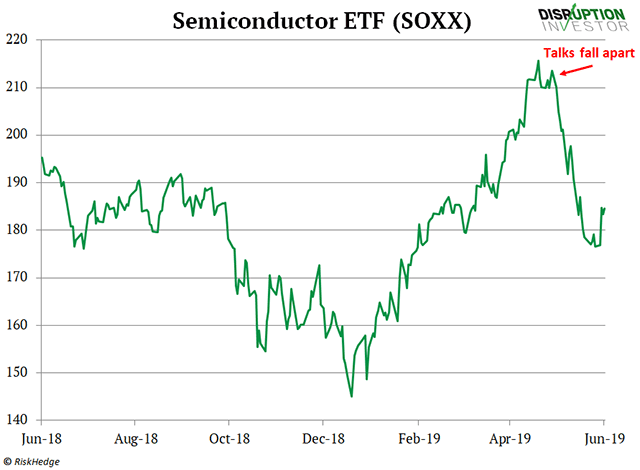 With such a huge chunk of their businesses linked to China, little will change until a deal gets signed.
Until then, I'm being cautious with American chip stocks and avoiding the Chinese companies dependent on them altogether.
Why invest in a company that could be crippled at a whim of a politician?
On the other hand... there's hope this may help the US and China arrive at an agreement sooner than later.
China NEEDS American computer chips. There's no way around it. The optimistic take is that it has little choice but to "play ball" with America to get trade flowing more freely again.
That's all for this week.
Are you worried about the recent selloff in the markets? Tell me at stephen@riskhedge.com.
Stephen McBride
Editor – Disruption Investor
Stephen McBride is editor of the popular investment advisory Disruption Investor. Stephen and his team hunt for disruptive stocks that are changing the world and making investors wealthy in the process. Go here to discover Stephen's top "disruptor" stock pick and to try a risk-free subscription.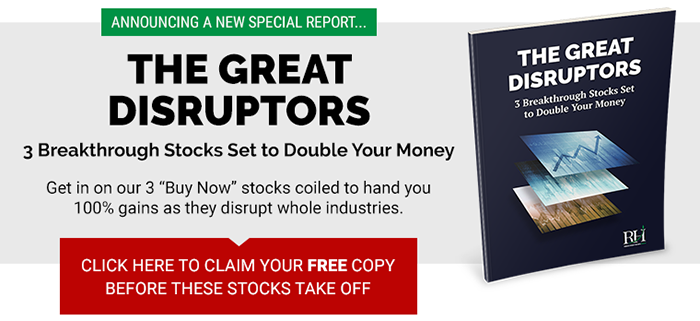 Reader Mailbag
Disruption Investor subscriber C.W. has a question about plant-based meat company Beyond Meat (BYND). Its stock has shot up 320% since its IPO on May 2.
Stephen, is it too late to get onto the "Impossible Burger" bandwagon? I believe there will be a big shift away from eating animals.
C.W, thanks for your question and for being a Disruption Investor subscriber.
As I mentioned, Beyond Meat's stock has been on fire. I haven't done much work on it, but it's easily one of the most expensive stocks I've ever seen.
Right now, it trades for an outrageous 55-times sales. For perspective, Amazon (AMZN), a stock that many consider "overvalued," sells for 3.7-times sales.
Keep in mind, the food business is notoriously unprofitable. Profit margins are typically in the low single-digits. So it's unlikely the company will be raking in cash anytime soon.
It's hard to justify buying any stock for 55-times sales, let alone one that's in a bad business.
Most importantly, you should know I'm a carnivore. I'll stick with my real ground beef patty for now!