Here we go again…
The stock of movie theater chain AMC Entertainment (AMC) just skyrocketed out of nowhere...
Jumping as much as 127% in one day last week: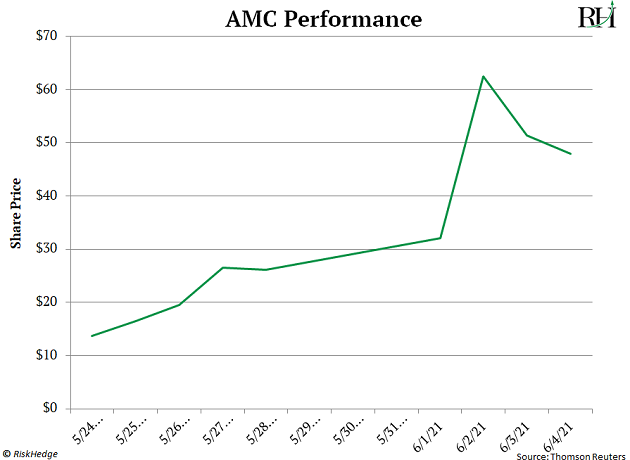 This would be an extraordinary move for any stock.
For AMC, it seems downright crazy...
According to CNBC, movie ticket sales in the US fell 80% in 2020. AMC lost $4.6 billion last year, thanks largely to COVID.
But AMC was bleeding cash long before the pandemic. In 2019, it lost $149 million.
That's because AMC's core business of selling movie tickets is being permanently disrupted by a devastating one-two punch:
Streaming video lets anyone watch almost anything from their couch.
And high-quality TVs have gotten so ridiculously cheap that almost anyone can afford a beautiful 65" flat screen that puts movie theaters to shame.
And yet…
AMC is the top-performing stock in America this year... up an astonishing 2,160%.
Now, if this sounds familiar, it should…
AMC pulled a similar move less than 5 months ago...
Back in January, shares surged 300% in one day… and a mind-boggling 870% in 3 weeks!
So… why is AMC suddenly soaring... again?
It has nothing to do with America reopening…
Or the newly released box office hit "A Quiet Place Part II"…
No… AMC went ballistic for the same reason as before:
An army of young traders are using social media to pump it up…
In short: Thousands of traders flocked to Reddit forum "WallStreetBets" and touted AMC, convincing anyone they could to buy the stock…
All in an effort to stick it to the big hedge funds that bet against AMC.
AMC is rewarding these traders with free popcorn:

And it's not just AMC exploding…
GameStop (GME), the dying video game retailer, has erupted this year.
It's the second best-performing stock in America, up 1,270%!
BlackBerry (BB)—remember them?—has jumped 111%.
Build-a-Bear Workshop (BBW) is up 282%.
Up until this year, we've NEVER seen anything like this.
Newbie retail investors banding together to pump stocks…and it actually working?
Now it's happened twice in 5 months. And we believe this is just the beginning (Chief Trader Justin Spittler explains why in tomorrow's RiskHedge Report, stay tuned).
But now—investors are wondering—how can they profit from this?
Folks, that's the wrong question.
Don't waste your time and money trying to front-run the next high-flying "meme stock."
As I explained earlier this year, AMC… GameStop… BlackBerry are what we call "bottle rocket" stocks.
In other words, they may shoot up fast.
But because their underlying businesses are poor, they're practically guaranteed to come crashing back to Earth.
Take GameStop: After soaring earlier this year, it went on to fall 85% in a month: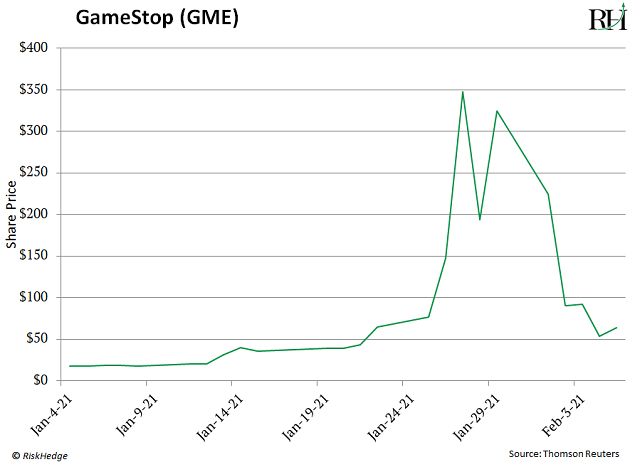 AMC has already fallen 27% since Wednesday's big rally.
Unfortunately, many investors see these stocks soaring in the news and decide they want in on the "easy money."
So they pour in money blindly... and get burned.
Please: DON'T chase bottle rocket stocks.
Ask yourself: Would you be comfortable owning these stocks 6 months from now?
The answer is no. Their businesses are likely on their way to zero.
Now, we know some investors don't care about that. They just want to gamble. And get involved in this exciting story.
If that's you... please make sure you keep your position sizes in these stocks small. You should be prepared to lose your entire investment.
And keep in mind, there will be another AMC and GameStop...
For one simple reason:
As RiskHedge Chief Analyst Stephen McBride showed us recently, "kids" are taking over the stock market.
Stephen:
Young investors piled into stocks like never before in 2020.
Online broker Charles Schwab gained a record 4 million new clients last year. More than half of these new investors are under 40.
In fact, Americans opened 10 million new brokerage accounts in 2020. And more than half of them came from Millennial favorite Robinhood. As you may know, Robinhood is a disruptor in the world of finance. It pioneered zero-fee trading. And its smartphone app allows you to buy and sell stocks at the swipe of a button.
The disruptor now has over 15 million clients, and their median age is 31. Guess what age the average Millennial will turn this year? 32.
What happened with AMC and GameStop is a big deal. It shows these young investors can move markets. And this force is 100% here to stay.
Here's the main takeaway:
A whole new generation—the largest and most educated generation in American history—is coming into the stock market for the first time, together.
Again: This does not mean you should buy dangerous bottle rocket stocks…
But it DOES mean you should prepare yourself, and start buying the right stocks as this massive shift kicks into high gear.
I'm talking about stocks that can set you up for generational wealth… not just "flash in the pan" riches like AMC and GameStop.
Here at RiskHedge, we focus on "disruptor" stocks…
Disruptors are companies that create and transform entire industries.
In other words, disruptors invent the future. (That's the opposite of what AMC and GameStop are doing.)
Amazon was a disruptor. It forever changed the way people shop. Its stock has soared an incredible 207,238% since its IPO in 1997.
Netflix was a disruptor. It forever changed the way people watch TV and movies. Its stock has soared 49,000% since 2002.
And now, Stephen says you can buy the next 3 world-changing disruptors at a discount while there's still time.
Stephen says not only are these the companies that will lead the great Millennial Stock Market Revolution…
They're poised to rule the stock market for years to come.
You could see 5X─10X gains in as little as 24 months…
As 75 million Millennials with trillions in new wealth become an unstoppable force for change.
See all the proof for yourself here.
Chris Reilly
Executive Editor, RiskHedge