Remember booking vacations before the internet?
What a pain.
It was near impossible to get cheap fares…
The only way to find out which airline flew where was to pick up the phone and call it…
And choosing the perfect hotel involved a lot of flicking through glossy brochures.
The "Do It Yourself" approach was a huge hassle. It was a heck of a lot easier to hire a knowledgeable travel agent.
Then online disruptors like Expedia (EXPE) and Priceline (BKNG) came along...
In a way, these companies created the world's greatest travel brochures.
With a few clicks, you could compare any flight or hotel in the world.
For the first time ever, you could find all the special deals and hidden gems only travel agents knew about.
Since 2000, more than half the travel agencies in America have shut their doors. Meanwhile Priceline made investors rich. Its stock shot up 25,000% in the past two decades: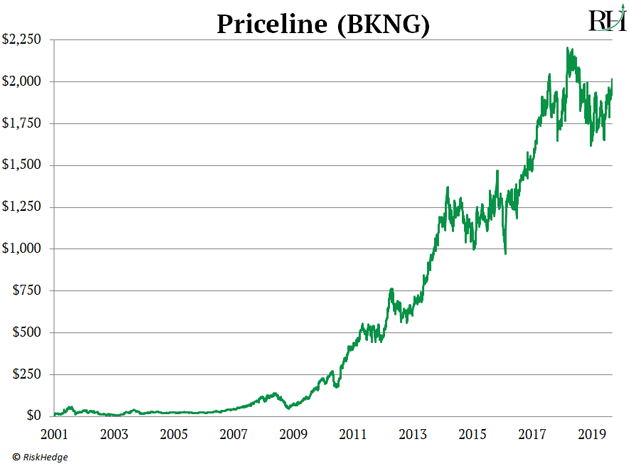 Expedia has surged "just" 900% since 2005.
Think of disruption as a heat-seeking missile...
But instead of blowing up "bad guys", it hunts down "middlemen" like travel agents.
And stockbrokers.
I'm sure you remember having to call up a broker every time you wanted to buy or sell stocks.
Research from Columbia Business School shows brokers charged $49/trade on average back in 1975!
Stockbrokers were the world's best-paid middlemen. Today they're dying off.
These days, most folks never talk to a broker. There's no need to, when you can trade a stock for $5 or less on E*TRADE, Schwab, or a dozen other platforms.
Since 2012, E*TRADE stock has shot up 450%, and Schwab has more than doubled.
But middlemen still dominate one mammoth-sized market...
Roughly $900 billion worth of real estate changes hands every year in America.
For many folks, buying a home is the biggest decision of their lives.
What is the neighborhood like?
Are the schools good?
How far is the drive to work?
Before the internet, we had to get the answers from a real estate agent.
But just like booking vacations and buying stocks, you can now "do it yourself" on the internet.
Websites like Zillow (ZG) and Trulia make it easy—and free—to research any house or neighborhood.
In fact, more than half of Americans now find their homes online, according to the National Association of Realtors (NAR).
BUT... closing the deal is a whole different story...
The same NAR report found 9 in 10 buyers hire a real estate agent to craft and submit an offer.
A Zillow study found less than a third of sellers who don't use an agent end up closing a deal.
In other words, buyers and sellers can get to the "one-yard line" without much help.
But deals rarely get done unless an agent is acting as middleman.
And if you've ever bought or sold a house, you know real estate agents take a fat slice for themselves.
The seller typically has to fork over 3% of the closing price to each of the buying and selling agents.
If the same agent is working for both sides, they get 6%. They earn a $30,000 check for closing a $500,000 deal!
Now look, a great real estate agent should not be taken for granted. They arrange open homes… negotiate you a better price… guide you through the legal process.
But in 2019, charging a 6% fee for connecting buyers and sellers is highway robbery.
It's no wonder real estate agents raked in $55 billion in fees in 2018!
Research from the NAR shows the average agent closes seven deals and earns $50,300 per year.
That's a pretty sweet gig. Sell one house every other month and you make an okay living in many parts of the country.
Why can realtors still charge such sky-highs fees?
There are no rules against buying or selling a house without an agent.
In fact, online platforms like Zillow have made it easier than ever to list your own home on the market.
But direct sales haven't caught on. You see, real estate agents will sometimes skip showing your house to a buyer if the listing doesn't offer a full 5–6% commission.
In fact, a 2015 study found that homes offering a commission of less than 1.5% to the buyers' agents took 12% longer to sell. And they were less likely to sell at all.
In other words, some agents blacklist sellers who don't "play ball."
But a crop of disruptors are starting to crack realtors' monopoly.
Ever hear of Opendoor? It's a $3.8 billion Silicon Valley "start-up" that will buy your house.
It uses a combination of software and a team of 50 human evaluators to assess a home's value.
Type your address into Opendoor's website, submit a few of photos, and it will make you an offer within a couple of days.
No open houses, negotiation, or waiting months for the buyer to come up with the money.
In fact, the average closing time from the first offer is less than 20 days!
In the first six months of the year, the company bought and sold over 15,000 homes in 20 US cities. It plans to expand to more than 50 cities by the end of 2020.
Zillow is getting into the house-flipping business, too. In the first six months of the year, it's snapped up close to 3,000 homes.
Online buyers are making real inroads in some big markets. In Phoenix, online buyers including Opendoor bought about 5% of houses for sale last year.
For now, these firms are charging realtor-like fees in the range of 6–8%. But there's no question they'll slash their fees as they expand.
Think about it… online buyers can automate much of the work of real estate agents.
Over time, this will cut the costs of selling homes. And that will pass some of those savings onto homebuyers and sellers.
Online homebuyers are part of what I call "America Online 2.0"
Recent figures from Pew Research show more than 310 million Americans used the internet in 2018. Last year, they spent half a trillion dollars online.
But did you know 90% of spending still happens offline?
In other words, almost everyone is online... but most of the money isn't.
Over the next decade, internet companies will claim a far larger share of our spending.
And real estate is ripe for disruption...
The first crop of online firms, like Zillow and Trulia, gave us access to information.
But the next-phase companies like Opendoor will actually buy your home.
It's still early days in the disruption of real estate. No clear winner has emerged.
But mark my words: the days of paying realtors 6% to sell your home will soon be a thing of the past.
Would you skip using a realtor and buy or sell a house yourself? Tell me at stephen@riskhedge.com.
Stephen McBride
Editor, Disruption Investor
Stephen McBride is editor of the popular investment advisory Disruption Investor. Stephen and his team hunt for disruptive stocks that are changing the world and making investors wealthy in the process. Go here to discover Stephen's top "disruptor" stock pick and to try a risk-free subscription.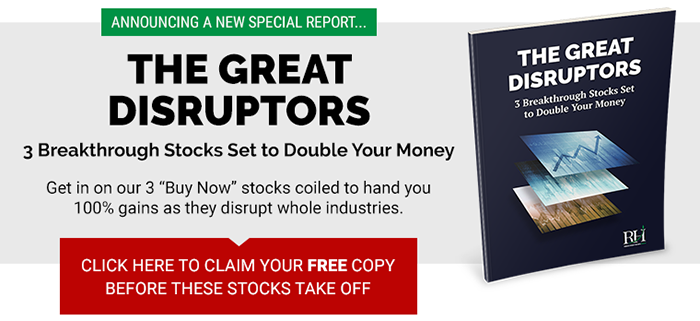 Reader Mailbag
In response to last week's letter about marijuana stocks RiskHedge reader Dave asks:
"Stephen, thanks for another great article.
I understand and agree with the assertion that Cannabis planting and harvesting in a legal market is likely to be as profitable as other agricultural commodities.
However, you did not address other value added lines of business around Cannabis which could generate higher returns, such as pharmaceuticals or cigarette production. How do you see these other lines of business contributing to the returns of Cannabis stocks?"
Dave, you're right. In the boardroom of every tobacco, alcohol, pharma, and packaged food company, execs are likely discussing how to capitalize on the red-hot cannabis trend.
We're likely to see everything from cannabis-infused vodka to CBD cough-drops. I'm sure this will boost industry-wide revenue. But I don't see it giving a meaningful boost to the bottom line of cannabis producers. No matter how many different "end uses" there are, it's almost impossible to sell commodities like cannabis for big markups.