Well, I was half-right…
Back in July, I said I'd be very surprised if NFL or college football games happened this fall.
I also shared my top stock set to "shoot through the roof if football got canceled."
Turns out, football's back on.
But it hardly matters…
That's because nobody's watching!
As I'll show you in a minute, people are not only tuning out football… they're ditching "live sports" altogether…
And that's provided rocket fuel for the stock I highlighted in July… and one other under-the-radar play I'll share with you today.
Americans aren't watching sports like they used to…
As I mentioned, the NFL—which was supposed to be the "bright spot" for live sports this fall—is struggling to attract viewers. Its TV numbers fell 8% from a year ago.
Remember when people were dying for sports to come back? With the world on lockdown, you'd think ratings would be up… but it's been the complete opposite:
This year's NBA finals averaged just 6.4 million viewers. That's a 51% drop from last year.
This year's Stanley Cup Finals drew 61% fewer viewers than last year, giving it the worst TV ratings since 2007.
The Kentucky Derby horse race also drew 49% fewer eyeballs than last year.
And the final round of the US Open golf tournament had its worst TV audience in over 30 years!
It's gotten so bad that ESPN just announced it's going to terminate 500 workers… or about 10% of its workforce.
This is all part of a much bigger megatrend…
According to digital advertising company The Trade Desk (TTD), about 60% of cable subscribers say live sports is the #1 reason they still have their cable packages.
60%!
If you've been reading RiskHedge, you know things are looking grim for cable companies. "Streamers" like Netflix and Hulu have effectively made cable obsolete.
Last year, there were 181.2 million streaming subscribers in the US. By 2024, Statista expects 100 million more Americans to subscribe to streaming services.
America's love for live sports was the last hope cable companies had for fending off the streamers. Now, with ratings falling off a cliff, cable could be experiencing its final death blow...
Not to mention, you can now watch live sports on streaming platforms like Hulu and YouTube TV.
In other words, the only thing that was keeping cable alive is now crumbling before our eyes.
And a select group of disruptors are set to make investors a killing.
Roku (ROKU) continues to be a big winner…
It's best known for making the small black boxes that plug into your TV. Its devices allow you to easily access Netflix (NFLX) and all your other favorite streaming platforms.
But it's much more than a hardware company.
Like Microsoft (MSFT) did with computers and Apple (AAPL) with phones, Roku has revolutionized its industry by developing its own operating system, which has become the standard for today's smart TVs.
This is why I called Roku one of my top ways to cash in on the cord-cutting megatrend in February.
If you took a position in Roku, nice call. You should be sitting on profits of around 72%.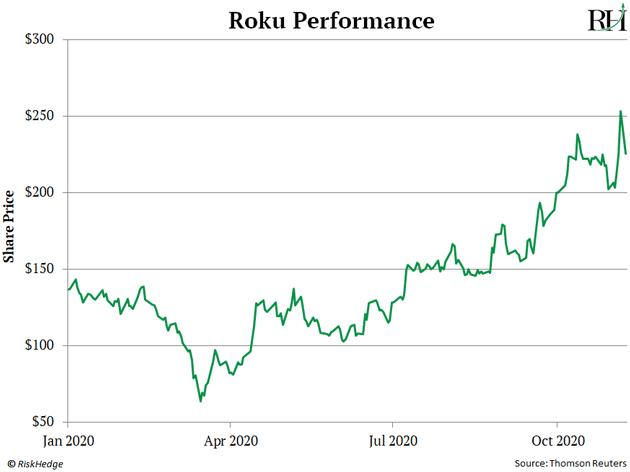 While that's a big move, I still see more upside ahead…
In fact, Roku just released stellar quarterly results last week.
Its sales soared 73% during the third quarter. And the number of hours streamed on its platform soared 54% to nearly 15 billion hours.
Roku spiked 12% on the news on Friday.
Roku isn't the only company cashing in on the cord-cutting craze…
The Trade Desk (TTD) has also been a big winner from this megatrend.
The Trade Desk is a leader in "programmatic advertising," including smart ads on streaming platforms.
So, it shouldn't come as a surprise that The Trade Desk is also making a fortune off the death of cable.
Last quarter, its sales jumped 32%, and cord cutting was a huge reason why. Advertising spending for streaming on its platform has jumped 100% over the past year.
The Trade Desk soared 27% on Friday after reporting phenomenal results. It's now rallied 224% since I encouraged readers to invest last December. It's also rallied an incredible 790% since my colleague and Disruption Trader co-editor Stephen McBride first highlighted the stock in June 2018.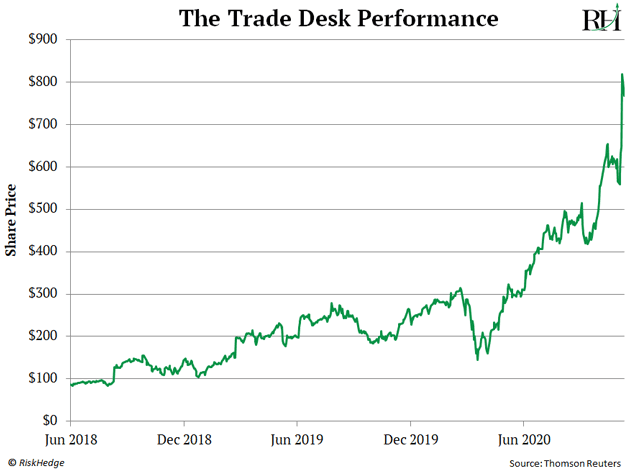 Then there's my colleague Chris Wood's favorite "microcap" play… a streaming ad stock that's surged 278% since April. (Out of respect to Chris's paying customers I can't write the name here.)
The point is, this trend is on fire. And it's just getting started…
84 million American households still have traditional cable…
On average, they pay about $100 per month for cable!
But, with interest in live sports hitting its lowest levels in decades, we expect a lot more people to abandon cable. And we're not alone…
According to industry insiders, 25 million US households will cut ties with their cable providers over the next five years.
This spells massive opportunity for Roku and The Trade Desk. They're excellent ways to profit off cable's final death blow.
Justin Spittler
Chief Trader, RiskHedge
P.S. Roku and The Trade Desk are smart investments today. But as I've shown, they've already run up hundreds of percent. So the big, quick gains are essentially off the table.
However, I've discovered a reliable way to make 70% to 135% in short order—and up to 1,200% in the months following…
All by using my precise method for investing in America's most hated stocks.
Now, this strategy isn't for everyone. But if you're interested in learning more, I reveal all the details in this presentation.