Microsoft (MSFT) belongs on the Mount Rushmore of stocks.
The company has spearheaded some of the biggest technological breakthroughs of the last 50 years.
As a result, its early investors made out like bandits.
Of course, Microsoft's not the only disruptive stock that's enjoyed a meteoric rise.
Apple (AAPL) and Google (GOOGL) are "hall of fame" stocks in their own right.
But these companies have much more in common than just being tech pioneers.
So, what's the No. 1 thing these stocks all have in common?
I'll tell you…
Microsoft, Apple, and Google developed a "secret weapon"…
These weapons allowed them to dominate their industries… touch the lives of billions of people… and make fortunes for their investors.
I'm talking about the game-changing "operating systems" these companies developed.
An operating system is just a fancy term for the software that powers our favorite gadgets. It's the "brain" that powers your computer, tablet, and smartphone.
Operating systems brings our applications to life. Without them, our smartphone wouldn't be smart. Our computers wouldn't be able to do many of the incredible things they can do today.
But here's the thing…
Many technology companies have developed their own operating systems…
But very few of these companies are global dominators like Microsoft, Apple, and Google.
The difference is that these three tech giants built operating systems that became "industry standards." In other words, their systems weren't used by thousands or even millions of people. Billions of people used them!
But don't worry if you weren't an early investor in these companies. Today, a widely overlooked company has developed the next "hall of fame" operating system. In other words, it's following the same "script" as Microsoft, Apple, and Google. And there's still time to cash in on this stock before the masses realize what a gold mine they're sitting on.
But let's take a closer look at how Microsoft, Apple, and Google revolutionized the world.
On August 24, 1995, Microsoft released Windows 95….
This operating system forever changed the personal computer industry.
Prior to Windows 95, using a computer was a chore. You basically had to know how to write code to use one.
Windows 95 made the experience much more user-friendly. It allowed you to see all your apps at the bottom of the computer, which made multi-tasking easier than ever. It also made it easy for people to play games on their computers.
Today, these features are standard. We take them for granted. But they were cutting-edge when Windows 95 came out.
But Windows 95 wasn't just a game-changer for PC users. It was also the best thing that ever happened to Microsoft shareholders.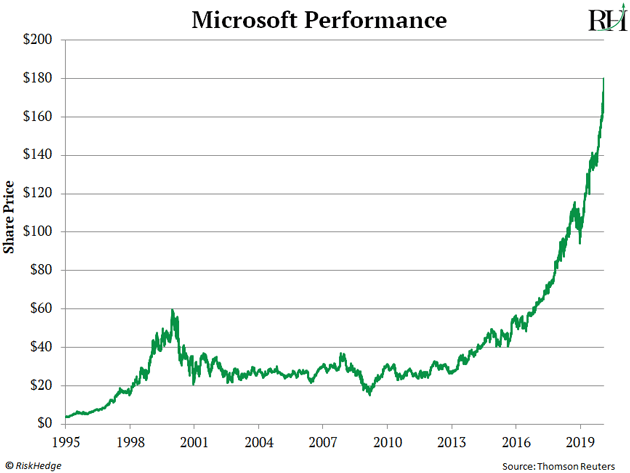 Microsoft's stock has catapulted nearly 42-fold since the release of Windows 95!
Apple also turned an entire industry on its head…
In June 2007, Apple released the iPhone.
The iPhone completely reimagined what a phone could and should be. I don't just say this because of the iPhone's sleek design.
In fact, iOS—the operating system behind the iPhone—is what really made the iPhone one of a kind.
iOS allowed everyday people to take high-definition photos. It made the iPhone's innovative touch screen possible. It even gave its users access to Siri (the popular virtual assistant).
But iOS did more than just make using a phone more enjoyable. It made it possible for people to download apps. Since its launch, more than 130 billion apps have downloaded using iOS!
iOS put the internet in every one of its users' pockets. As a result, internet usage has skyrocketed since the iPhone was released. In fact, AT&T (T)—one of the largest mobile data providers in the US—reported last year that its traffic across its network has surged more than 470,000% since 2007!
In short, the iPhone is arguably the most disruptive communication device ever created… and the ingenious iOS is the main reason for this.
Apple's stock has surged 1,760% higher since it launched the iPhone on June 29, 2007.
Google (now called "Alphabet") also changed the world with "Android"…
Android is the operating system that powers all of Google's phones, tablets, and touchscreen devices.
Today, Android is the most popular smart phone operating system on the planet. More than 2 billion people today have an Android phone!
Google has surged nearly 700% since the first version of Android in September 2008: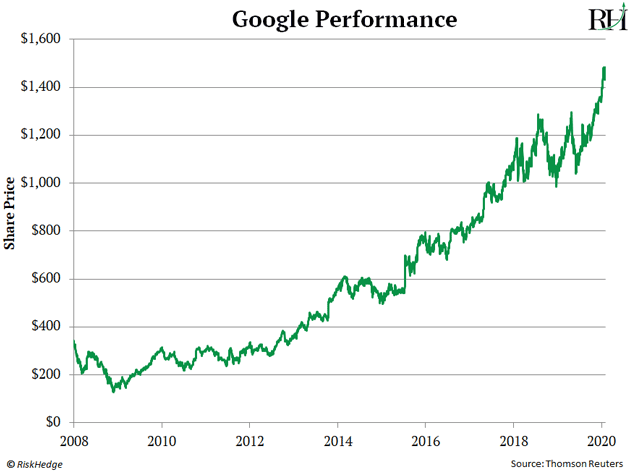 By now, you can see why it's so lucrative to invest in game-changing operating systems.
Unfortunately, we can't turn back the clock and invest in Microsoft, Apple, or Google.
But we can invest in a company that's developed the next great operating system.
I'm talking about Roku (ROKU)…
Roku is a pioneer of the "cord-cutting craze."
It's best known for making small black boxes that plug into your TV. Its devices allow you to easily access Netflix (NFLX) and all your other favorite streaming platforms.
I've been following its stock since it IPO'd in 2017. And early investors in Roku have also been handsomely rewarded.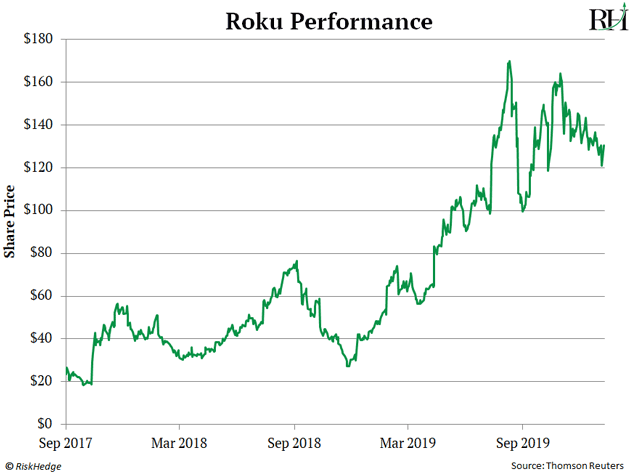 Roku's share price has surged 455% since it went public just two years ago!
That's a phenomenal return. But Roku is just getting warmed up.
Most people think of Roku as hardware company…
But it's quietly morphed into a software company.
That's right. Like Microsoft, Apple, and Google, Roku is revolutionizing its industry through its own operating system, which it licenses to TV makers. It's become the standard for today's smart TVs.
Just look at these photos I took during a recent trip to Walmart (WMT).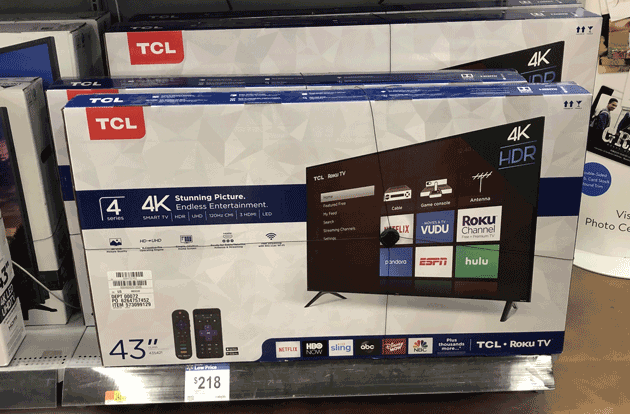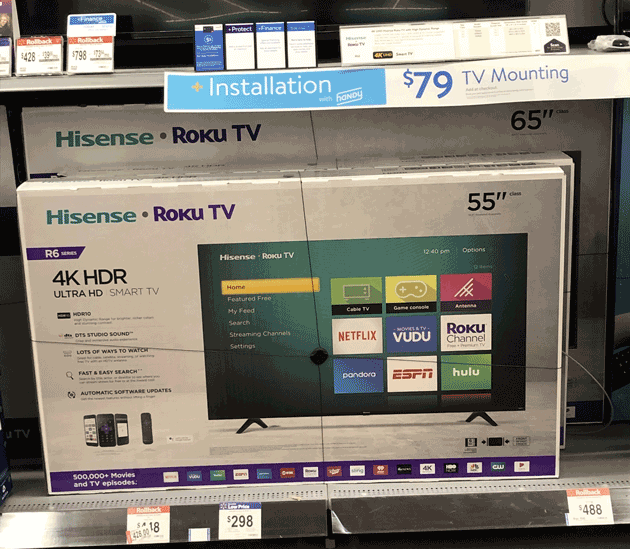 You can see that Roku's operating system comes pre-installed on many televisions these days… just like Microsoft did with Windows 95 more than two decades ago!
A third of all smart TVs sold in the US now have Roku's software platform built in… and for good reason.
Roku easily has the best operating system for streaming…
It hosts more than 5,000 third-party streaming apps. Roku even has its own streaming platform, the Roku Channel, which offers over 10,000 free movies and TV shows.
It's also incredibly user friendly. Its platform makes managing multiple accounts a breeze. You can even search for movies and TV shows using your voice.
Consumers absolutely love Roku. According to eMarketer, Roku is now the market leader with a 44% share of the US internet TV device market. Amazon Fire TV is a distant second place at 33%, while Google Chromecast and Apple TV control 16% and 13%, respectively.
Roku is dominating the streaming industry. And that's not something we can overlook as investors.
Like the rise of personal computing and smart phones, streaming is an UNSTOPPABLE trend…
According to Leichtman Research Group, 69% of US homes subscribed to at least one video streaming service.
More importantly, Americans are dropping cable at an alarming rate.
In 2018, there were 33 million Americans who cut the cord. By 2022, analysts project that 55.1% of Americans will do away with cable.
In other words, it's still the early days of the cord-cutting revolution. And Roku, with its dominant streaming operating system, is uniquely positioned to cash in on this megatrend.
Justin Spittler
Editor – IPO Insider
Omaha, Nebraska
Have you "cut the cord"? Do you think streaming is the next big moneymaking opportunity? Let me know at jspittler@riskhedge.com.