My #1 investing strategy has paid off big time.
But now, it isn't working like it used to...
Longtime readers know this strategy well.
We've used it over and over again to bag big gains.
It's why I encouraged readers to buy green energy stocks last March… before Plug Power (PLUG)—a leader in the hydrogen space—soared 1,382% in just 10 months.
It's also why I recommended The Trade Desk (TTD) to RiskHedge readers in December 2019… before it rallied 275% over the next 12 months.
And it's why IPO Insider subscribers are sitting on a 125% gain in 10x Genomics (TXG) in less than nine months.
These companies operate in vastly different industries. But I recommended each stock for the same reason.
They're all at the forefront of exciting megatrends…
Megatrends, as I've explained before, reshape society.
They impact millions or even billions of people. And they play out over many years.
The rise of the internet, social media, and the "digitization" of money are some of the biggest megatrends of the last three decades.
Looking down the road, the Internet of Things (IoT), self-driving cars, and virtual/augmented reality promise to be some of the biggest megatrends for the next 20 years.
Focusing on megatrends is one of the most profitable things you can do as an investor.
It will be a cornerstone of my investing for as long as I live. That said, I've had to make adjustments to my approach lately.
Megatrend stocks have been on fire…
The Invesco Solar ETF (TAN), which invests in solar stocks, has raced 423% higher since last March.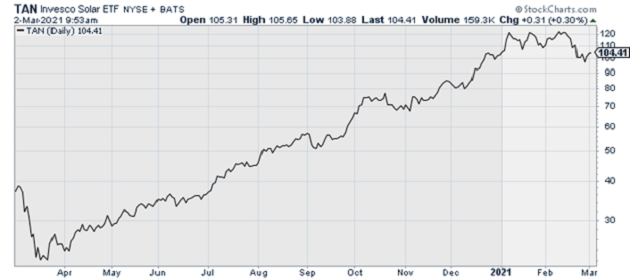 Source: StockCharts
The ARK Genomic Revolution ETF (ARKG)—a "one-click way" to bet on genomics stocks—has surged 348% over the same period.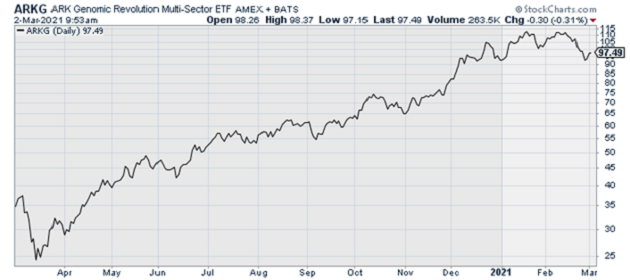 Source: StockCharts
The iShares Global Clean Energy ETF (ICLN) has also been on a tear… climbing 253% over the past 11 months.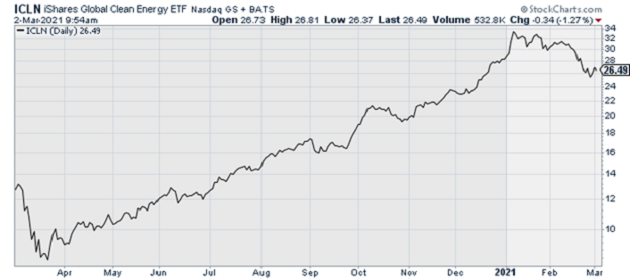 Source: StockCharts
These are huge moves. And I see solar, hydrogen, and genomics stocks heading much higher in the years to come.
But I wouldn't buy these funds at current prices.
They've shot up too high, too fast.
In other words, they're "overextended"… and due for a breather.
There's a much better area to put new money to work…
I call them "mold breaker" stocks…
These stocks aren't entrenched in existing, established megatrends…
They "break the mold" by creating entirely new industries… from scratch!
This is an important difference.
And it's why the top "mold breakers" give you a legitimate shot at doubling… tripling… even quadrupling your money in months.
By pioneering brand-new industries, these stocks are able to grow rapidly. They enjoy "first-mover" advantages, and face little to no competition.
That makes mold breakers some of the best stocks you can own…
Tesla (TSLA) is proof of this. The electric vehicle (EV) maker is one of the purest mold breakers to come along in decades.
For years, it was the only "pure play" EV company. That made it a no-brainer for investors looking to bet on the new industry. And that fueled a massive run-up in Tesla's stock price.
Tesla soared over 700% in 2020.
Zoom Video (ZM) is another mold breaker that made fortunes for everyday investors.
Zoom is a "teleconferencing" trailblazer. And it's surged 493% since it went public in 2019.
Livongo Health (LVGO) is another example.
It pioneered remote patient monitoring.
Livongo handed IPO Insider subscribers a 460% return before it merged with telehealth pioneer Teladoc (TDOC) in October.
Remember, up until a year ago, seeing your doctor over video chat on the computer wasn't a "thing." Livongo and Teladoc essentially created the telehealth industry from scratch. With no real competitors, they grabbed all the profits for themselves.
It's this lack of competition that lets them grow 200%, 300%, or 400%+ in a flash.
Of course, you don't read the RiskHedge Report to find out what happened yesterday.
You want to know where to put your money TODAY.
And I can tell you there are dozens of stocks "breaking the mold" right now—with a clear blue sky of opportunity to grow rapidly with no competition.
Unfortunately, finding them isn't easy.
You won't hear about them in the mainstream media…
And it's not like you can set up a quick stock screener for them…
So, it takes a bit more work than simply betting on megatrends. But the results more than make up for it.
My colleague Stephen McBride and I have dedicated the last six months to pinpointing the very best opportunities.
One of our favorite stocks is a pioneer—and the clear-cut winner—in the brand-new synthetic biology space…
If you read yesterday's RiskHedge Report, you know synthetic biology is a brand-new sector where breakthrough technology allows scientists to "program" living things.
It involves reconfiguring the DNA of an organism to create something entirely new. And I believe (with the possible exception of artificial intelligence) synthetic biology has the biggest potential of any disruptive technology to radically reshape our world.
It's important to understand that synthetic biology ISN'T a megatrend… yet.
It's just getting started…
So, you can't simply buy a synthetic biology ETF yet.
But one stock is at the front and center of it all.
Both Stephen and I agree that 10X gains are on the table. (And we're not talking years and years to see those gains, either… Remember, stocks creating new industries move lightning fast.)
In this presentation, Stephen and I break down everything you need to know, including the name and ticker of this little-known company.
Justin Spittler
Chief Trader, RiskHedge
Keep in mind, this specific mold-breaker stock has dipped over the past three months, presenting an incredible buying opportunity at these levels. As we shared with our premium subscribers last week, there's a good chance this stock's next leg up gets underway soon.
So if you're interested, I wouldn't wait… there's a small window here to strike.