Every investor dreams of owning a stock like Tesla (TSLA).
Shares of the electric vehicle (EV) maker nearly tripled in value since November.
Owning one stock like this can turn your entire portfolio around… and even help you retire earlier than you ever imagined.
Now, there are many theories about why Tesla went parabolic. But its rapid ascent really boils down to one thing.
Tesla is the face of one of today's hottest investment trends: green energy.
Of course, it's not the only stock riding this megatrend. Solar stocks, as I wrote last week, have also gone ballastic. And I expect them to continue to be top performers for years to come.
But there's another corner of the green energy market handing out incredible gains.
And yet, this select group of stocks is hardly getting any attention. Although, that should change in a BIG way soon.
Hydrogen stocks are on the launch pad…
Hydrogen is the most abundant element in the universe…
Hydrogen has been used as an energy source for decades. In fact, NASA has been using it since the '50s as rocket fuel for its space missions.
But it hasn't gone mainstream like EVs. That's because hydrogen isn't disrupting the passenger vehicle market like Tesla.
Instead, it's revamping "the global supply chain."
The global supply chain is how goods move around the world…
Let's say you order a toaster off Amazon (AMZN). That toaster is built in a factory. Then, it's transported to a warehouse. After you hit "Check Out" on your Amazon Prime account, it's shipped to your doorstep.
This is a multi-million-dollar market. And hydrogen is quietly transforming it.
Companies like Amazon have deployed hydrogen-powered forklifts on their factory floors. And they're doing so because hydrogen fuel cells are clean. They only emit water vapor and air. So, you can safely operate them indoors.
Hydrogen fuel cells also have several advantages over electric batteries…
With electric batteries, you lose power over time. When that happens, you must recharge the batteries. That can take a long time, which results in lost productivity.
Hydrogen fuel cells don't have those shortcomings. You can refuel a hydrogen-powered forklift the same way you would a diesel-powered one.
Amazon isn't the only giant company using hydrogen forklifts in its factories.
Wal-Mart (WMT)—the world's second largest retailer—has installed nearly 9,000 hydrogen fuel cell units. The Home Depot (HD), Lowe's (LOW), and Kroger (KR) have also adopted hydrogen technology in their warehouses.
Now, the forklift market obviously isn't as big as the passenger vehicle market…
But it's not tiny, either. There are about six million forklifts in the world.
And 25,000 of those forklifts already run on hydrogen fuel cells. That's up from 20,000 units just a year ago.
But hydrogen power isn't just disrupting warehouse floors around the world. It's disrupting every stage of the global supply chain.
DHL—one of the world's biggest logistics companies—recently started using hydrogen-powered delivery vans.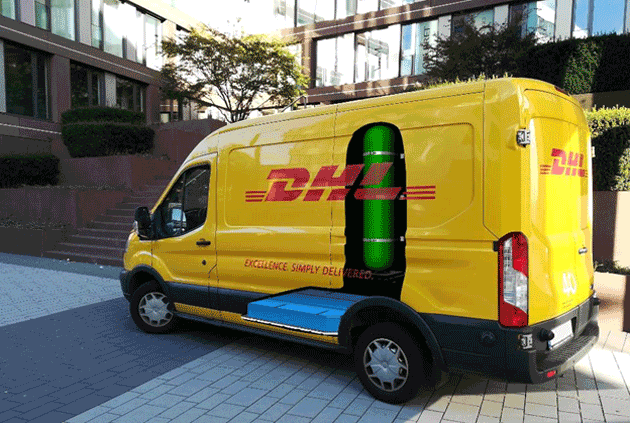 Source: Forbes.com
Beginning this year, DHL will deploy 100 of these "H2 Panel Vans" in Germany.
The logistics giant is embracing hydrogen energy for a simple reason. It believes "hydrogen energy is the fuel of the future."
Entire countries are also getting behind hydrogen energy…
Japan already has 3,400 hydrogen vehicles on its roads today. By 2030, it wants to increase that number to 800,000. That's a 235,000% increase in a decade!
China also has HUGE plans for hydrogen vehicles. Today, it has over 1,500 fuel-cell vehicles on its streets. But the Chinese government said it wants to have one million hydrogen vehicles on its roads by 2030—a 667-fold increase in just ten years!
China is going all-in on hydrogen energy for the same reason as DHL…
Wan Gang—China's science and technology minister and the visionary leader of its electric vehicle economy—recently said that hydrogen-powered vehicles will be the future of transportation… not just in China, but the world.
Savvy investors see what's about to unfold…
Money has been pouring into hydrogen stocks…
Just look at this chart.
Plug Power (PLUG)—a leading hydrogen fuel cell company—has surged more than 350% since 2017.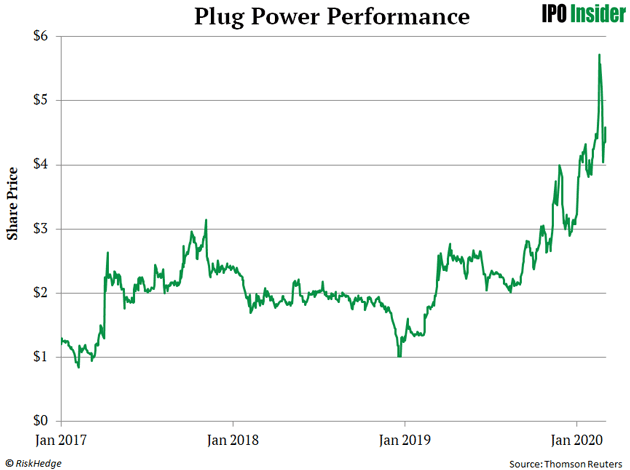 Ballard Power Systems (BLDP)—another leading hydrogen stock—has surged over 700% during the same period.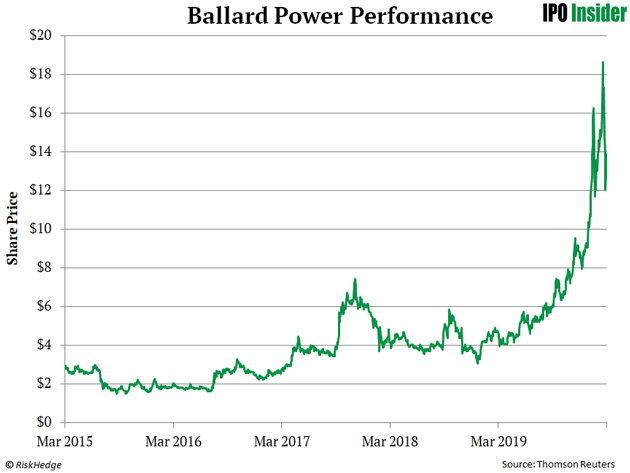 These are breathtaking returns. But they're likely a taste of what's to come…
The cost of hydrogen energy is plummeting…
According to Ballard Power, the cost of electrolysis-produced hydrogen has dropped 60% since 2010.
It's projected to fall another 50% to 80% over the next decade.
By 2030, management consulting firm McKinsey & Company says renewable hydrogen could be competitive across more than 20 applications, including commercial vehicles and long-range transport.
This would be a game-changer for the global energy market. In fact, McKinsey estimates that as much as 15% of the world's energy consumption could be served at the lowest cost by renewable hydrogen by 2030.
This is great news for companies that provide hydrogen energy solutions. It means their technology will be adopted more.
But there's one particular area that stands to benefit most from hydrogen energy.
I'm talking about the trucking industry…
The trucking industry is enormous. The US market alone is worth $260 billion, while the global market is worth $1.2 trillion.
The trucking industry is also one of the "dirtiest" industries on the planet. It produces nearly 2.5 billion tons of carbon dioxide every year. Hydrogen, one of the cleanest fuels on the planet, would help eliminate that.
Hydrogen makes sense for the long-haul. Delivery trucks and big rigs carry heavy payloads. Lithium batteries are heavy. Meanwhile, hydrogen is 14 times lighter than air.
It's no wonder global auto giants Hyundai and Toyota have started developing hydrogen fuel cell solutions for trucks. Anheuser-Busch InBev (BUD)—the world's largest beer company—is also adopting hydrogen as part of its effort to "decarbonize" its fleet.
But these giant companies aren't the best way to cash in on this explosive megatrend…
Earlier today, I recommended the next great hydrogen stock in IPO Insider…
IPO Insider is my advisory where I focus on newly public companies.
And this company is a certified "gem." I'd bet less than 1 out of a 100 investors have heard of this company.
But it should become a household name soon... just like Tesla. In fact, this company is the closest thing to "the next Tesla" that I've ever seen. I don't say that lightly…
Like Tesla, this company is pioneering a green transportation.
Not only that, demand for this company's unique offering is already exploding. In the coming years, it could generate tens of billions of dollars in sales.
In short, we're looking at possibly one of the best money-making opportunities this decade—and no one's talking about it.
But I don't expect this to remain a secret for much longer. So, go here to learn how you can take advantage of this special opportunity today.
By watching this special presentation, you'll also learn about the proprietary system I use to pinpoint game-changing IPOs.
Justin Spittler
Editor – IPO Insider
Omaha, Nebraska