**

What to make of the big "reshuffling"


**

This stock passed its "test" with flying colors


**

Almost 90% of people think stocks will crash soon
We're now a week into the big "reshuffling"…
And depending on which stocks you own, you're either ecstatic… or a bit worried.
Today, we'll take a look at the market's recent "unusual" behavior. And more important, what you should do about it.
Last Monday US pharma giant Pfizer announced it won the race to develop the first coronavirus vaccine. Results show the treatment is 90% effective, with protection from COVID coming 28 days after vaccination.
This is great, great news for the world. Not only is it a big step toward normalcy... it's a triumph for science. This vaccine is, by far, the quickest one ever developed.
But it sure threw the market for a loop…
As RiskHedge readers know, "stay-at-home" stocks have been the investment story of the year. Peloton (PTON) helped folks exercise from home when gyms were closed. Zoom (ZM) helped folks work from home when offices were closed.
The market rewarded these stocks and others with massive rallies of 180%+ over the summer.
But on the vaccine news, Peloton (PTON) and Zoom (ZM) crashed double digits.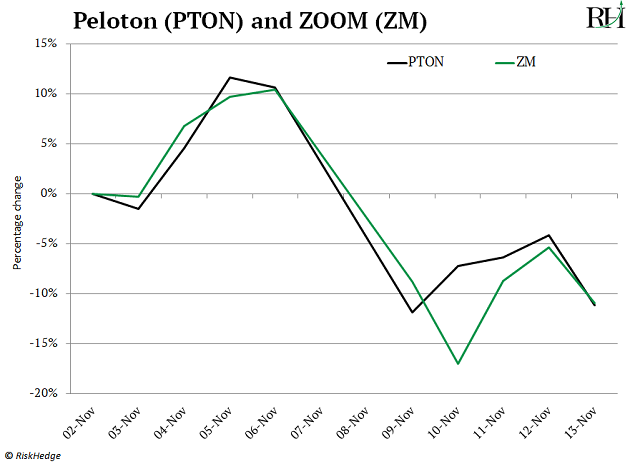 Meanwhile, many stocks that had been left for dead suddenly came to life. Royal Caribbean (RCL) rallied 34%. Southwest Airlines (LUV) jumped 17%.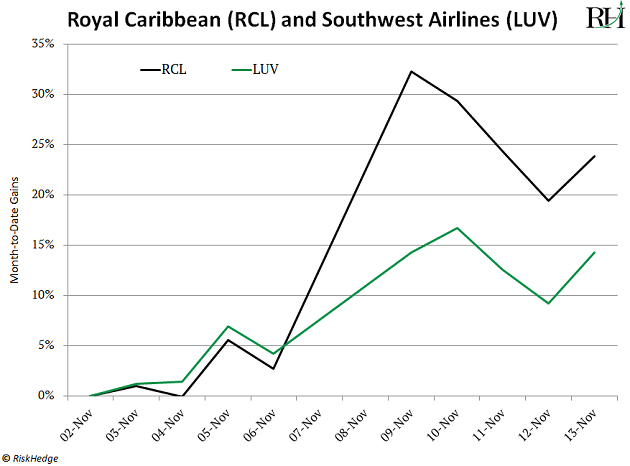 It's easy to see why investors had these knee-jerk reactions.
After all, with a successful vaccine, we'll all be spending less time at home. And more time taking cruises… flights… and doing all the normal "pre-pandemic stuff"…
But it's important not to get caught up in these wild swings.
Instead of focusing on these whipsaw moves in individual stocks… You should keep the big picture in mind. And, as I'll show you in just a moment, the big picture in stocks is pointing UP.
First, let me share two "golden rules" from our Chief Trader Justin Spittler that can guide you in choppy markets like we're seeing today:
#1) Focus on the stocks that are LEADERS
In short, leaders stand out from the pack. They're easy to spot: When markets are rising, leaders rise more. When markets are pulling back, leaders pull back less.
Take Twist Bioscience (TWST) for example. Twist is a leader in the new and exciting synthetic biology space. And it's one of Justin's and Stephen McBride's favorite stocks.
Twist dipped a bit on the vaccine news. But it's now up 19% over the past week… while other growth stocks like Roku and Zoom have traded sideways over the same time frame.
You may hear traders refer to this concept as "relative strength." In short, it pays to own stocks that not only hold strong on market weakness... but bounce back faster after losing ground.
Twist passed that test with flying colors: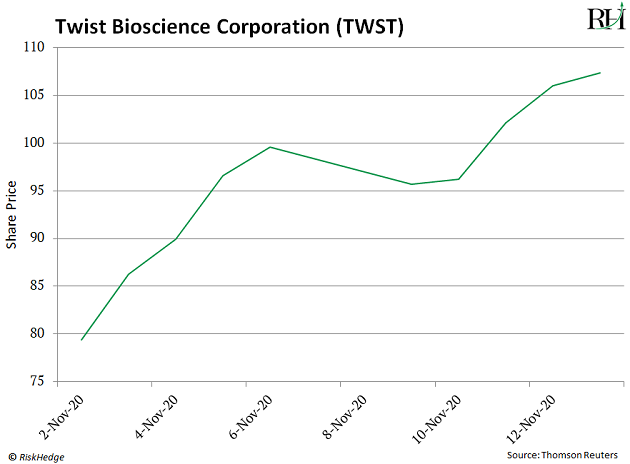 (If you missed Justin's RiskHedge Report that details this strategy, catch up here.)
Another important tip from Justin…
#2) Cut stagnant trades fast
Justin and Stephen, co-editors of Disruption Trader, recently sold one of their hypergrowth plays—Fiverr (FVRR)—after just one week.
After a big run up, the stock fell fast. They weren't willing to take any chances. As they told their Disruption Trader subscribers: "There's no sense sticking around in a stagnant trade with all the opportunities out there."
Now, many investors—even professional ones—would have let their emotions get in the way. They would've held on and "hoped" for a rally… not willing to admit "defeat" after one week.
But the guys agreed that it was time to walk away. Subscribers broke even on the trade—allowing them to preserve capital for the next opportunity.
In short: Don't make the mistake of getting "married" to any stock. Hands down, the #1 trait of successful investors is their ability to remain emotionally detached from investments they own.
It's not always easy to cut a stock you were excited to buy just a week ago. But it's almost always the right decision to cut a trade that's not going as planned.
Last thing I'll share for today…
The overall trend in stocks is UP
If you're in tech stocks, I know it's been a rocky ride lately. But it's important to remember that this current "reshuffling" is a minor blip happening under the surface.
What I mean is, these are simply short-term moves in individual stocks…
They haven't weakened the overall rally we've seen in stocks as a whole since March.
In fact, two key indicators show markets could be headed a lot higher from here.
Justin recently shared this chart from All Star Charts with our team: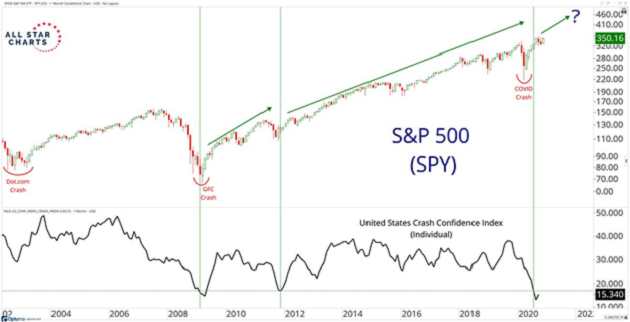 Source: All Star Charts
The line on the bottom shows the United States Crash Confidence Index. In short, it just hit an extreme not seen since 2009: More than 85% of respondents think stocks will crash soon!
Specifically, they were asked: Is "a catastrophic stock market crash in the US, like that of October 28, 1929 or October 19, 1987—probable in the next six months?'
Almost 9 in 10 responders said "yes."
At first look, this might sound like a warning sign. But it's actually great news... because investors tend to be terrible at predicting crashes.
Look at the chart, and you'll see the last 2 times people were this "bearish" were in 2009 and 2011. In both cases, stocks SOARED in the following years.
And that's not the only encouraging sign…
While everyone was distracted with the election, the S&P 500 did something that has only happened 3 other times since WWII.
It gained 1%+ in four consecutive days.
Just how rare and significant is that?
Ryan Detrick of LPL Financial dug into the data and found it's only happened 3 other times in the history of the US stock market.
In each of those times... stocks surged 27%, 23%, and 28% in the next year.
Of course, neither of these 2 indicators guarantee stocks will rip higher...
But, if you're taking an evidence-based approach... it's clear that stocks are more likely headed up than down.
What do you think… are we wrong? If so, why? Tell me at chrisreilly@riskhedge.com.
Chris Reilly
Executive Editor, RiskHedge
P.S. As I just showed, most people are predicting a crash is around the corner…
Because of this, Justin says now's the PERFECT time to bet on hated stocks.
He's discovered a simple, reliable way to profit off America's most hated stocks. And you can follow his signal to clockwork profits of 70%–135% in short order and 400%, 600%, 1,000% or more in time.
If you'd like to see exactly how it works… including how it can make you an extra $30,000, go here now.