A silent bull market is underway. But it won't be "silent" much longer…
That's because the technology behind this boom is disrupting everything from electric cars… to manufacturing… and even healthcare.
And the stocks at the forefront of it are starting to rally again… In fact, RiskHedge readers had a chance to book a 57% gain in just over a month back when I first wrote about this opportunity in January.
The good news is, if you missed out, this is your second chance.
In a minute, I'll explain why these overlooked stocks are in the early innings of a multi-year bull market. I'll also show you one simple move to make the most of this opportunity.
But let's first get on the same page.
The "silent" bull market I'm talking about is in 3D printing stocks…
You probably weren't expecting me to say that.
After all, 3D printing stocks aren't a popular trade these days.
Your typical investor is much more interested in software, online shopping, and cannabis stocks.
And that's why I'm so excited about 3D printing stocks.
There's nothing I love more than buying overlooked stocks…
While unconventional, this approach allows you to front run the masses.
In some cases, you can position yourself before the big institutional money comes pouring in.
This mindset led me to invest in edge computing.
Edge computing is one of today's most exciting megatrends. It makes "impossible" technologies like self-driving cars, remote surgery, and smart cities possible.
Today, many investors are excited about the prospects of edge computing. But this wasn't always the case.
Just two years ago, no one was talking about edge computing. It was completely overlooked.
I recommended edge computing pioneer Cloudflare (NET) in my IPO Insider advisory October 2019. At the time, it was a hidden gem. It had only gone public just a few months earlier. Hardly anyone outside of serious tech circles was talking about edge computing.
I later "doubled down" by recommending edge computing pioneer Fastly (FSLY) in April 2020… just days before it surged 47% in a day.
Ten months later, we closed out Fastly for a 330% return. We're also sitting on a 458% return on Cloudflare.
I'm not saying this to brag.
Rather, I want to show you the kind of gains you can make by simply betting on the right overlooked stocks.
And today, I see a similar opportunity shaping up in 3D printing.
But I know what you're probably thinking.
Justin… 3D printing isn't a new industry like edge computing…
3D printing has been around for years.
And that's true. But it's undergoing a massive transformation.
3D printers allow you to "print" objects similarly to how an inkjet prints on paper.
Starting from scratch, a 3D printer stacks thin slices of material like plastics and metals to build from the bottom up. But 3D printing has barely scratched the surface of its potential.
When 3D printing first came on the scene, it was a big disappointment. Promoters promised everyone would have a 3D printer inside their home. That never happened—which led many investors to write off 3D printing altogether.
But 3D printing isn't what most people think it is. The industry has reinvented itself… and is quietly becoming one of the world's most disruptive spaces.
This is why I said 3D printing stocks would be the biggest "comeback story" of 2021…
Disruptive technologies often experience a pattern known as the "hype" cycle. In other words, they go through booms and busts.
Less than a decade ago, 3D printing stocks were the hottest stocks on the planet.
3D Systems (DDD), a leading 3D printing company at the time, soared 1,000% between late 2011 and early 2014. Stratasys (SSYS), another poster child of the first 3D printing boom, jumped nearly 7X during the same period.
It was a full-blown mania. But like all manias, this one came to an end.
3D printing stocks came back down to earth, and basically did nothing for years… until recently.
A few days after I flagged 3D printing stocks as a comeback story, certain ones started taking off…
3D Systems Corporation surged 418% over the next month…
Stratasys more than tripled in value over the period, while Nano Dimension (NNDM) handed out a quick double.
Then these red-hot stocks pulled back with most growth stocks in March.
That pullback set the stage for another monster rally.
So, I recommended 3D printing stocks again on June 1. This time, I explained why they were setting up for another surge. And that's exactly what's happened.
3D printing stocks have woken up in a MAJOR way…
Last week, 3D Systems jumped 28% in a day.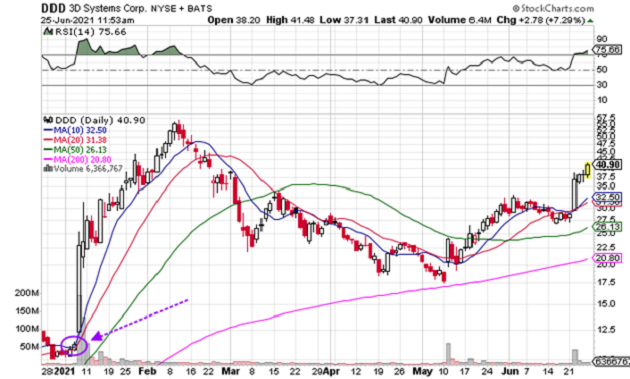 Source: StockCharts
This huge move was sparked when the company announced that it was working with regenerative medicine company CollPlant. Together, they're developing 3D bioprinted soft tissues for breast reconstruction treatments.
This is huge news because it demonstrates how 3D printing has the potential to not only revolutionize manufacturing. It can also be used to "print" living structures.
This breakthrough news triggered an industry-wide rally… causing SSYS to surge 16% that same day on massive volume.
And while nobody knows for sure when these soft tissues will be developed, 3D printing technology is disrupting other industries as I type…
In short, more and more companies are turning to 3D printing to bring their products to market faster and cheaper.
For example, Tesla (TSLA) is using 3D-printed parts in its electric vehicles. Heavy equipment manufacturer Caterpillar (CAT) uses 3D printing tech to produce replacement parts for older machines. Healthcare giant Medtronic (MDT) uses 3D printing to develop new medical devices.
Still, most investors have turned a blind eye to the industry…
They won't be able to ignore this massive opportunity much longer.
The chart below says it all. As you can see, the 3D printing (also known as "additive manufacturing") market is poised to grow 10X in size over the next decade.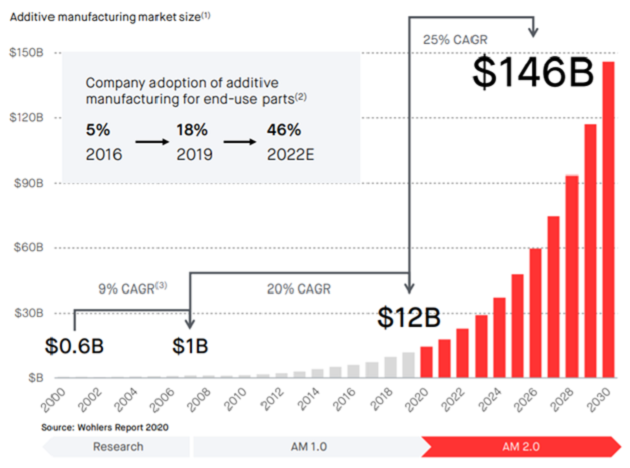 Source: Wohlers Report
This means one thing.
3D printing stocks should continue to deliver huge returns for years to come.
So, consider investing in top-flight 3D printing stocks. You can easily invest in the space by buying The 3D Printing ETF (PRNT).
But, for even bigger gains, I suggest buying the best companies in this booming industry.
I recently added a 3D printing stock to my IPO Insider portfolio. I've also recently added a 3D printing stock to the Disruption Trader portfolio.
If you'd like instant access to both picks, now's the perfect time to take advantage.
And not just because they're two of the best charts you'll find today…
I'm talking about a way to claim permanent access to all of my money-making stock recommendations, as well as Stephen McBride's and Chris Wood's—without paying tens of thousands of dollars a year to access them all.
That's IPO Insider, Disruption Trader, Disruption Investor, and Project 5X… plus every new advisory we publish in the future—without ever paying a subscription fee again.
This is, by far, the most cost-effective way to take advantage of our research.
And you can still take advantage by going here.
But please act soon if you're interested. This offer comes down on Thursday.
Justin Spittler
Chief Trader, RiskHedge