"Cathie Wood is finished."
This rumor has been making waves lately.
It's not something investors are used to hearing. In fact, it's the complete opposite of what most folks were saying a year ago.
You see, Cathie is one of the world's most successful fund managers.
She founded the investment firm ARK Invest.
Like RiskHedge, ARK is focused on disruptive innovation. They're known for being early investors in Tesla (TSLA), Square (SQ), Roku (ROKU), and Bitcoin.
Cathie's also delivered lifechanging returns to countless everyday investors…
The ARK Innovation ETF (ARKK), ARK Invest's flagship fund, returned more than 560% between when it was launched in 2014 and the end of last year.
In other words, you could have crushed the market by simply betting on Cathie. I have a ton of respect for her accomplishments.
But many investors have taken jabs at Cathie lately. Many dismissed her success as luck. Others warned that ARK could blow up.
And it's true…
Many ARK funds have taken a big hit recently…
They were some of the hardest hit funds during the recent pullback.
The ARK Innovation ETF (ARKK), their flagship fund, plummeted 39% between March and May.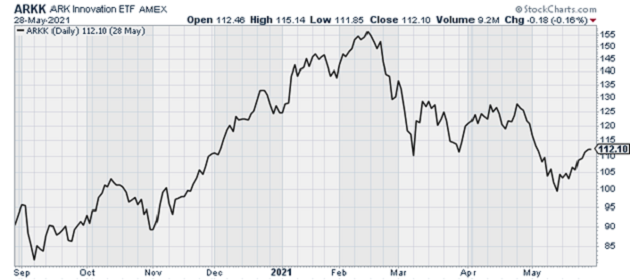 Source: StockCharts
The ARK Autonomous Technology & Robotics ETF (ARKQ), another one of Cathie's funds, plunged 27% over the same period, while the ARK Genomic Revolution ETF (ARKG) dropped 37%.
These are huge drops for such a short period of time.
And it's important to understand that Cathie's funds aren't small.
In fact, they've exploded in size over the past couple years…
At its peak earlier this year, ARK had $28 billion in assets under management (AUM). That's more than 10-fold the amount of money it was overseeing at the start of 2020!
This rapid growth led many people to question whether ARK could "blow up" and cause major stress to the stock market. In fact, this narrative has gotten more and more popular—which very likely contributed to the selling pressure on ARK funds.
But here's the thing:
The chances of ARK "blowing up" are extremely small…
As I've pointed out recently, the worst is likely over for growth stocks.
Inflation fears—which are bad for growth stocks—seem to have peaked for now.
We're also beginning to see signs of strength across "riskier" groups of stocks like biotech, genomics, and software stocks.
But that doesn't mean that it's time to blindly buy up ARK funds. After all, some of them need time to "carve bases" before they begin moving higher again.
But there is one ARK fund that I'm watching very closely…
I'm talking about The 3D Printing ETF (PRNT), which invests in 3D printing stocks.
3D printers "print" objects similar to how an inkjet prints on paper.
Starting from scratch, a 3D printer stacks thin slices of material like plastics and metals to build from the bottom up.
A few years ago, 3D printing stocks were a huge craze.
3D Systems (DDD), a leading 3D printing company at the time, soared 1,000% between late 2011 and early 2014.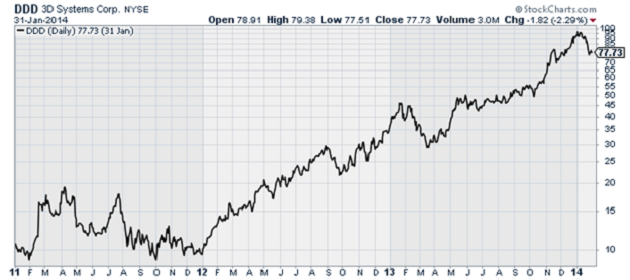 Stratasys (SSYS), another poster child of the first 3D printing boom, jumped nearly 7X during the same period.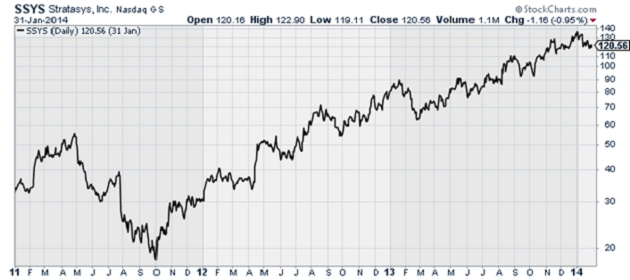 Everyday investors made out like bandits during this gold rush. But many of them gave back their huge returns.
3D printing wasn't ready for prime time…
Back then, the idea was that 3D printing would "democratize manufacturing." But the sector overpromised and underdelivered. Early 3D printers couldn't make much more than flimsy plastic trinkets that had little use.
But the technology has improved 100-fold since then.
Leading 3D manufacturers can now print jet engines, car parts, and even key pieces in US military submarines!
In short, the technology has improved by leaps and bounds. And yet, 3D printing is easily one of today's most overlooked megatrends.
Of course, regular readers know I've been bullish on 3D printing stocks for months…
In early January, I explained why the industry was my #1 comeback story for 2021.
Right after the article published, 3D printing stocks went on an absolute tear.
3D Systems Corporation (DDD) surged 418% over the next month! Stratasys Ltd. (SSYS) more than tripled in value over the period.
Then, in February, 3D printing stocks topped out with the rest of the market.
But they bottomed out much faster than most highfliers.
You can see what I mean below. This chart shows the performance of PRNT. Notice how it sold off sharply in February.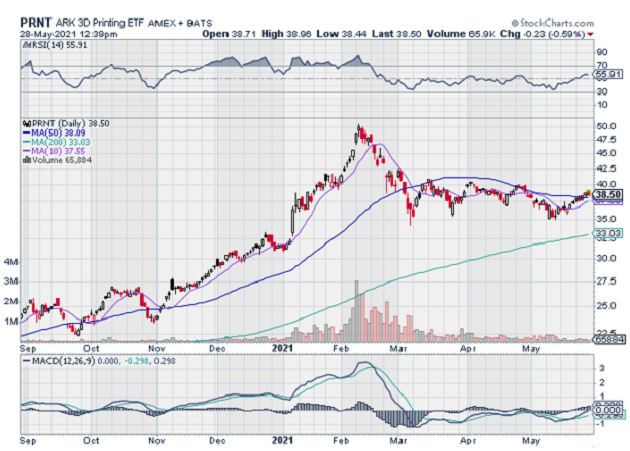 Source: StockCharts
However, unlike many other growth stock groups, 3D printing stocks started forming a base in early March.
They held up strongly during the latter stages of the recent growth stock sell-off.
In short, 3D printing appear to be weeks ahead of most other growth stocks. They're well positioned to lead when the broad market begins its next major leg up.
We're already beginning to see this play out. This chart shows the performance of 3D Systems. You can see that it's already surged more than 60% off its lows since early May.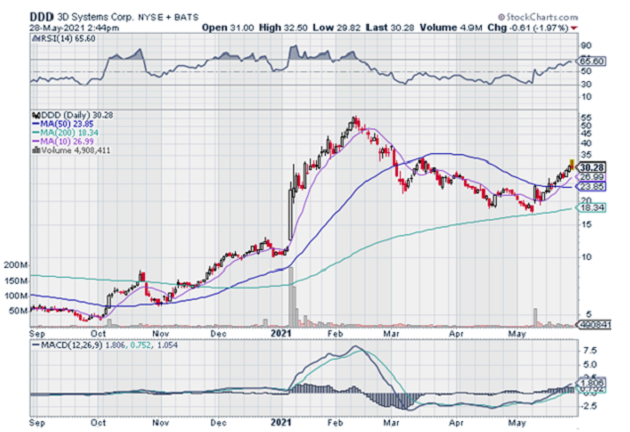 Source: StockCharts
I expect many other 3D printing stocks to follow this trajectory in the coming weeks.
Justin Spittler
Chief Trader, RiskHedge
P.S. You could buy the PRNT ETF to profit off 3D printing stocks. But if you're trying to make the most of this opportunity, I recommend focusing on the right individual names.
In my IPO Insider advisory, I recommend a top-tier 3D printing stock ideally suited for mass production—not just "prototyping" like most legacy 3D technologies are. The company has more than 120 patents issued or pending.
Many of the world's largest companies depend on this company, including Google, BMW, and Lockheed Martin. Best part? It's showing strength, rallying 20% off its recent lows. And research shows the stock is still "hated" by many indicators, which spells big gains for us.
You can access the name of this stock, and learn more about my proven "hated stock" strategy here. Just act soon if you're interested… with its current setup, explosive gains could be coming any day now.