Ever wonder why movies like Rocky, Rudy, and Miracle were such big hits?
They're not just movies about sports.
They're comeback stories.
And who doesn't love a great comeback story?
Heck, even investors love them.
Stocks that bounce back from adversity can be some of the most profitable investments…
In a minute, I'll tell you about a group of stocks poised to make a MAJOR comeback in 2021.
Longtime investors have definitely heard of this group.
A few years back, they were the hottest stocks on the planet… before ultimately falling on hard times.
The good news is that these high-flyers are on the launch pad once again.
And I'm expecting even bigger returns from this go-around. In fact, I wouldn't be surprised if these are among this year's hottest stocks.
Below, I'll show you an easy way to start profiting off this opportunity.
But let's first look at why this group of beaten-down stocks would even bounce back in the first place.
Many stocks go through cycles…
Anyone who's ever invested in the commodity space knows what I'm talking about.
Gold and uranium stocks are notorious for their boom-and-bust cycles. One year they surge in price... the next year they plummet.
Cryptocurrencies like Bitcoin also follow this pattern. The same goes for cutting-edge tech stocks.
You see, disruptive technologies often experience a pattern known as the "hype" cycle…
In a nutshell, disruptive companies often receive a ton of hype when they appear on the scene.
As excitement builds, expectations rise.
Publicly traded companies in these hot spaces often see their shares go parabolic.
In short, the market gets ahead of itself. Of course, reality sets in.
High-flying stocks simply cannot live up to expectations, and come crashing down.
Investors give up on the stocks. They'll move on to the next big thing.
But often the industry will bounce back better and stronger years down the road.
And that presents a second opportunity to cash in…
That's exactly what we're seeing right now with 3D printing stocks…
You may remember the craze around 3D printing a few years ago.
In short: A 3D printer builds objects layer by layer. Starting from scratch, it stacks thin slices of material like plastics and metals to build from the bottom up.
Leading 3D manufacturers can now print jet engines, car parts, and even key pieces in US military submarines.
Less than a decade ago, 3D printing stocks were the hottest stocks on the planet.
3D Systems (DDD), a leading 3D printing company at the time, soared 1,000% between late 2011 and early 2014.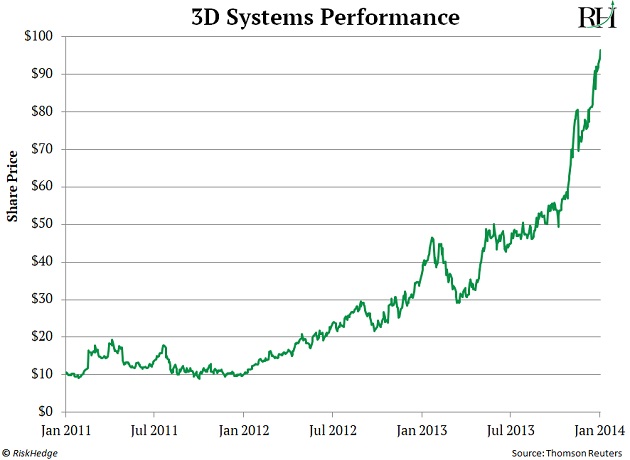 Stratasys (SSYS), another poster child of the first 3D printing boom, jumped nearly 7X during the same period.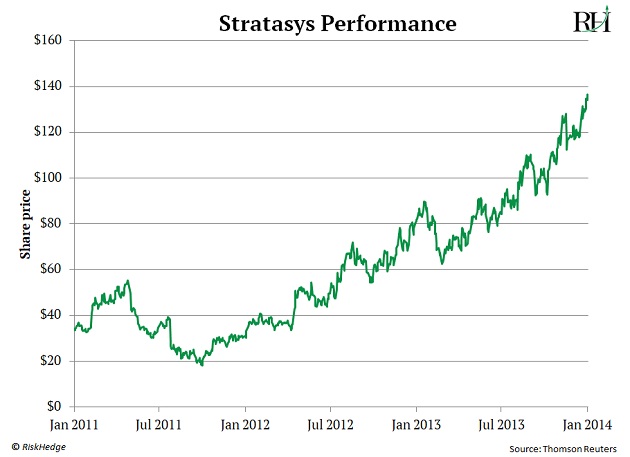 Those are incredible gains. Many everyday investors made out like bandits during this gold rush.
There was just one big problem.
3D printing wasn't ready for prime time…
Back then, the idea was that 3D printing would democratize manufacturing.
In other words, people thought everyone would have a 3D printer inside their home.
Retail stores and manufacturing as we knew it would cease to exist. Instead, people would just "print" whatever objects they wanted from the comfort of their own home.
That obviously never came true.
When the industry failed to live up to its expectations, the bubble popped.
3D Systems plummeted 93% between January 2014 and January 2016.
Stratasys plunged 89% during that same period.
But now, we have a second chance to make good money on 3D printing stocks.
And this time, big, quick gains aren't just on the line. We have the chance to generate massive, long-term wealth.
3D printing technology has come a long way…
Today's leading 3D printing companies aren't just focused on prototyping.
They're looking to disrupt mass manufacturing. And more and more companies are turning to 3D printing to bring their products to market faster and cheaper.
For example, Tesla (TSLA) has been incorporating 3D-printed parts in its electric vehicles for years. Heavy equipment manufacturer Caterpillar (CAT) uses 3D printing tech to produce replacement parts for older machines. Healthcare giant Medtronic (MDT) uses 3D printing to develop new medical devices.
Demand for 3D printing technology is skyrocketing for a few reasons.
For one, we're witnessing a "reshoring" surge in manufacturing. In other words, more and more companies want to bring manufacturing back home.
Cutting-edge 3D printing technologies allow them to do this while keeping costs lower than would otherwise be possible with traditional manufacturing.
Corporate America has also put a strong emphasis on "green" technologies in recent years. And the latest generation of 3D printing technology allows companies to create products while generating less waste than traditional manufacturing methods.
You can easily profit off 3D printing by buying the 3D Printing ETF (PRNT)…
This fund invests in a basket of 3D printing stocks. It's a simple, one-click way to get exposure to this megatrend.
And it's been quickly rewarding investors all year.
As you can see below, PRNT quietly broke out to multi-year highs last month. It's now climbed 36% over the past 12 months.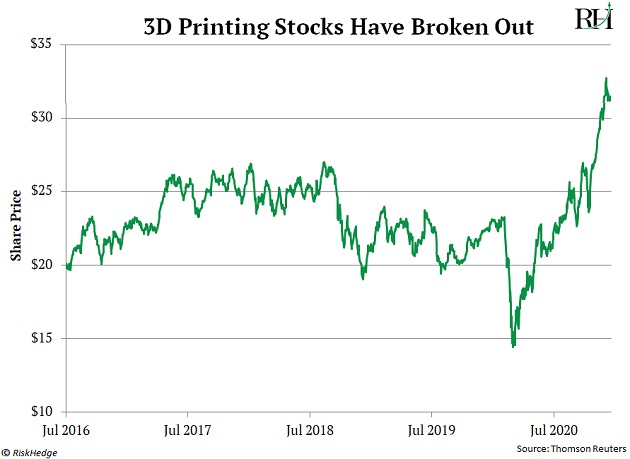 And I believe this is just a taste of what's to come.
Over the next decade, the 3D printing market is projected to grow 11X, or about 25% per year. By 2030, it's forecasted to be a $146 billion market.
Now's the time to be invested in what'll be one of the biggest comeback stories of the year.
Justin Spittler
Chief Trader, RiskHedge
P.S. Even though 3D printing stocks are starting to rise from the dead, they're still hated by most people today. After years of failed hype, people want nothing to do with them. And that's where our opportunity lies.
See, I've found that buying hated stocks is one of the absolute best ways to produce reliable profits again… and again… and again. You can learn all about my strategy—and how it can make you an extra 70%, 135%, even 1,200%—here.
By clicking that link, you'll also learn how I pinpoint these hated stocks in my IPO Insider advisory… like the beaten-down 3D printing stock I just recommended to my subscribers, which you can get in on too.