My grand-dad used to tell me, "Look after the pennies, and the pounds will look after themselves."
Microsoft (MSFT) founder Bill Gates still flew Economy long after he was a multimillionaire.
And to this day, the table in Amazon's (AMZN) executive conference room is made of old doors with 4x4s attached to them for legs.
Smart frugality is a common trait among the world's most successful businesses.
Microsoft and Amazon are penny pinchers, but investors in their stocks enjoyed extravagant gains.
Before we get after it…
I'll be in Amsterdam next Monday and Tuesday for some artificial intelligence (AI) and crypto-related meetings. If any of you would like to meet, reach out to me at stephen@riskhedge.com.
Now let's go!
We're entering the best time to buy stocks, BUT…
The weakness we've seen over the past few months is perfectly normal… and expected.
Remember, we're slap-bang in the middle of the third year of a presidential cycle.
You should expect stocks to fall right now. Because that's what they've done around this time of year, on average, in pre-election years going back seven decades.
This great chart from Carson Group shows the S&P 500 is following the "third year" script to a tee:

Source: Carson Group
Next up: The best three-month period for stocks—November through January—begins next week.
All that said… some caution is warranted right now.
The S&P 500 slipped below its 200-day moving average for the first time since March 2023. It could be nothing, and it probably is nothing. But it absolutely means the risk of a big, short-term drop is heightened.
What to do? If you follow our Disruption Investor strategy of buying great businesses cashing in on disruptive megatrends, nothing. Stay the course and buy more if shares go on sale.
But if you're holding any shaky stocks… or you're a little overexposed to the stock market… now's the time to tighten things up. Just in case.
My #1 takeaway from big tech earnings… A.R.E.A.M.
The market's reaction to Microsoft and Google's (GOOG) earnings was telling.
Microsoft: +3%... Google: -10%!
Both companies put up good numbers. But what mattered was Google fumbled the ball on AI again, pushing the stock down for its fourth worst day ever!
My big takeaway is A.R.E.A.M.
AI… Rules… Everything… Around… Me (Wu-Tang Clan fans will get the reference.)
Investors are grading tech stocks on one thing and one thing only: AI-fueled growth. And companies that fail to deliver (like Google) get punished.
Star pupil Microsoft knocked it out of the park with AI-related cloud sales.
A Grand Canyon-sized gap between the "AI rich" and the "AI poor" is already developing.
I expect it to be the dividing line that determines if you win or lose as an investor.
AI has been one of our top megatrends in our flagship Disruption Investor service for over three years—long before ChatGPT was even a thing.
Maybe the worst AI prediction I've ever heard…
Folks think big tech companies will dominate AI and capture all the gains for themselves.
Take this recent CNBC piece from AOL co-founder Steve Case: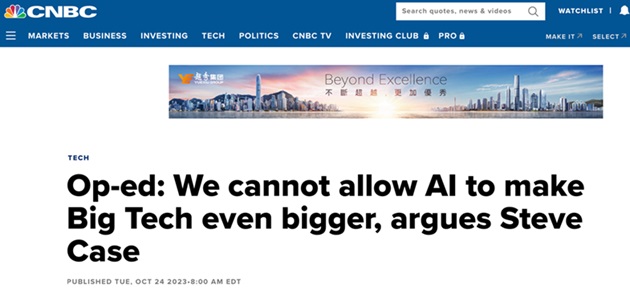 Source: CNBC
There's going to be a historic tech shift and only the incumbents will win?
That's just lazy thinking. It's also dead wrong.
AI is the great equalizer for startups competing with big tech.
Not only will the Silicon Valley giants not dominate artificial intelligence. AI will allow dozen-person teams to compete with 100,000-man strong companies like Google for the first time ever.
AI turbocharges productivity unlike anything we've ever seen. It allows you to do the same amount of work in half the time.
Startups are already leveraging "AI interns" to compete with the big boys.
ChatGPT creator OpenAI has just 375 employees. Its AI tools wipe the floor with Google, which employs 190,000 people!
Startup Character.AI lets you create your own personalized chatbot. With just 22 employees, it gets over 100 million visitors a month to its website. And oh yeah, it's less than a year old and is valued at $5 billion.
Nimble startups using AI will come out of nowhere and challenge the big tech giants. That's something we haven't seen before.
Don't believe the lie that big tech will dominate AI. Every new tech innovation creates a new set of winners.
A simple trick to try this weekend…
I'm a big proponent of putting your phone down, especially when your kids or grandkids are around.
I've seen many parents glued to their iPhones. And then they complain their little ones are "always online" when they get older. Monkey see, monkey do.
A simple trick to try this weekend: When it's family time, put your phone in a special place so you won't constantly check it. If you're venturing out somewhere, leave it at home.
You'll feel free, I promise.
Two more phone tips.
No TikTok. Ever. It's fentanyl for your attention span and motivation. TikTok is permanently banned in my household.
And don't spend time on Instagram.
Seeing all the luxurious vacations on clear-water beaches and $500 futomaki platters at Nobu—as if that's what peoples' everyday lives are like—will turn you into a communist.
Have a great weekend!
Stephen McBride
Chief Analyst, RiskHedge