Happy Wednesday…
I'm back home after a few days in Singapore for the largest crypto gathering of the year, TOKEN2049.
Highlights: I met Ethereum creator Vitalik Buterin. And I had dinner with one of my heroes, venture capitalist Balaji Srinivasan. Nothing elegant—we ate curried chicken off paper plates from a local takeaway.
I also had breakfast with legendary investor Jim Rogers. I always enjoy Jim's stories about markets, being a dad, and our mutual passion for travel. Until next time.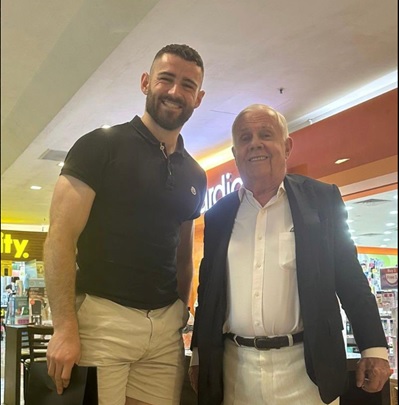 My take on conferences: You can only learn so much listening to presentations. The real value is meeting folks 1-on-1.
I did exactly that with several fund managers… because you only find out what people really think by talking to them privately over some spicy Singaporean crab!
[You're reading the first issue of The Jolt with Stephen McBride—a new letter that I'll send you every Monday, Wednesday, and Friday around 11 am. Let me know what you think at stephen@riskhedge.com.]
The S&P 500 is slightly up as I write in the early morning.
Here's what I'm thinking…
CONFIRMED: AI is nowhere near its peak.
Excitement around artificial intelligence (AI) largely stole the show in Singapore.
An executive for one of Asia's top AI companies told me business is "off the charts." His company will make more money this year than the previous four years combined… and we haven't even scratched the surface.
This confirms what we already knew: Every company is trying to adopt AI right now. But few are able to… because of the lack of powerful computer chips needed to run AI models.
Nvidia (NVDA) is still miles ahead of all competitors in producing these chips. And it can't make them fast enough. Nvidia's sales reps told me even their "luckiest" customers must wait at least six months for their next order of chips.
The key insight: It's easy to lose your bearings when investing in huge, world-shaping, multi-year megatrends like AI. Many folks mistakenly think the boom is coming to an end, all because a few stocks have already gone parabolic and Nvidia is down 11% from its peak.
No way! I've seen this pattern play out in disruptive trends time and time again.
The initial hype catches everyone's attention. "Oh, wow look at this game-changing tech…"
Then the burst of initial fascination fades, just like my son who's no longer mesmerized by a spinning washing machine.
But underneath the surface, the innovation continues… and that's the most important thing.
I guarantee the AI boom won't end until Nvidia floods the market with AI chips, and we're a long way from that.
Nvidia is still up 500%+ since I first recommended it in 2018. When you buy world-class businesses profiting from disruptive megatrends—like we do in Disruption Investor—the rest takes care of itself.
We're early in a multi-year AI boom. Don't be shaken out by short-term moves.
Recent market weakness is perfectly normal… and expected.
US stocks ripped 20% higher in the first seven months of 2023.
But then August hit… and the S&P 500 has fallen 3% since.
Don't worry. This weakness is perfectly normal, as this illuminating chart from my friend J.C. Parets over at All Star Charts shows.
In short… you should expect stocks to be falling right now. Because that's what they've done around this time of year, on average, in pre-election years going back a century.
Markets in 2023 (red line) are tracking the long-term pattern (blue line) to a tee: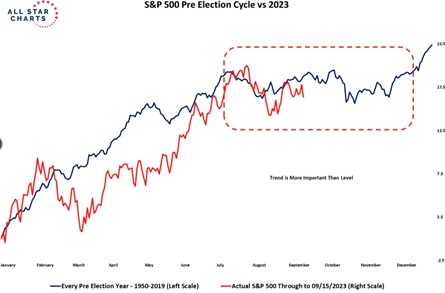 Source: All Star Charts
Our work on the presidential cycle helped us nail some big market calls this year.
It's a big reason why we were aggressively buying stocks in January when all of Wall Street was predicting a bloodbath.
Now we're at the "not so fun" part of the cycle. Expect stocks to trade sideways for the next few months before finishing the year strong.
I'm using this temporary weakness as an opportunity to load up on the world's best disruptive businesses, which we own in our Disruption Investor advisory.
Because there's more to life than investing…
I feel like I could take over the world after reading this book... what a STORY!
The Forgotten Highlander, by Alistair Urquhart.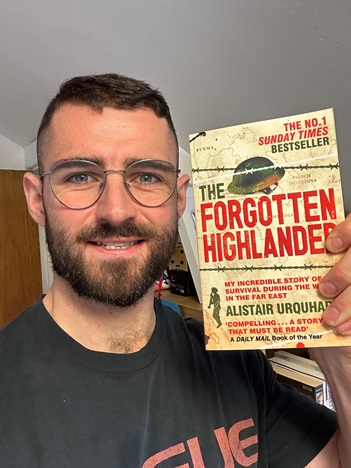 Urquhart was conscripted into the British army to fight in WWII when he was just 19.
After he was captured by the Japanese, he had to do unbelievable things in order to survive almost two years in the jungle working as a slave.
Then, he spent five days adrift at sea on a makeshift raft.
It's a masterclass in how a strong mind can help you overcome ANYTHING!
My favorite part was reading about how many older (frailer) British soldiers outlasted their younger (fitter) peers.
How? They had something to live for. The thoughts of returning home to their wives and children gave them the strength to survive years of cruel torture.
This is a superpower you, me, and all the dads out there should tap into when we don't feel like jumping out of bed at 5 am on a cold winter morning.
Remember, we're not doing it for ourselves—we're doing it for them.
Buy The Forgotten Highlander. It's the best $10 you'll spend all year.
That's it for now… let's get to it!
Stephen McBride
Chief Analyst, RiskHedge