The big tech firing spree continues… A day in the life of a Google employee… This chart tells it all... A tailwind for the Nasdaq...
Is big tech in trouble?
Amazon (AMZN) just announced it will fire 9,000 workers. This brings its total for the year up to 27,000.
Facebook (META) is downsizing, too. A couple weeks ago, CEO Mark Zuckerberg announced a second round of layoffs. He already let 11,000 people go in November. Now, he's firing another 10,000.
Earlier this month, Google (GOOGL) said it's letting 12,000 employees go.
And Microsoft (MSFT), Shopify (SHOP), Salesforce (CRM), and others are getting rid of thousands more.
In total, US tech firms announced over 100K layoffs since the start of the year.
On the surface, these layoffs look bad.
Don't get me wrong, I'm not rooting for people to get fired.
But the fact is, a lot of these were bad—or unnecessary—hires in the first place. For example, Google let go of 31 in-house massage therapists during the last round of layoffs.
An account strategist at Google recently described her typical day in a video:
She gets to the office, then immediately heads to the gym for an hour with the resident personal trainer. Then she grabs a latte. Works for an hour, goes to lunch.
Then she takes a nap in one of Google's napping rooms. Wakes up, has a quick team meeting. Then finishes her day with dinner and cocktails on the clock.
And I've heard the same kind of stories about other tech firms…
A former Meta recruiter recently went viral after bragging about how she was making $190K a year doing nothing: "I really miss it. I wasn't doing s*** pretty much. It was nice."
This chart tells it all…
No one profited more from COVID than tech firms…
When the pandemic hit, the whole world turned digital.
Tech firms hired by the thousands to meet new demand. As you can see below, today's layoffs are nothing in comparison…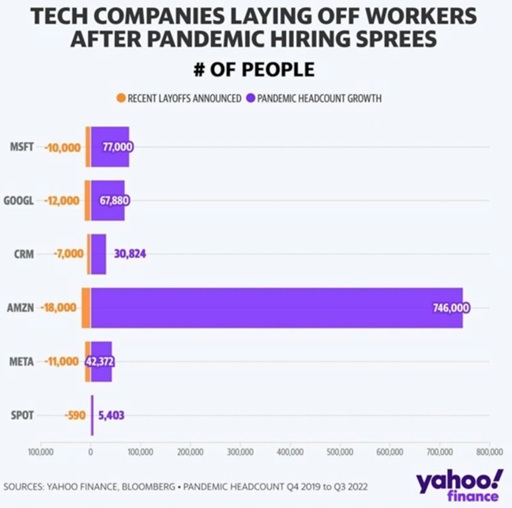 Source: Yahoo Finance
Just look at Amazon. It hired nearly 750K new employees during the pandemic. Now, it's letting a fraction of them go.
Plenty of open jobs are available for those folks to claim. In January, the unemployment rate fell to 3.4%, the lowest it's been in 54 years. There are nearly 11 million job openings right now in the US.
It sounds backward... but these big tech layoffs will create more jobs...
By cutting unproductive workers, tech firms will have more money to spend on innovation.
They'll discover new technologies, build new divisions, open new markets… and create new jobs. Same as they've always done.
20 years ago, 8,000 people worked at Amazon.
That was before the company launched the AWS cloud, Fulfillment-by-Amazon, last-mile delivery, and dozens of other businesses.
Today, Amazon employs 1.6 million people.
Or look at Google. Its workforce quadrupled in the last 10 years. And Meta's increased by 10X since 2013.
Tech stocks agree layoffs are good too…
Spotify (SPOT) announced it's cutting 6% of its workforce in January. The stock gained 30% since…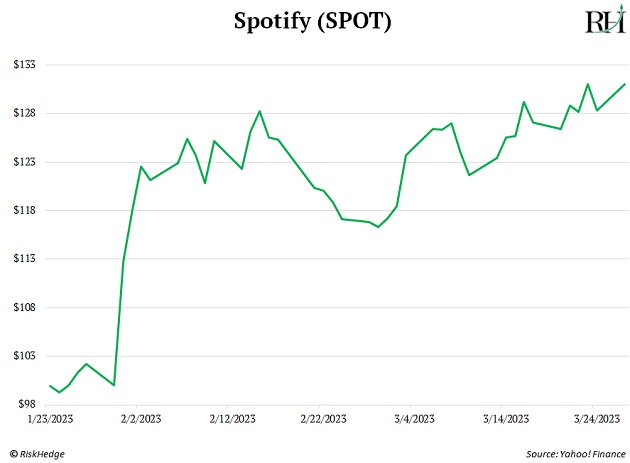 META announced its first round of layoffs in November. The stock has doubled since: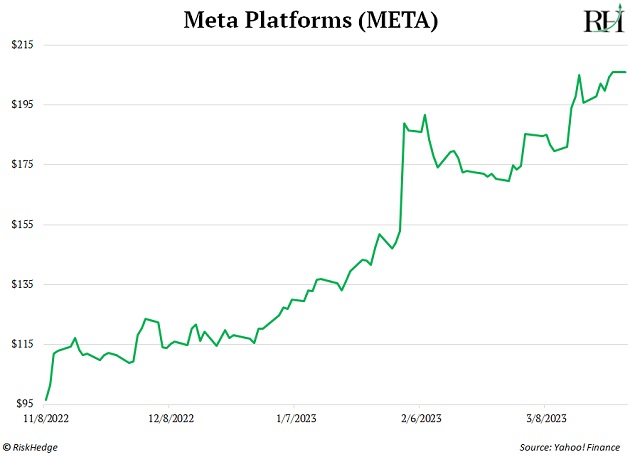 And look at Coinbase (COIN). At the start of the year, the company said it would let go of 20% of its workforce. The stock has surged 68% since.
Congrats if you acted on Chief Analyst Stephen McBride's idea to buy COIN in the January 16 RiskHedge Report.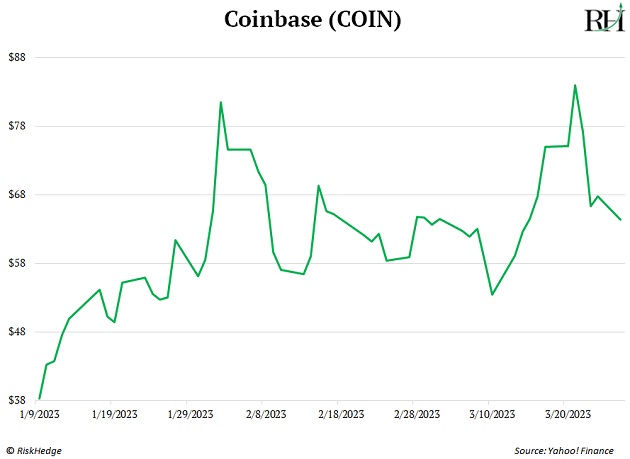 In short: Layoffs are a good (and necessary) move for these tech companies right now. It helps them focus on growth and optimize profits.
This is a major—but little-understood—tailwind for the tech-heavy Nasdaq, which remains 23% down from its all-time highs.
I think a lot of Nasdaq stocks—and perhaps the whole index—will surprise to the upside when the cost-saving effects of these layoffs start to show up in earnings results. I expect that to happen during Q3 and Q4 of this year.
Chris Wood
Chief Investment Officer, RiskHedge