This popular stock was on my blacklist in 2022… now I'm buying it.
Last July I said crypto exchange Coinbase (COIN) was a disruptor in decline.
Back then Coinbase was a $70 stock.
Look at Coinbase's performance since…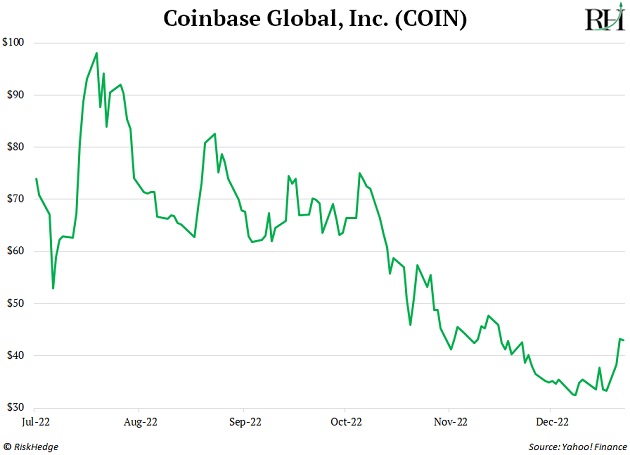 Today, I'm changing my mind—it's time to buy the disruptor.
Coinbase stock is set to at least double in 2023.
In the early 2010s, Coinbase made buying bitcoin (BTC) easy—all you needed was a credit card. And for almost a decade it was the go-to crypto exchange for ordinary investors.
But then a slew of competitors like Binance and FTX chipped away at its early lead. Despite Coinbase getting the jump on its rivals, its market share slipped to just 2% last summer.
Coinbase's future looked bleak.
FTX was the main competitor eating into Coinbase's lead. It bought the naming rights for an NBA arena, turned NFL legend Tom Brady into an advertising icon (and then, a laughingstock), and made a commercial with comedian Larry David into a Super Bowl hit.
At its peak, FTX controlled over 25% of crypto trading volumes.
FTX's November collapse was bad for the crypto market.
But it's great for Coinbase.
Coinbase's main rival is out of the game.
According to CryptoCompare data, Coinbase's market share has almost doubled since FTX's demise!
You may know FTX was an offshore exchange. It was able to grow rapidly by skirting a lot of US regulations.
In the wake of its collapse, I'm predicting a huge shift towards regulated, US-based exchanges, like Coinbase. Coinbase is the only publicly-traded crypto exchange that's licensed to operate in all 50 states.
This will help it reclaim most of the market share it lost in recent years.
Many investors think Coinbase is an overvalued tech stock…
Not too long ago, they were right.
Shortly after Coinbase IPO'd in April 2021, it traded at 240X earnings. For perspective, the average S&P 500 stock sells for less than 20X earnings.
Today, Coinbase trades at just 10X earnings!
Coinbase is now at the same valuation it was as a private company in 2018.
Yet, 10X more assets are on its platform, its revenues are 6X higher, and its user count jumped over 4X.
Coinbase now has over 100 million registered users.

Coinbase stock is a screaming buy today.
In fact, I have a big prediction for you.
Coinbase's market cap sits under $10 billion today. That's cheap for a company that was raking in $2 billion of revenue per quarter not long ago and is now the go-to crypto exchange in the US.
This makes it a potential takeover target for a major US bank like JPMorgan or online broker Charles Schwab.
There's a decent chance one of these firms acquires Coinbase in 2023.
Either way, I believe its stock is set to at least double in 2023.
Disagree? Think Coinbase is going to zero and crypto is dead? Write me at stephen@riskhedge.com.
Crypto is coming for Visa and Mastercard…
I'm sure you've read about stablecoins before.
In short, stablecoins are crypto assets that are designed to be worth exactly as much as a fiat currency. For example, Tether (USDT) and USD Coin (USCD) are pegged to the US dollar. You can think of them as "digital dollars."
And they've become extremely popular. A record $7 trillion worth of stablecoins changed hands in 2022. And get this—stablecoin volumes surpassed payments processed by PayPal, Square, AmEx, and Discover…
More money now moves along crypto rails than on some of the world's most widely used payment networks!
This year, stablecoins are gunning for the big dogs.
Visa and Mastercard are the two largest payment networks in the world. Mastercard processed roughly $8 trillion last year. Visa handled $11.6 trillion.
I'm betting stablecoin volumes will eclipse Mastercard this year… and outstrip Visa in 2024.
Stablecoins are a better… faster… cheaper form of money transfer.
They allow you to send "digital dollars" to anyone with an internet connection… in any country… 24/7/365. And it costs almost nothing to send a stablecoin from one crypto wallet to another.
This is why they're popular among foreign workers looking to wire money across borders and avoid the hefty charges of firms like Western Union.
It's also why they've taken off in countries that are destroying their currency through inflation, like Argentina.
If you live in the US, you take it for granted that you can access dollars whenever you want. This isn't the case for 99% of people around the world.
When I lived in Argentina, the locals were begging for dollars. They were always more than happy to swap their pesos for my greenbacks.
Digital dollars like USDC are much easier to acquire than physical dollars, and can be stored electronically.
Even payments giants like Visa and Stripe are adopting stablecoins. Visa recently announced it is settling some payments in USDC on Ethereum (ETH). This makes Visa the first major payments network to use stablecoins for settlement.
Stripe also debuted a tool to allow companies to send stablecoin payments to anyone around the world.
How can you profit from the rapid growth of stablecoins?
Most stablecoin transactions settle on Ethereum's blockchain. Ethereum makes money each time "digital dollars" change hands.
So Ethereum's revenues will take off as stablecoins eclipse Mastercard and Visa.
Ethereum is one of my highest conviction bets for 2023.
Stephen McBride
Chief Analyst, RiskHedge