GameStop has taken the investing world by storm.
The brick-and-mortar retailer is known for selling video games as well as collectibles like Pokémon cards.
Like many traditional retailers, GameStop's business is seriously hurting… thanks to COVID and a boom in online shopping.
And yet, it's the hottest stock on the planet.
GameStop's stock has surged nearly 2,500% since the start of the year. At one point, its shares jumped 900% in just two days!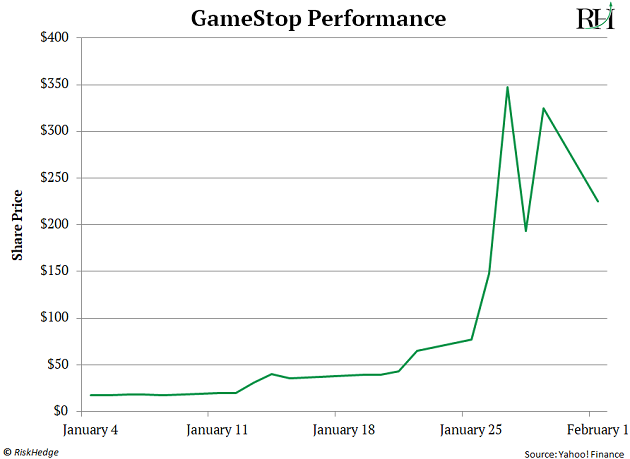 This clearly isn't normal.
For years, most investors wanted NOTHING to do with GameStop. Its shares plummeted 99% between 2014 and last summer.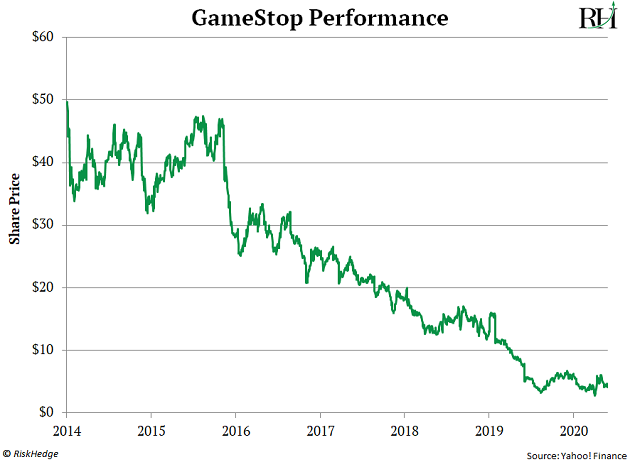 But now, this hated stock is going ballistic.
Today, I'll tell you what's behind GameStop's massive rally. I'll also explain why this fiasco represents a huge money-making opportunity for everyday investors… (just not in the way most people think).
But first, you must realize…
GameStop wasn't the only hated stock that recently went parabolic…
AMC Entertainment (AMC) also went nuts. Its shares skyrocketed 302% in just one day.
Koss Corporation (KOSS) soared 844% over three days.
Even dinosaur companies like Nokia (NOK), Bed Bath & Beyond (BBBY) and Build-A-Bear Workshop (BBW) got in on the action. Nokia rallied 76% in a week… Bed Bath & Beyond jumped 112% over the same stretch… and Build-A-Bear spiked 40% in two days.
These aren't your typical high-flyers.
AMC owns and operates a chain of movie theaters. Its business has been decimated by COVID, not to mention the explosive growth in streaming.
Koss makes run-of-the-mill headphones that you can buy just about anywhere online.
Nokia is best known for making phones that look like this: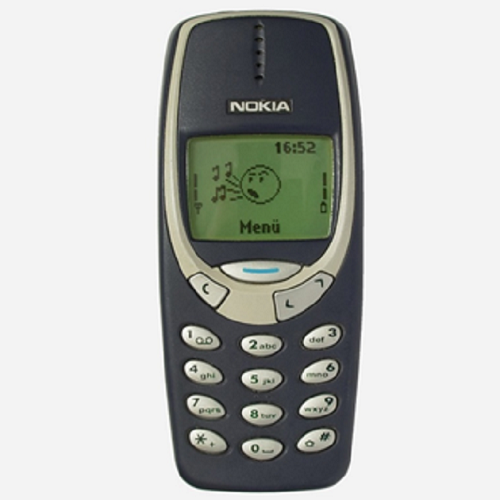 Source: dezeen
So, what fueled these insane rallies?
Simple…
They were all "short squeezes"…
If you've been following along, you know short selling is betting that a stock will fall in value.
But here's the thing…
Short sellers don't own a stock they short. They borrow it from someone else and sell it into the market.
To close out a short, they must buy the stock back.
When many short sellers do this, it ignites what's known as a short squeeze.
If the buying pressure is strong enough, a stock can spike 40%, 50%, or more in as little as a few hours.
Of course, that's nothing compared to what GameStop and company did. These stocks surged hundreds of percentages in a day!
But these weren't your typical short squeezes…
For one, many of these stocks had sky-high short interest.
Earlier this year, GameStop's short interest hit 140%!
I consider a short interest of 10% or greater to be high. So, GameStop was easily the most hated stock in the entire stock market.
AMC, KOSS, and NOK also had short interest of more than 20% before they got squeezed.
Not only that, the initial wave of buying on GameStop was highly coordinated.
If you read yesterday's RiskHedge Report, you know day traders on a social media forum called WallStreetBets took issue with the massive short positions taken by hedge funds on GameStop, AMC, and others.
So, they started piling into these stocks en masse in an effort to "flush out" the short sellers. These retail traders wanted to stick it to Wall Street. And as of now, it appears to be working…
Unfortunately, most of these stocks will likely give back these gains…
We're actually already beginning to see this play out. Yesterday, GameStop plummeted 31%, while Koss dropped more than 45%.
I wouldn't catch these falling knives if I were you.
There are plenty of much better short squeeze opportunities to take advantage of.
Investors have never been more interested in short squeezes…
The chart below says it all.
You're looking at the Google Trends for the term "short squeeze."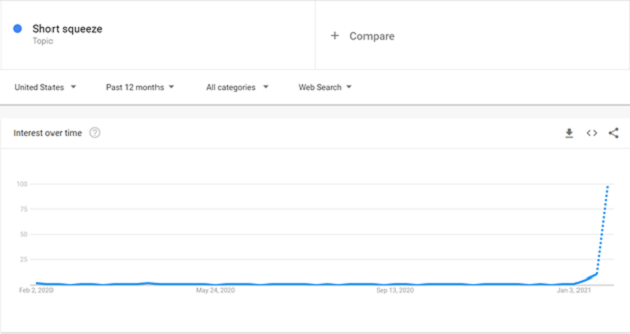 Source: Google Trends
Notice how interest in short squeezes has exploded recently. More people are searching for "short squeezes" than ever before.
This is practically unheard of. Normally, we'll see investor interest spike for megatrends like 3D printing, legal cannabis, and genomics.
You also never really see this happen with a trading strategy like this.
This tells me stocks with high short interest will be in high demand for the foreseeable future.
That's great news for RiskHedge readers.
Profiting off short squeezes is my bread and butter…
But I don't trade garbage companies like GameStop and AMC.
Instead, I focus on the world's best initial public offerings (IPOs).
You see, IPOs are prime short squeeze candidates.
That may surprise you. After all, the most disruptive and fastest-growing companies often come from the IPO market.
Still, many investors hate IPOs.
There's some logic to this…
IPOs are, by definition, new stocks. They have no track record on the public markets. This attracts many doubters... and short sellers.
Most IPOs aren't household names yet like Starbucks (SBUX), Walmart (WMT), and Facebook (FB). Many folks have never used their products or services. That keeps them from investing in these companies.
And that's why many world-class IPOs struggle early on.
But often, the tide turns and the short sellers have no choice but to buy back shares.
Remember, there's a big difference between the short squeezes I focus on… and the ones making all the headlines right now.
And when you're buying stock in a great business, a short squeeze isn't just an opportunity to make a quick profit. It's an opportunity to get in on the ground floor of a rally that could last months or even years.
Keep in mind, if you're solely after quick profits, you need not worry about the quality of the business. Simply find a stock with a short interest above 20%, then "stalk" it.
When it spikes above recent highs, that's a tell that short sellers are likely panicking. A short squeeze is likely underway—and quick profits are likely on the table if you act quickly.
But if you're after big rallies that last months—even years—you need to focus on IPOs in great businesses.
That's exactly what I do in my IPO Insider advisory.
In fact, we just closed out a 47% gain in less than 6 months in SailPoint Technologies (SAIL). And we're currently sitting on a 102% gain in 5 months in a leading clean energy company. And one of the most fundamentally strong IPOs you'll find.
And there's still plenty of juice left in this short squeeze.
And yet, this stock is still hated. Its short interest stands at nearly 20%. And a potential short squeeze could easily ignite a multi-year rally.
You can learn how to access the name of this IPO—and all the details behind my specific short squeeze trading method—by going here.
Justin Spittler
Chief Trader, RiskHedge
P.S. My research on short squeezes came in handy when all this craziness started a couple weeks ago. Take it from one of my subscribers:
Hi Justin, I recently became a subscriber to your IPO Insider and really enjoyed the education I received on what a short squeeze is and how to benefit from it under your guidance.
When the GameStop short squeeze happened, I already had the background knowledge to follow what was going on in the news with confidence and some amusement on the side, I may add. —Nam
As I showed you, more people are searching for short squeezes than ever before. Don't rely on "luck" during these exciting times. For a proven, reliable strategy that can hand you clockwork profits of 70%–135% in short order and 400%, 600%, 1,000%, or more in time… go here.