The "little guy" is making a mockery of Wall Street.
I'm sure you've seen the headlines about GameStop's (GME) stunning 1,865% rally.
In today's special "roundtable" edition, our analysts will show you what's really going on here…
But if you haven't heard about this yet, let me get you up to speed.
In short: Certain investors have been making an absolute killing in some of the world's most "hated" stocks…
Like GameStop (GME), which is basically "Blockbuster for video games"—up a mind-boggling 1,865% this year: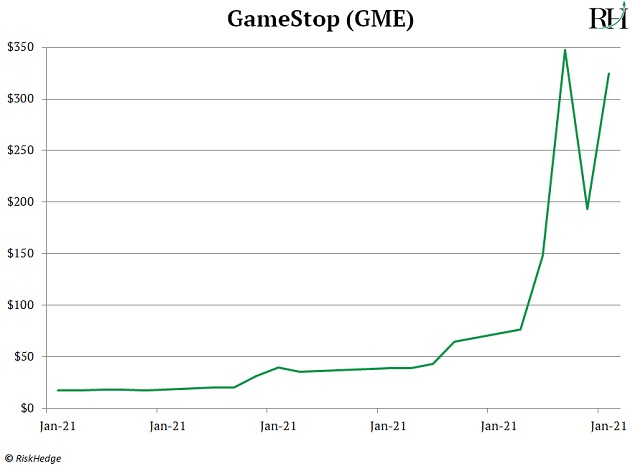 Movie theater chain AMC Entertainment (AMC), which skyrocketed more than 300% on Wednesday alone: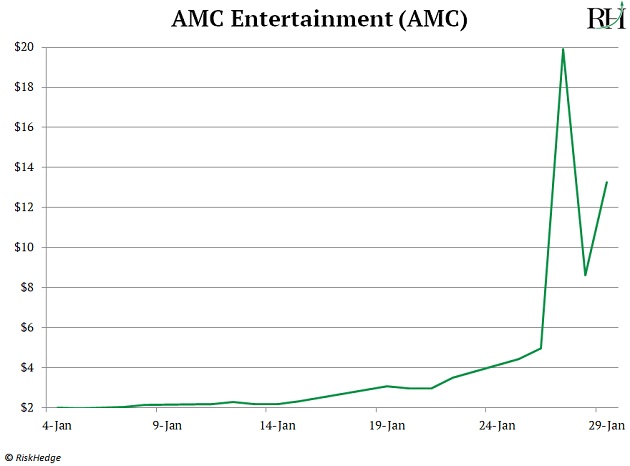 And BlackBerry (BB) (remember them?), which soared as high as 274% over the past month: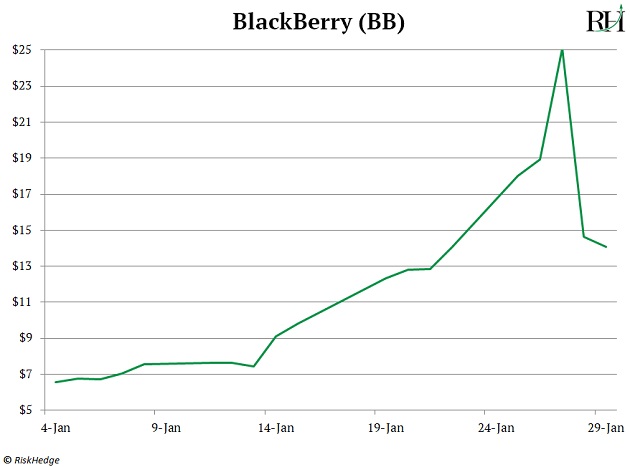 Why are some of the most hated, beaten-down stocks on earth suddenly exploding like geysers?
Turns out, day traders on a social media forum called WallStreetBets are pulling the strings...
In short, they noticed a massive short position taken by hedge funds in GameStop, AMC, and others…
These traders "rallied the troops" and told everyone who'd listen to buy GameStop.
The buying pressure led to a classic "short squeeze" where hedge funds were forced to close out their short trades as they sustained massive losses.
If you've been reading RiskHedge, you know "shorting a stock" means betting that it will fall in value. Short sellers don't actually own a stock they short. They borrow it from someone else and sell it into the market.
Therefore, to close out the trade, they must always buy the stock back.
GameStop was one of the most heavily shorted stocks by these hedge funds. And its spike blindsided Wall Street in a way we've never seen before...
One fund, Citron Research, says it lost 100% on its short position in GameStop.
Another, Melvin Capital, needed a nearly $3 billion capital injection to cover its losses!
Because this is such a surprising and unprecedented event, I called up our analysts to get their thoughts.
Read on to hear what Justin Spittler, Stephen McBride, and Chris Wood have to say about it:
Justin Spittler: This is a safer way to profit off short squeezes…

To me, the biggest part of this story is that Robinhood—a brokerage popular with younger investors—actually stopped allowing their users to buy GameStop, AMC, and BlackBerry!
I think there will be serious consequences to this. It's market manipulation, all in an effort to save the "big suits" on Wall Street so they had a chance to exit their trades.
Two takeaways:
The retail investor is seeing that the game is stacked against them. More people will gravitate toward cryptocurrencies like Bitcoin. That's because it's decentralized, meaning it can't be manipulated or controlled by the government (the complete opposite of what we're seeing right now with Robinhood and some other trading platforms).

The average retail trader is starting to see the power of spotting and trading short squeezes. This is a good thing, but a word of caution: Don't get caught up in this mania trying to make a quick buck by buying low-quality stocks like GameStop and AMC.
Ask yourself: Would you be comfortable owning these stocks 5 months from now? The answer is no. Their businesses are on their way to zero.
My IPO Insider readers and I have been profiting off short squeezes successfully by focusing on great companies that we'd like to own even after the short squeeze. And it's paid off handsomely. In fact, my readers are sitting on a 94% gain in 4 months on one of my top short squeeze plays. But there are many more opportunities shaping up…
If you want to profit off short squeezes safely, I recommend checking out my proven strategy here.
Stephen McBride: This story runs much deeper than newbies getting rich off GameStop

It's a crazy story: A bunch of traders on a message board taking down a prominent Wall Street hedge fund. Talk about a headline! But the story runs much, much deeper…
The knock on young folks for the last 10 years, since the financial crisis really, has been that they don't own any assets. They weren't participating in the markets, they didn't know anything, and they were just living in their parents' basements.
That's starting to change now. Last year all the major brokerages across the board like Charles Schwab, E-Trade, and TD Ameritrade all saw a record number of new account openings. And it was young folks who were signing up in droves.
Of course, COVID accelerated this trend. But to find the "smoking gun," look about 18 months ago when these brokerages all cut commissions to zero. It opened up this whole new world to loads of retail traders.
The consensus is "look at all these young inexperienced traders doing stupid things like loading up on crappy stocks."
It's been painted as a bad thing everywhere.
But I think it's jet fuel that will propel the stock market higher for years.
Underneath the surface, a whole new generation—the largest and most educated generation in American history—is coming into the stock market for the first time, together.
And that's a wonderful thing for stock prices.
Chris Wood: This is the #1 thing to keep in mind right now

I want to make sure all these new investors know what they're getting into. Many of them haven't learned much about investing yet.
The #1 mistake that they're making is thinking that it's going to be "easy" to make money in stocks forever.
Wrong.
Keep in mind, we're less than a year removed from one of the fastest and biggest stock market crashes in history. And many folks think it won't happen again. A lot of these folks didn't even start investing until after the crash, so they don't have any experience with losing money yet. They'll eventually learn the hard way...
So what should you do about this? Stick to good risk management principles when stocks are hot—so you don't lose more than you need to when the inevitable pullback occurs.
That's why I pound the table on things like position sizing and taking "free rides" on any stocks up 100%+. (Sell enough to recoup your initial investment, to essentially play with house money.)
Our 14 open positions in Project 5X are up an average of 104%, which is great… But what's better is we have free rides on 8 of them. So we can't lose money on them. Helps you sleep better at night.
Chris Reilly
Executive Editor, RiskHedge
P.S. In this crazy market, it's critical that you have a smart game plan. Especially if you're thinking about profiting off short squeezes. Again, that's where Justin comes in. His proven system can hand you reliable profits on quality stocks… unlike GME and AMC.
Learn all about his strategy (and see how it can help make you an extra $30K this year) by going here.