Did you catch the big news?
Last week, President Joe Biden signed one of the most important executive orders in years.
It's called the CHIPS Act…
And it unleashes over $50 billion into one of America's most important industries: computer chips.
I'll show you why this will reshape the global chip industry… and a dead-simple way to profit from it.
RiskHedge readers know chips are, hands down, the most important goods the world has ever known.
They are the "fuel" powering every modern technology.
Temperature sensors in air conditioners are powered by tiny microchips. The chip inside pacemakers sends electrical pulses to the heart to keep it beating regularly. Without chips, there would be no iPhone, computer, or electric car.
Chip stocks have handed investors huge gains over the past few years.
Graphics chip pioneer Nvidia (NVDA) is up 4,400% over the past decade.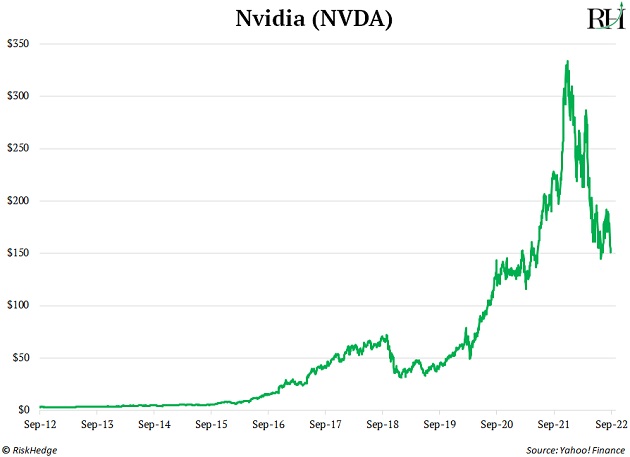 Advanced Micro Devices (AMD) has handed investors 7.6X their money since 2018.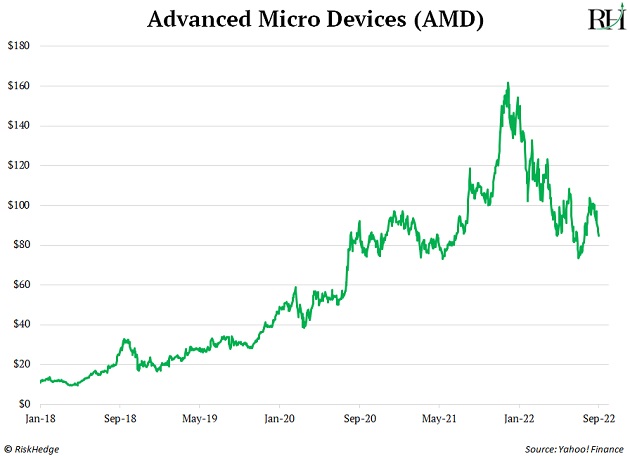 Qualcomm (QCOM) has more than doubled over the past few years.
Do you notice what else these companies have in common?
The US is the birthplace of the chip industry. And American companies like Nvidia, Qualcomm, and AMD are some of the largest chip companies in the world.
But did you know almost no chips are "Made in America" these days? Cheap manufacturing from overseas hollowed out America's chip industry.
Back in the 1990s, roughly one-third of chips were made on US soil. That's dwindled to around 10% today. And most of them are cheap chips that go into microwaves, fridges, and electric scooters.
All the high-end stuff—like the chips powering our computers, smartphones, datacenters—is made thousands of miles away in Asia.
Soon, powerful chips will be "Made in USA" again.
Long-time RiskHedge readers know all about the chip shortage.
When COVID-19 shut down the world, it was nearly impossible for American companies to get chips from overseas.
Automakers like GM and Ford were forced to close factories for weeks. The chip shortage cost iPhone giant Apple billions of dollars.
The shortage forced the American government into action…
It could no longer rely on shipping chips from factories thousands of miles away. They needed to be "Made in USA."
That's what the CHIPS Act is all about. It'll deploy $52 billion into US chip manufacturing. And most of the money is reserved for new chip factories on US soil.
Chipmaking in America is already making a huge comeback…
Intel will plough $40 billion into new factories in Arizona, Ohio, and New Mexico…
The world's largest chipmaker, Taiwan Semiconductor, is constructing a state-of-the-art plant in Arizona…
And Samsung is building a $17 billion plant in Texas.
Texas Instruments and Micron also announced they're pouring billions of dollars into new US chipmaking factories.
Why are chip plants so expensive?
Did you know it costs more to build a cutting-edge chip plant than a nuclear reactor… or a giant US military aircraft carrier?
That's because if you want to make the latest high-end chips, you need the latest high-end machines.
Just one of these machines can cost over $100 million—and each chip plant will have dozens of them.
Chipmakers like Intel, Taiwan Semi, and Samsung spent over $100 billion on these chipmaking machines last year. This year, they're on track to spend another $110 billion. That's the equivalent of two "CHIPS Acts"—each year.
And because of their complexity and high price tag, only a handful of companies can build them.
But there's only ONE company on the planet that makes the machines capable of producing the world's fastest chips.
I'm talking about ASML (ASML)...
Longtime RiskHedge readers know AMSL is one of my favorite stocks. It's more than doubled since I first recommended it in 2018.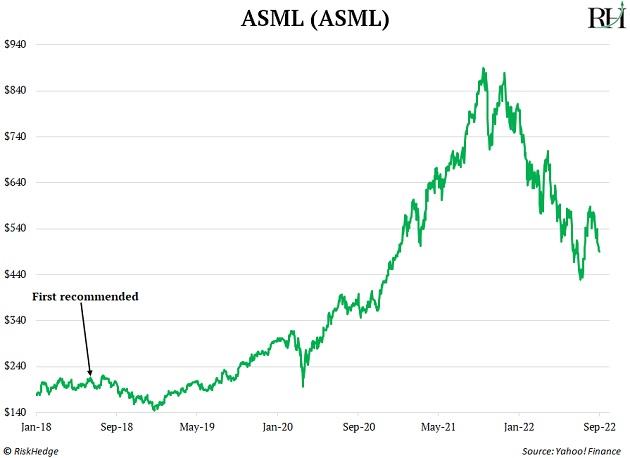 ASML's extreme ultraviolet lithography machine is the answer for companies looking to invent the future. There is no alternative.
These are the only machines on Earth that can make the world's most advanced chips. ASML has a monopoly on them. It sells its machines to chipmakers like Intel and Taiwan Semi, who use them to make the chips.
ASML's machine "burns" a blueprint of transistors onto a silicon wafer. It does so with the precision equivalent to shooting an arrow from Earth and hitting an apple on the Moon.
This was impossible with older technology. But after 20 years, ASML "cracked the code." And get this—these machines are so heavy, it takes three Boeing 747 cargo planes just to deliver one!
As I said, the costliest part of these chip factories is the machines.
ASML's machines cost $160 million each—and leading-edge factories might have a dozen or more.
Chip stocks are my slam-dunk investment for the next decade.
You see, chip sales have only gone one way our entire lives: UP.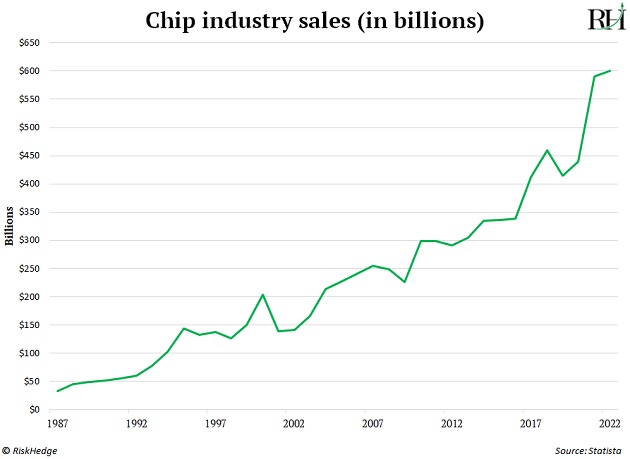 The CHIPS Act will further turbocharge chip spending…
It'll put the "Made in America" stamp back on chips and send billions of dollars pouring into companies like ASML that produce chipmaking machines.
Chip stocks are down along with the rest of the market. At these cheap levels, you can buy almost any major chip stock and profit.
But ASML is my favorite. It's got a total lock on the world's most important chip machines. America's chipmaking comeback can't happen without it.
It's a perfect setup… and one I'm taking advantage of by buying ASML stock.
Stephen McBride
Editor — Disruption Investor