It was one of my boldest calls of 2020.
Last February, I compared a small ($10 billion) tech company to Microsoft (MSFT). Specifically, I said the stock looked a lot like Microsoft in 1995...
Microsoft needs no introduction. The company spearheaded some of the biggest technological breakthroughs of the last 50 years. As a result, it's one of the best-performing stocks of all time. It's surged more than 180,000% since it went public in 1986.
There aren't many "hall of fame" stocks like Microsoft out there. So my comparison raised some eyebrows.
But I was convinced this stock presented a huge money-making opportunity. And that turned out to be the case…
In fact, you could have tripled your money by buying this stock when I highlighted it.
But I'm writing you today because there's an even bigger opportunity staring us in the face.
And unlike last time, there isn't just one stock that you can buy to capitalize off this opportunity. My research shows several tiny, overlooked stocks could deliver monster returns in the coming months.
I'll show you how to play this exciting opportunity in a second. But let's first look back. After all, today's opportunity shares a lot in common with the one I previously spotlighted.
Last February, I encouraged RiskHedge readers to buy Roku (ROKU)…
Roku is a pioneer of the "cord-cutting craze."
You may own or have seen the small black boxes that it makes, which plug into your TV. These devices allow you to easily access Netflix (NFLX), Hulu, and all your other favorite streaming platforms.
Roku also has developed the industry-leading operating system for connected televisions. In fact, a third of all smart TVs sold in the US now have Roku's software platform built in.
But Roku isn't just a great company. It's also a hypergrowth stock.
As you can see below, Roku has rallied 223% since I wrote about it less than a year ago.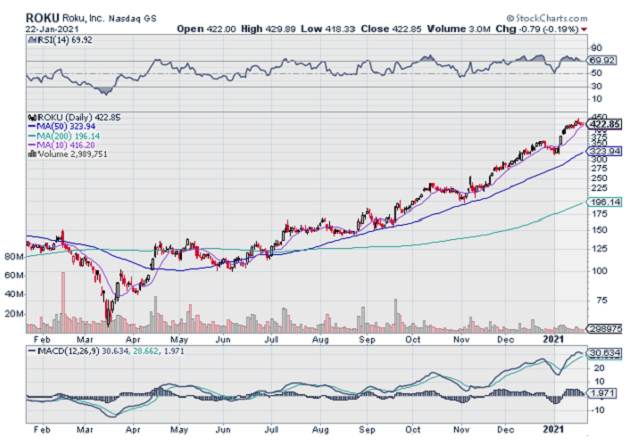 Source: StockCharts
That's an incredible run. And I see Roku heading much higher in the months and years to come.
But other connected device stocks could deliver even bigger gains.
As you may know, many devices in our homes are now "smart"...
In other words, using sensors connected to the internet, these devices pay attention to your habits. A smart thermostat, for example, can learn that you like to wake up at 6:30 am... then turn the heat on at 6:00 so you're not freezing when you get out of bed.
Some of these devices you can control with your smartphone, whether you're home or not.
According to a recent survey by ValuePenguin, 31% of Americans now own a smart speaker such as an Amazon (AMZN) Alexa. That's up from 7% just four years ago!
Not only that, 24% of Americans own a smart thermostat… 17% have smart kitchen appliances in their home… and 16% have installed a smart doorbell.
All told, 65% of Americans have at least one smart device in their home.
This is proof that the smart home appliance industry is growing at warp speed.
After all, many of today's smart devices didn't even exist five years ago!
In the months ahead, more and more American households will have connected devices inside. Many will have more than one.
And that spells opportunity for us.
The smart appliance market is growing like crazy…
According to Grand View Research, the industry is growing at a little more than 14% per year. By 2027, the market is projected to grow to $93 billion.
In short, serious money is pouring into the smart appliance space.
Luckily, many connected device companies are publicly traded.
You could easily bet on this megatrend by buying the Global X Internet of Things ETF (SNSR). This fund invests in a basket of stocks with exposure to the connected device space.
But you should understand something about SNSR. It invests in all sorts of companies, including medical device stocks like Dexcom (DXCM) and semiconductor manufacturer Skyworks (SWKS).
In other words, it's not the best way to bet on the booming smart home market.
I suggest focusing on companies that specifically sell smart home devices.
For example, Resideo Technologies (REZI) sells smart thermostats, humidifiers, water leak detectors, and doorbells.
Arlo Technologies (ARLO) is another company I like in the space. It sells smart video doorbells and home cameras that connect to your smartphone.
iRobot Corporation (IRBT) is another interesting company. It makes the Roomba—a small automated vacuum that you can control with your phone.
Just understand that all three of these stocks have been on a tear recently. In fact, since last March, iRobot has climbed 204%… REZI has skyrocketed 601%… and Arlo has surged 751%.
So, I suggest looking to buy these stocks on weakness. And as always, never bet more money than you can afford to lose.
Justin Spittler
Chief Trader, RiskHedge
P.S. I'm honored to have recently taken RiskHedge's "top-performing analyst of 2020" crown. It truly was a fantastic year. My IPO Insider subscribers absolutely crushed the market… In fact, across all of my picks, I generated a 294.3% rate of return (calculated using the Internal Rate of Return method).
That's the entire portfolio, not just 1 or 2 cherry-picked plays.
And I see big things ahead for 2021. If you'd like to join us, this is the perfect time.
We just released 400 RiskHedge All-Access Passes. In short, these passes allow you to access not just my advisory… but ALL of RiskHedge's elite services… for a massive discount.
This is the easiest and the most cost-effective way to take advantage of our research in 2021. You can see for yourself everything you get right here.