"Its chart looks like a major winner..."
That was my response to a question RiskHedge Reserve Member John asked on our members-only quarterly call two weeks ago.
John wanted to know my main reasoning for recommending disruptor Intellia (NTLA).
It was a great question because our initial buy alert included deep analysis of Intellia's stock chart—but not a whole lot on the company's fundamentals.
Intellia, as regular readers know, is a leader in the booming genomics space.
It's one of a handful of companies pioneering gene editing—one of today's most transformational technologies.
My Disruption Trader co-editor Stephen McBride had studied Intellia's business, and we'd been watching its stock for months.
But we pulled the trigger and bought it on June 9 for an equally important reason:
Intellia's chart was a SCREAMING BUY…
You see, I'm a trader at heart.
I use chart analysis to get the best possible entries and exits on stocks.
So, I'll never recommend a stock based on fundamentals alone. The stock's chart also needs to be extremely bullish.
And Intellia had one of the best setups I've seen in months. Here's what we said in our original buy alert.
Intellia was a top performer in 2020. But it's been trading sideways for most of 2021.
In general, sideways trading action is normal after such an explosive move. It gives a stock the opportunity to "store up energy" before making its next leg up.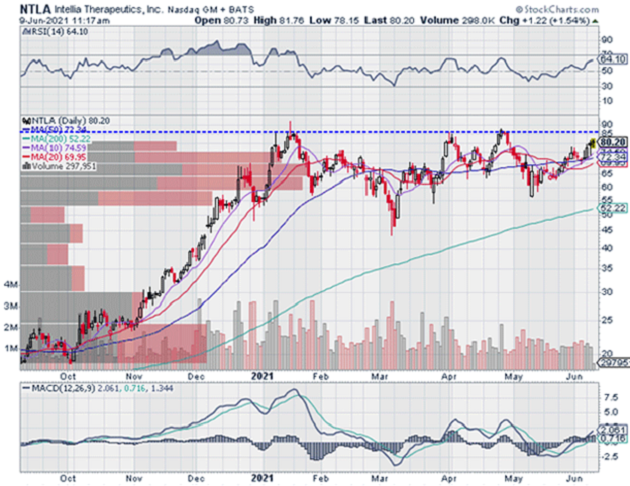 Source: StockCharts
We think NTLA will break out of this multi-month consolidation soon for a couple of reasons.
For starters, biotech stocks as a whole are beginning to display a ton of strength. We're also beginning to see strength in genomics stocks.
NTLA looks like it could emerge as a leader in the genomics space. This is why we're putting on this trade today.
A couple weeks later, I doubled down on my bullish stance... and emphasized that Intellia had "monster stock potential."
Two days later, Intellia shocked the world…
If you read last Thursday's RiskHedge Report, you know what I'm talking about.
As my colleague Stephen McBride explained, Intellia successfully edited genes inside the human body in a clinical trial.
In other words, it demonstrated CRISPR gene editing technology works for the first time ever.
Intellia's share price spiked on the news… surging 124% over the next five days.
The watershed moment sparked an industry-wide rally…
Editas Medicine (EDIT)—another gene editing pioneer—spiked 30% in 2 days.
CRISPR Therapeutics (CRSP) rallied 22% in a week, while Beam Therapeutics (BEAM) surged 41% during the same time frame.
Now, I'll be the first admit that I didn't know Intellia's game-changing announcement was coming.
I knew it was set to share trial results on June 26. But I had no idea the results would change medicine forever.
Still, I had a good hunch something big was brewing, because...
A stock's chart can tell you a lot about the future.
Leading up to the trial, many genomics stocks were struggling.
Not Intellia. It was holding steady near all-time highs.
Here's the original chart again that we included in our buy alert. It shows what NTLA looked like just before it took off: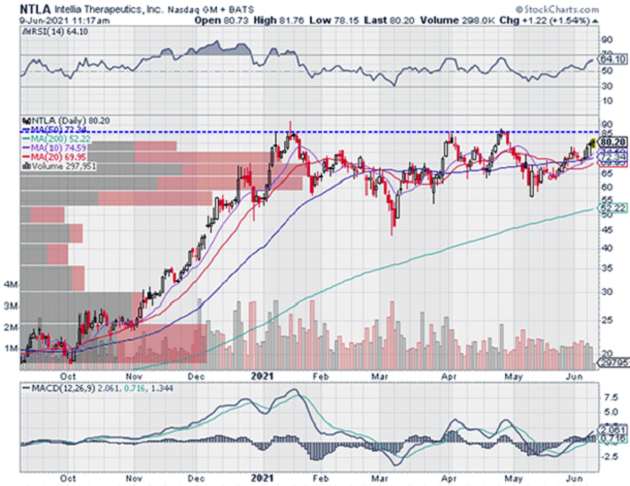 Source: StockCharts
Now look at this chart that shows Editas over the same period. It was struggling, and had dropped more than 60% from its highs.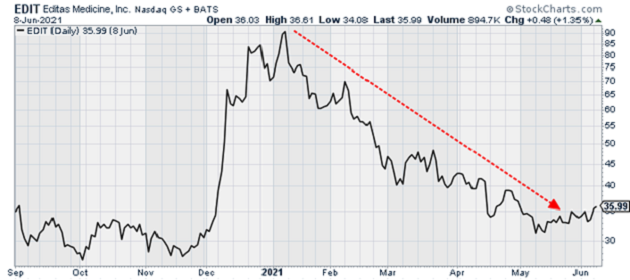 Source: StockCharts
Here's a chart of CRSP. It was struggling, just like Editas.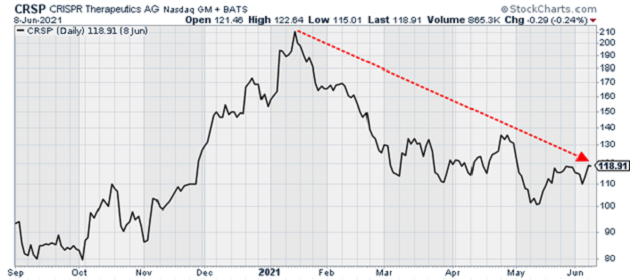 Source: StockCharts
In short, almost all genomics stocks have been struggling for the last couple months...
Except Intellia.
Intellia had separated itself from the pack.
Buyers were stepping in to buy the stock every time it dipped.
And that told us the "smart money" like hedge funds and other big institutions was likely loading up on shares.
As I often point out, you usually don't want to bet against the smart money.
Institutional investors have access to information that the typical investor doesn't.
They often know about "news" long before a big story breaks.
As I like to say… when it comes to the stock market, "somebody always knows something."
Is this unfair?
Probably, yes.
But there's no sense in complaining about it when we can instead use it to our advantage.
You see, big institutions often leave "footprints" when they accumulate large positions in a stock.
Hedge funds don't invest like you and I do. They often control billions of dollars. So when they're investing in a company, they won't buy millions of shares all at once. Instead they'll "scale in" to a stock over weeks or months. They'll build their positions slowly and quietly.
They do this for two reasons: to prevent the price from spiking... and to hide their actions from others who would front-run them.
If you know how to look for these footprints, you can position yourself alongside these world-class investors.
And that's the main reason we pounced on Intellia a month ago.
This isn't the first time I've used this approach to bag big gains for my subscribers…
This chart shows the performance of edge computing pioneer Fastly (FSLY).
I recommended Fastly back in April 27, 2020.
Less than 2 weeks later, Fastly reported blowout earnings. Its share price surged 47% in one day.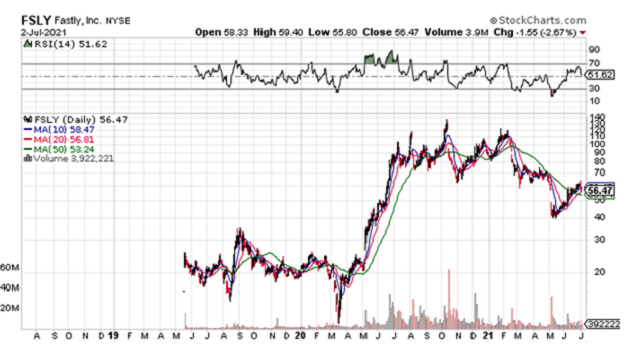 Source: StockCharts
Now, Fastly was set to report earnings. I wouldn't have put on the trade if I didn't think FSLY would deliver killer results.
But the main reason I recommended the stock was because institutions were loading up on Fastly. It was obvious from studying the chart.
We later closed out Fastly for a 330% profit.
You see this pattern play out all the time in the markets.
And it's important to realize...
We would have never pocketed these returns if we waited for the bullish news.
You want to position yourself ahead of these monster moves.
Of course, no one has a crystal ball.
It's impossible to know with 100% certainty what a stock will do tomorrow.
But if you know what to look for... a stock chart can reliably clue you in that something big is brewing.
Today, Stephen and I have pinpointed 5 trades with picture-perfect chart setups. Our research shows these 5 stocks are primed to become market leaders, just like Intellia and Fastly…
More important, these stocks could see quick 100–200% gains as they disrupt whole industries.
By getting in today, we tilt those odds heavily in our favor.
We just put all 5 of these fast-moving trades in a brand-new report for you so you can take action right away. Inside, we show you all the names/tickers, but more important, our specific game plan of each stock.
To access this report, head over here for the full details.
Justin Spittler
Chief Trader, RiskHedge