"Are my stocks finished?"
You may be asking yourself this question.
If so, I understand where you're coming from.
Many red-hot stocks were recently leveled.
Stocks in disruptive industries like electric vehicles (EV), green energy, and 3D printing were among the hardest hit.
Some high-flying names retraced over 50% in just a couple weeks.
Pullbacks like this sting…
There's no way around that.
When this happens, many assume the worst.
I know because several concerned RiskHedge readers have written me recently.
They want to know if the bull market is coming to an end.
And that's why I'm writing today's essay:
Despite what's happened recently, I still think we're in the early innings of a new bull market…
One that will be especially lucrative for growth stock investors. (It all comes down to one word, which I'll share in a minute.)
But first—to help put things in perspective—look at this chart. It shows the performance of the S&P 500 over the past year.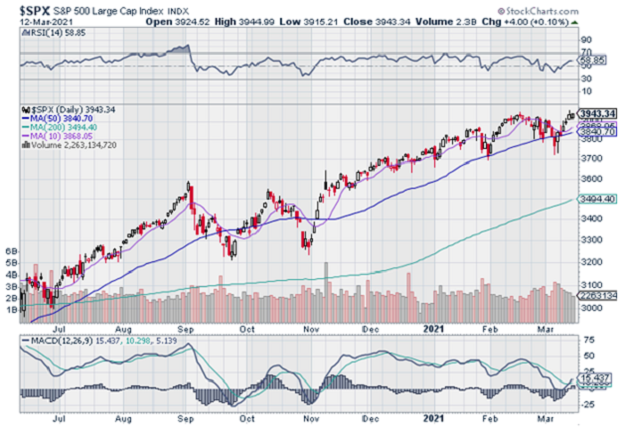 Source: StockCharts
The S&P 500 is the world's most important stock index. And it's still in a strong uptrend, as you can clearly see.
Not only that, it notched a new all-time high last week.
That wouldn't have happened if the market was beginning to unravel.
Of course, most RiskHedge readers aren't passive investors. They've taken control of their finances.
If that sounds like you, you're probably wondering what the heck is going on with your growth stocks.
Well, it's quite simple…
What we saw happen recently was nothing more than "rotation"…
Rotation occurs when many investors simultaneously move money from one sector of the stock market to another.
It's called "rotation" because money typically rotates from sectors that are hot, to sectors that have been lagging.
The key thing to know is rotation is very healthy for the stock market as a whole. In fact, bull markets die without it...
Think of rotation as the market's way of hitting reset. Until a few weeks ago, growth stocks had been outperforming nearly all other stocks by a mile. This causes a growing imbalance in the market. And if the imbalance were to get out of hand, it would eventually trigger a severe stock market crash.
Instead of a crash, we got rotation. Growth stocks fell to more reasonable prices. And the stocks that had been lagging have largely caught up.
As a result, the market is closer to a state of equilibrium... and I believe the stage is set for a sustained run higher in US stocks.
Of course, this wasn't your run-of-the-mill rotation. The sell-off in growth stocks was particularly violent.
There are a few reasons for this…
For one, certain industries were especially overcrowded…
This is especially true for stocks at the forefront of exciting megatrends like EVs, green energy, 3D printing, and genomics.
Solar company Sunworks (SUNW) has climbed more than 2,800% over the past year… Electric vehicle infrastructure company Blink Charging (BLNK) has rallied 2,100% over the same period, while 3D printing company Nano Dimension (NNDM) has surged nearly 1,200%.
Now, this doesn't mean that these industries won't thrive in the long run. But the market needs to flush out weak hands from time to time.
And that's exactly what just happened.
The US economy is also getting ready to reopen…
If you read the RiskHedge Report I wrote last week, you know what I'm talking about.
In short, COVID cases are rapidly dropping, millions of vaccines are being administered every week, and several states are lifting their COVID restrictions.
This is great news for everyday Americans. It means we'll put this nightmare behind us.
The reopening of America is also great news for the stock market. This is why the S&P 500 and Dow Jones Industrial Average hit new highs last week.
Not only that, but we're seeing previous laggards now leading the way during this rotation…
I'm talking about stocks like airlines and traditional retailers…
Take a look. This chart shows the performance of The US Global Jets ETF (JETS), which invests in a basket of airline stocks.
Source: StockCharts
It's up 24% since the start of the year.
Traditional retail stocks have also enjoyed a huge boost recently. This chart shows the performance of The SPDR S&P Retail ETF (XRT), which mainly invests in traditional retailers.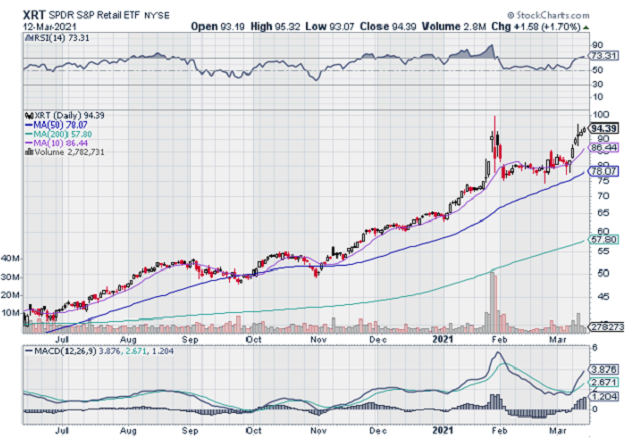 Source: StockCharts
It's up 48% in 2021.
Oil stocks also got a huge boost recently. People are about to spend a lot less time at home in the months than they have been. They'll be moving around more, and that means more oil should be consumed in the coming months.
This doesn't mean growth stocks are finished…
Not by a long shot.
They're simply taking a breather. And I have no doubt that they'll be leading the market higher soon. After all, growth stocks are at the forefront of many of today's most exciting megatrends.
Investor appetite for EVs, green energy, and 3D printing isn't just going to vanish overnight.
And that spells huge opportunity for us…
Today, many growth stocks are trading at "fire sale" prices. But that doesn't mean you should blindly invest in any beaten-down stocks.
If you're looking to put money to work, my advice is simple.
Focus on stocks displaying relative strength.
Many high-flying stocks broke down in recent weeks.
When this happens, it can take weeks or even months for a stock to recover and begin moving higher again.
This is why I prefer to focus on stocks that maintained their bullish structures during periods of heightened volatility.
These stocks are easy to identify. Simply look for stocks that put in "higher lows" during the recent pullback rather than "lower lows" or, even better, look for stocks that are flirting with or setting new highs.
They have the best chance of leading the market higher in the coming weeks.
Justin Spittler
Chief Trader, RiskHedge