RIP Texas.
I saw this "trending" on Twitter last week.
My first thought was, "What the heck happened in Texas?"
So, I clicked the tab to find out. That's when I saw the news…
Texas Governor Greg Abbott announced that Texas was officially reopening as of March 3.
Specifically, Abbott ended the state's mask mandate. He also issued an executive order that will let Texas businesses operate at full capacity.
Here's why Abbott made the decision…
COVID has not suddenly disappeared… But it is clear from the recoveries, from the vaccinations, from the reduced hospitalizations, and from the safe practices that Texans are using, that state mandates are no longer needed.
Texas wasn't the only state to do this, either.
That same day, Mississippi ended its mask mandate…
Like Texas, Mississippi will allow businesses in its state to operate at 100% capacity.
A few days later, Arizona Governor Doug Ducey lifted COVID restrictions for Arizona businesses.
Iowa, Montana, North Dakota, Alabama, Utah, and West Virginia have also either lifted or intend to lift COVID restrictions in the near future.
You may think this is great news. Or maybe you think these states should have waited to reopen.
But I didn't write this essay to tell you if these states did the right thing.
I wrote it because the reopening of America is opening up a big buying opportunity.
But I'm not talking about buying airlines, cruise liners, traditional retailers, or any other industries that were crushed by the pandemic lockdowns.
I'm talking investing in work-from-home stocks…
But not just any kind… a specific type that my research shows will hand out solid gains—even as more and more states open up.
I realize this is the complete opposite of what you might be hearing.
After all, demand for work-from-home solutions skyrocketed when COVID made landfall last year. These stocks went ballistic as America was forced to stay home.
Consider what happened to Zoom Video (ZM), the global leader in video conferencing.
Zoom was a hypergrowth company before the pandemic struck. But it became one of the most popular companies on the planet when businesses large and small were forced to close their offices and go remote.
Zoom quickly became one of the biggest "winners" of the pandemic…
Its revenues have skyrocketed 169%, 367%, and 355% over the past three quarters. That's unprecedented growth for a company as big as Zoom.
Zoom's share price also went parabolic, skyrocketing 516% during the first 8 months of 2020.
But it's been a much different story in recent months. As you can see below, Zoom has plunged over 40% since October.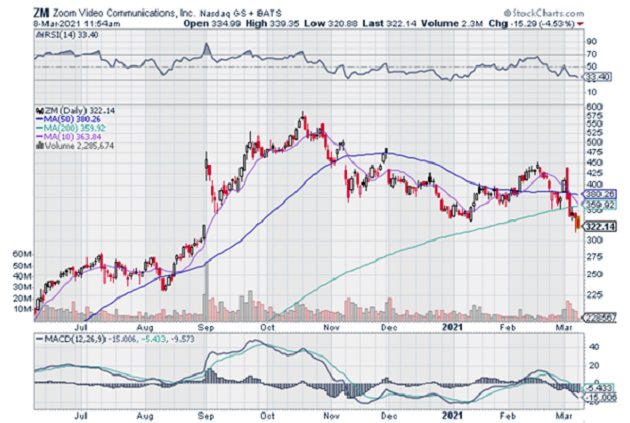 Source: StockCharts
Zoom is still one of the fast-growing companies on the planet…
So, that's not why it sold off.
Instead, ZM pulled back because investors are expecting people to conduct more meetings in person and at the office now that things are getting back to normal.
Zoom's not alone, either.
This fund shows the performance of the Direxion Work From Home ETF (WFH) since last July. This fund invests in a basket of work-from-home stocks.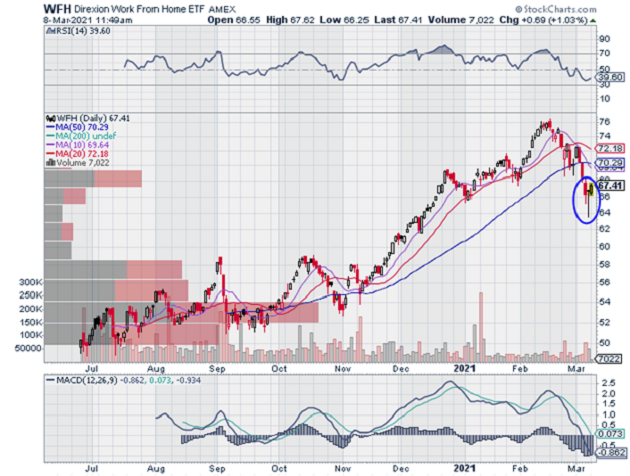 Source: StockCharts
Like many stocks, WFH has sold off hard over the past month. I attribute this to the nationwide drop in COVID cases, vaccine rollout, and the lifting of COVID restrictions by several states. We've also seen a widespread selloff in growth stocks recently.
It could be months before these WFH stocks as a group emerge as market leaders. But that doesn't mean you should write off the space entirely.
Remote work is here to stay…
According to Direxion, 43% of Americans spend at least some time working remotely, while 8 million US workers work out of their homes full time.
These are certainly impressive numbers. But this megatrend is only accelerating.
75% of Fortune 500 CEOs plan to expand their digital workforces. Not only that, 54% of companies plan to offer remote work as a permanent option.
If you're going to bet on work-from-home stocks, my advice is simple.
Focus on companies that provide "mission critical" services…
My favorite place to find these stocks in is the cybersecurity industry.
These companies get paid to prevent and stop cyberattacks in their tracks. They saw a huge surge in business during the pandemic because more people than ever were working from home.
Unlike many other services, cybersecurity is mission critical. Companies aren't just going to cut ties with their cybersecurity providers just because they open their offices back up.
But that's not all there is to like about these stocks.
Many cybersecurity companies provide their services on a subscription basis. In other words, their service is "sticky." My colleague Stephen McBride agrees that cyber stocks are a great bet today.
For broad exposure to cybersecurity stocks, consider buying cybersecurity ETF (HACK). If you're interested in buying individual cybersecurity stocks, make sure to focus on names that are displaying relative strength.
Justin Spittler
Chief Trader, RiskHedge
Hot new stock research
129.5% in a year.
That's not a lucky stock pick.
That was microcap master Chris Wood's 2020 performance across his ENTIRE premium portfolio (see for yourself)…
That's more than 7X the S&P 500!
See how he did it… and how YOU can get in on his #1 microcap for 2021 here.