What's the biggest hit in entertainment history?
Michael Jackson's Thriller album is up there. It has brought in $500+ million since 1982.
The first Harry Potter novel is also in the running. The best-selling book in history raked in over $1 billion. The highest-grossing movie ever tops them both. Avengers: Endgame made $2.8 billion at the box office in 2019.
But a video game that involves robbing banks and running from cops blew them all away. Grand Theft Auto V has brought in over $6 billion since 2013.
Let that sink in: A video game made more money than any movie, album, TV show, or book in history.
Many folks think gamers are unemployed weirdos who live in their parents' basements.
The reality is video games are now a massive global industry. There are roughly 2.5 billion active players around the globe.
And last year, revenues hit $179 billion. It's now larger than the film and music industries, combined!
Disney is America's largest movie studio. It shattered box office records in 2019 with seven billion-dollar hits. Yet, it still fell short of Microsoft's Xbox gaming sales.
For years, investors could afford to ignore the video game industry. But those days are over. Video games are now the largest, most important force in entertainment. And they're only getting better.
Do you remember the arcade game Pong? Two rectangles and a dot: This is what video games were 50 years ago: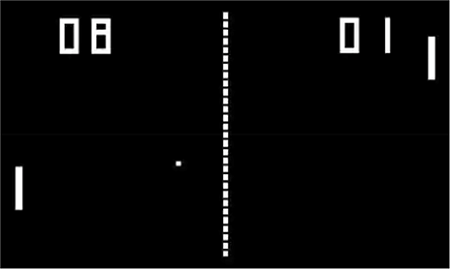 Source: Atari
Today, hit games have stunning movie-like graphics. Look at Red Dead Redemption 2, for example: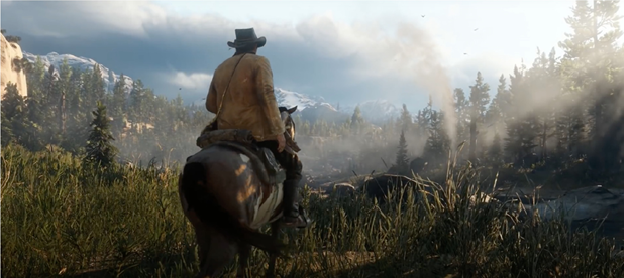 Source: Rockstar Games
And the internet transformed gaming from a niche hobby into a global behemoth.
In the past, the only way to game with friends was to sit in the same room and share a controller. Now, every game has an online mode that allows you to play with anyone, anywhere.
This was the switch that turned video games into something much, much bigger. They have become "places" to hang out with friends.
Video games are now part of "real life."
A few months ago, award-winning artist Viviane Schwarz tweeted: "Zoom sucks, we started having editorial meetings in Red Dead Redemption instead." It's a Western-themed game, set in the American frontier of 1899.
In fact, dozens of "real-life" experiences are now happening in video games.
Last April, 12.3 million people watched hip-hop artist Travis Scott's concert live in the hit game Fortnite. For perspective, that's about as many people as the average Monday Night Football audience.
Students from top colleges like Brown, MIT, and Penn rebuilt their closed campuses in the Lego-like game Minecraft and roamed the (virtual) halls.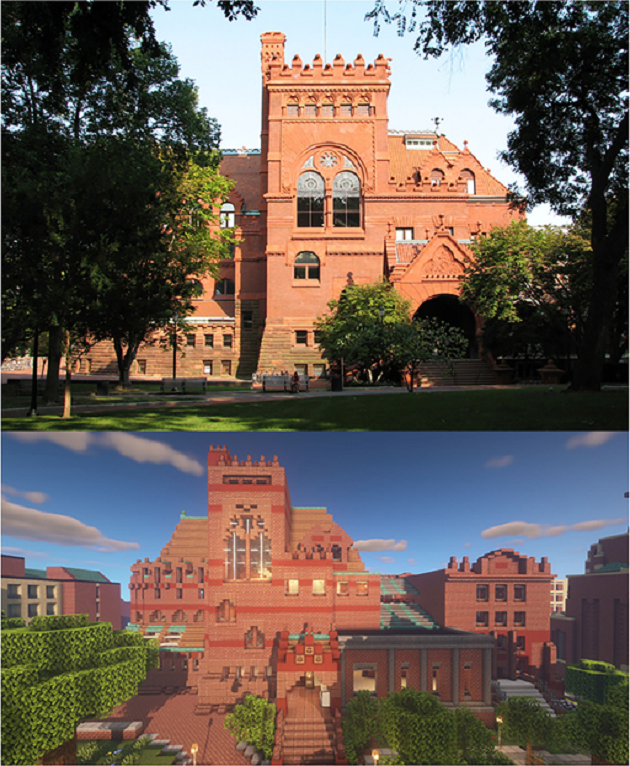 Top: Real Penn; Bottom: Penn in Minecraft
Source: Minecraft
Parents are using popular video games to host playdates and birthday parties for their cooped-up kids. Several couples tied the knot "in-game." One family even held a virtual memorial service for a gamer who died.
Berkeley students couldn't have a normal graduation last year. So, they recreated the entire campus and held a commencement in the hit game Minecraft. It went on like any normal ceremony. When time came to hand out diplomas, graduates walked up to the stage, like this: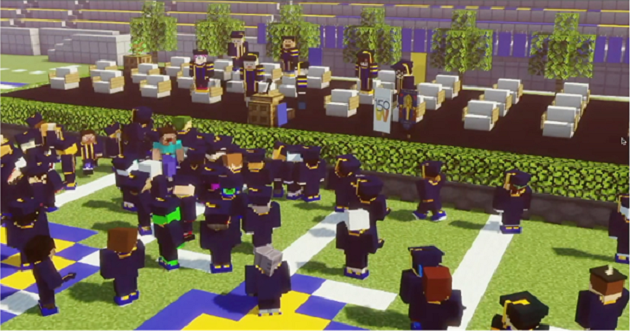 Source: UC Berkeley
In short, video games aren't just aimless fun anymore. They are an extension of real life. And this disruptive shift has laid the foundation for the "new internet."
Welcome to the "metaverse"…
Game developers have built lifelike virtual worlds where you can go to learn, play, and even earn money.
This is a giant leap toward something futurists have dreamed about for decades: the metaverse.
Neal Stephenson's sci-fi classic Snow Crash originally coined the term "metaverse." It sounds silly, a bit like talking about the World Wide Web in the early '90s.
The metaverse is the next version of the internet. But instead of static webpages, it will thrust you into an immersive game-like world.
Think of the metaverse like a massive virtual world where you can go to work… learn… create art… shop… watch concerts… hang out with friends… and do dozens of other real-life activities.
Every company has a webpage today, right? These firms will soon have a real-time presence in the metaverse. Folks will shop at the "Amazon Mall." You'll be able to take rides in Disney's virtual theme parks.
The metaverse in its full glory doesn't exist today. But we're getting closer every day.
Some of the brightest minds in tech are actively trying to build the metaverse.
Snow Crash is required reading for Facebook's management team. The metaverse is the driver behind Facebook's purchase of Oculus VR and its newly announced Horizon virtual world/meeting space.
Google co-founder Sergey Brin named Snow Crash as one of his favorite books saying it "was really 10 years ahead of its time."
Nvidia CEO Jensen Huang says: "The metaverse is coming."
And Roblox CEO David Baszucki says: "… the metaverse is materializing."
Disney's Chief Technology Officer Tilak Mandadi plans to turn Disneyland into a "theme park metaverse." Last November, he said: "Imagine a day where guests can explore with pirates, train with heroes, dance with royalty, and visit a galaxy far, far away without ever leaving their home."
The world's most exclusive brands are preparing for the metaverse too.
Burberry premiered its 2021 collection through game streaming platform Twitch. Last year, Louis Vuitton partnered with e-sports sensation League of Legends. The clothing line has 40 items, many of which cost well over $1,000.
You're likely thinking: "Stephen, this is silly. I like the real world… why would anyone want to waste time in a game?"
The best way to answer this is to rethink your assumptions. If I told you, say, two years ago that almost 50 million people would watch a video game concert, would you have believed me? Yet, that's what Travis Scott's Fortnite gig achieved.
Grand Theft Auto recently launched a virtual casino. Players can hang out and gamble real dollars in the Diamond Casino & Resort. Imagine if real casinos like MGM or Caesars Palace adopted a similar technology? A card dealer that had to show up for work on the Las Vegas strip every day could now "plug-in" remotely from Kansas.
Or consider Assassin's Creed's immersive world. Why would anyone open a history textbook ever again when you can learn like that?
This virtual world will also spark a new economy, allowing folks to earn money in innovative ways. Anne Shoemaker is a 20-year-old game developer. Between March and August 2020, she made $500,000 and now employs 14 people.
The metaverse will become the new hangout spot for billions of people around the world. For many, it will replace the mall or loitering in the city. As it develops, it's inevitable that folks will spend the majority of their time in this virtual world.
And, from an investing standpoint, we simply cannot ignore this.
The metaverse will transform how we work, play, and learn. It is THE next big thing.
And I've pinpointed the #1 stock to take advantage of this monumental disruption.
This disruptor owns the world's best video game engine. In short, it allows designers to control how players move, in-game sound effects, and lighting. This allows creators to outsource the costs of building a game, which typically costs hundreds of millions of dollars. It frees them to focus solely on the creative aspects of a video game.
So… what does a company like this have to do with the metaverse?
As I said earlier, nearly every company has a webpage today. And I believe soon, they will all have a real-time presence in the metaverse. This means these firms will have to build and maintain digital versions of themselves.
For example, Amazon will design and fill the "Amazon Mall." Disney has to create its virtual theme parks. Netflix will likely have a bunch of digital movie theaters.
As the world's most successful game engine, this disruptor is the first choice for companies launching into the metaverse.
Think of it like hiring a top builder to construct a new store. This company is the builder that will help firms "break ground" on their digital existence. And they will pay it millions of dollars for the privilege.
Disney already uses this disruptor to create new worlds and virtual characters, without having to put up expensive sets. The Lion King remake was created with this company's tools.
The 10 largest carmakers use this disruptor, too. So do many of the world's largest engineering and design firms like Skanska and Nike.
And this company hasn't just built a game engine. It invented the world's most sophisticated simulation tool. For example, Hong Kong International Airport built a fully functioning live, virtual replica of the airport using this disruptor.
In short: The metaverse has handed this company an incredible opportunity. It will power the video games that act as gateways into this new virtual realm.
It will build the digital infrastructure behind the metaverse.
And my research shows triple-digit gains are on the table.
I just recommended this game-changing disruptor to my Disruption Investor subscribers earlier this month. If you're a subscriber and missed it, make sure to catch up here.
If you'd like to access this name, you can sign up for my Disruption Investor advisory today—and start profiting off all my disruption research—for just $99 a year. Go here to learn more.
​Stephen McBride
Editor — Disruption Investor