Every decade, there are a handful of BIG investing ideas.
These BIG ideas transform the wealth of folks who invest in them early on.
But how do you separate an ordinary idea from a truly BIG investing idea?
My old boss had a simple test.
Just ask yourself:
Could this idea one day be featured on CBS's 60 Minutes?
In other words… is it enough of a game-changer to get airtime on one of the most-watched shows in America?
Truth is, there are many solid investment ideas… but most aren't "60 Minutes BIG."
For example, you're not going to see a 60 Minutes special on why home improvement stocks are a smart way to play the housing boom… or why dividend-paying stocks can grow your wealth over the long haul.
Good ideas… not big enough.
I'm talking about the metaverse…
If you've been reading RiskHedge, you know the metaverse is a new 3D, immersive internet. A virtual world where you, through an avatar, can socialize with other people, work, play, create, and basically exist.
As Stephen explained in this RiskHedge Report, the metaverse is the first true fusion of the virtual and physical worlds.
You can think of it as the next iteration of the internet... a giant leap toward something futurists have dreamed about for decades.
But the metaverse isn't some long-shot fantasy.
The foundation is being laid right now. And that's exactly why 60 Minutes+ correspondent Laurie Segall reported on the metaverse a few weeks ago.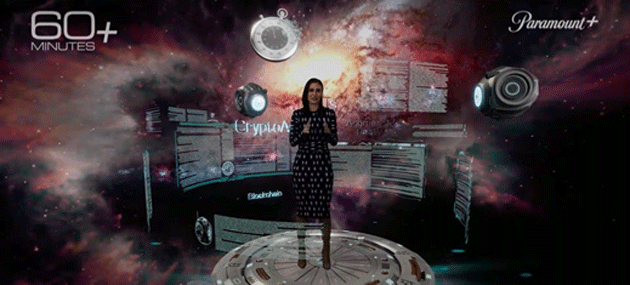 Source: Forbes
Some of the brightest minds in tech are "all in" on the metaverse…
Disney's Chief Technology Officer Tilak Mandadi plans to turn Disneyland into a "theme park metaverse."
Nvidia CEO Jensen Huang says: "The metaverse is coming."
David Baszucki, CEO of Roblox, one of the biggest video game platforms, says, "The metaverse is materializing."
In May, Facebook (FB) CEO Mark Zuckerberg told CNET, "We want to get as many people as possible to be able to experience virtual reality and be able to jump into the metaverse and to have these social experiences within that."
Now, I'll be first to admit I didn't see the true potential of the metaverse at first. It sounded silly, like a glorified video game.
But now I see I was wrong. The 60 Minutes+ feature proves this is a BIG idea.
Stephen McBride was one of the first analysts to connect the dots on the potential of investing in the metaverse.
And since Stephen introduced his Disruption Investor subscribers to the metaverse in early February, it has become a global phenomenon...
As Chief Trader Justin Spittler—who also sees huge things coming for the metaverse—recently reported...
In May, South Korea launched an industry alliance to bolster the development of "metaverse" technology and ecosystems.
The alliance is made up of 17 companies, including wireless carrier giant SK Telecom Co. and auto giant Hyundai.
If you need more proof that the metaverse is gaining popularity by the minute... just do a simple Google search.
It's everywhere.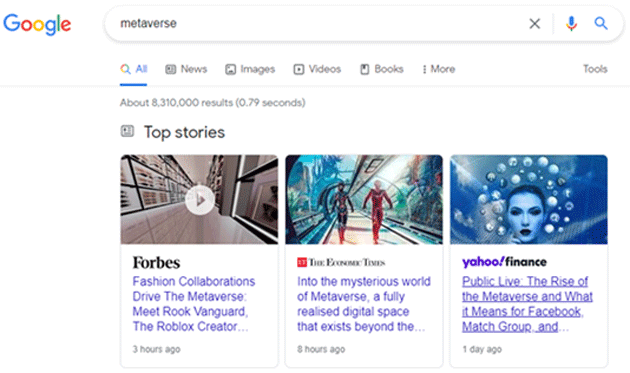 But THIS might be the most telling sign of all…
There is now a metaverse exchange-traded fund (ETF).
On June 30, Roundhill Investments launched a first-of-its-kind metaverse ETF. The ticker is META.
Keep in mind… most transformational technologies don't have ETFs in their earliest stages. For example, there are still no ETFs for "computer vision" and "edge computing"—two opportunities RiskHedge readers have been profiting from for over a year.
Investors like ETFs because they offer a simple "one-click" way to get broad exposure to an entire sector. And this new metaverse ETF is sure to draw in millions of investors who are just starting to hear about the metaverse for the first time.
But a quick word of caution:
While this is an exciting milestone for the industry, we don't recommend buying the metaverse ETF.
If you look "under the hood," you'll see many of the stocks in the fund are not "pure plays" on the metaverse.
For instance, it's got Big Tech companies Amazon (AMZN), Facebook (FB), Microsoft (MSFT), and Google (GOOG)…
And its largest holding is chip leader Nvidia (NVDA). Nvidia is one of Stephen's top picks. But at this point, only a tiny sliver of its business relates to the metaverse.
To profit off the metaverse, you want to bet on the right individual stocks in the space.
Stephen's top metaverse pick owns the world's most successful game engine. This disruptor is the first choice for companies launching into the metaverse. In fact, right now, over HALF of all mobile, PC, and console games are built with this company's platform!
As Stephen puts it:
This company is the builder that will help firms "break ground" on their digital existence. Disney already uses this disruptor to create new worlds and virtual characters.
The 10 largest carmakers use this disruptor, too. So do many of the world's largest engineering and design firms like Skanska and Nike.
Stephen details this stock and 3 others he believes will thrive during what he's calling the "Millennial Melt-up" in this briefing.
Get the full details on all of them—and how they can deliver a decade of gains to your portfolio in as little as 24 months... right here.
Chris Reilly
Executive Editor, RiskHedge