Stocks have been taking a beating.
The S&P 500 and Nasdaq both slid 3% last week.
And it's not like there were many places to hide…
Consumer defense and energy were the only two major sectors to close the week green.
If you've been reading Trade of the Week, this shouldn't come as a surprise.
Stocks are dealing with a lot right now!
Interest rates keep marching higher. Geopolitical tensions are on the rise.
I could go on and on.
But there's hope…
One of the market's biggest headwinds could soon go away.
I'm talking about the pesky dollar. If you read the October 3 issue, you know a rising dollar has put pressure on stocks. And we're exercising patience.
In a nutshell, stocks hate it when the dollar is climbing. It makes it difficult to sustain rallies.
And lately, the US Dollar Index has been on a warpath.
It climbed higher 11 weeks in a row. That's its longest winning streak since 2014.
That's why I said three weeks ago it was likely only a matter of time before the dollar pulled back… which should take a lot of pressure off stocks.
And that may be about to happen. As you can see below, the US Dollar Index is losing momentum. It hasn't seen a new high in three weeks. It also put in a "lower low" on its daily chart yesterday: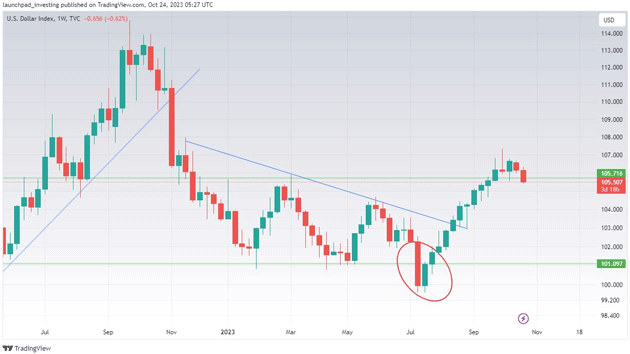 Source: TradingView
If the dollar breaks down here, it will take a ton of pressure off stocks.
So, pay close attention to this chart. If could give traders the "green light" they've been waiting on...
Justin Spittler
Chief Trader, RiskHedge