**

Stephen names the #1 surefire "post-COVID" sector


**

Should you invest in red-hot Tesla?


**

A 182% gain… in 3 hours
Which stock will go down as the clear-cut, permanent winner from COVID-19?
Will it be one of today's high-flying "stay-at-home" tech stocks?
Like Zoom (ZM), which has soared a whopping 500% this year. Or Peloton (PTON), up 283%...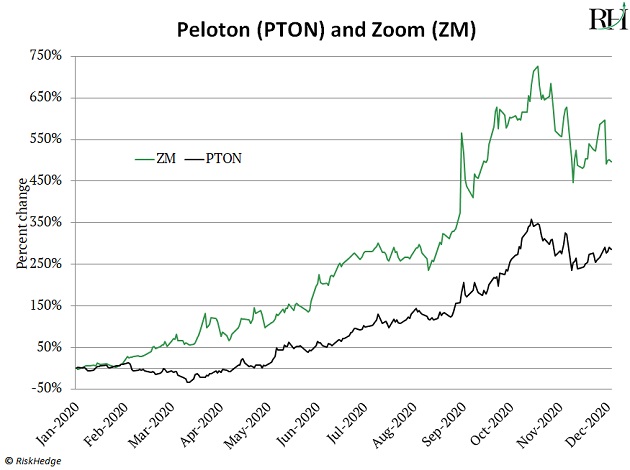 What about almighty Amazon (AMZN), which is capping off another dominant year… up 72% (more than 5X the S&P 500)…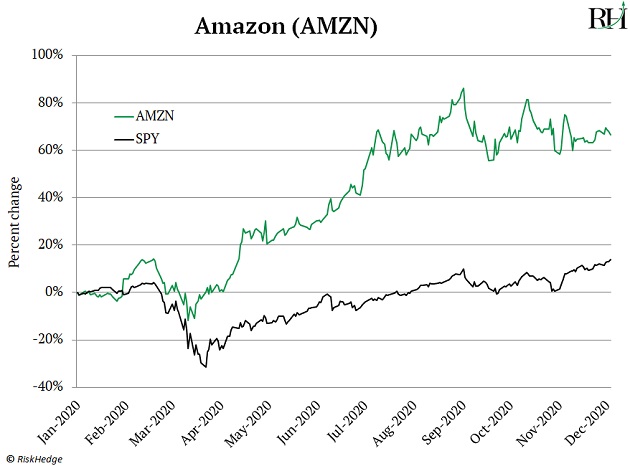 Or how about one of the tiny, explosive biotech stocks? Or a Big Pharma play like Pfizer (PFE) or Moderna (MRNA), both racing to get an effective vaccine out?
Chief analyst Stephen McBride says there's only one answer.
Truth is, a lot of today's big winners will end up being one-hit wonders. When the world returns to normal, you'll never hear about most of these "stay-at-home stocks" again. They've been great trades... but most of them are simply not good investments.
As far as "permanent" winners—stocks you want to own for years and years after COVID fades into the rearview mirror—my money is on certain "brick and mortar" stores.
We all know online sales have surged due to lockdowns. Pure online stores like Overstock (OSTK), Wayfair (W), and Amazon have jumped higher.
But the biggest winners from all this are actually names like Home Depot (HD)… Target (TGT)… Best Buy (BBY)… Costco (COST)… and Walmart (WMT).
Walmart's online sales jumped 79% last quarter—faster than Amazon. Best Buy's digital business soared 242%—faster than Amazon. Target's online sales surged 154% last quarter—again, faster than Amazon.
And here's the key: These brick and mortar retailers will face far less competition when we all start shopping in-store again. Many of their competitors have gone out of business during the pandemic. Yelp's latest figures show more than 80,000 businesses have disappeared since shutdowns. And that includes 8,000 retail stores.
While this is sad news, it opens up a huge opportunity for these retailers to profit. Just as demand for online shopping is surging, their competitors are going out of business by the thousands.
But the company that can successfully merge both online and offline will dominate the future of retail. And come out of this pandemic as the true winner.
Stephen says that crown will go to Walmart. He continues:
Here's a crazy stat:
In 1962… Walmart did $975,000 in revenue its first year.
Today, in 2020… it's making $975,000 every 58 seconds!
It's able to do this because it's mastering both the offline AND physical store game. Nobody comes close to Walmart in this regard.
It has more than 4,750 stores in the US. And 90% of Americans live within 10 miles of one of its stores. And this year, it will sell over $50 billion worth of goods through Walmart.com. In fact, it's overtaken eBay to become America's second-largest online seller.
Walmart is one of my all-time favorite stocks. Buy some shares today and just hold on for the long haul. You'll be glad you did.
Did you see Tesla is finally joining the "big leagues?"
On December 21st, the electric car pioneer will be added to the S&P 500—the most watched, talked about, and written about stock benchmark in the world. Tesla will be the largest company to ever be added to the index.
Shares have exploded 600%+ this year… enough to make Elon Musk the second-richest man on the planet. (Like me, I'm sure you've been bombarded with headlines like this over the past week)…

Source: Bloomberg
Should you invest in Tesla today?
Stephen weighs in:
I have nothing against Tesla. I don't drive here in Ireland. But if I did, I'd go out and buy a Tesla. They're incredible—completely reimaged what a car can be.
But as I explained a couple months ago, when a stock gets added to the S&P 500, it's not always a good thing. Research from Goldman Sachs looked at every stock included in the S&P 500 over the past two years. They found that the stock typically falls once it gets added to the index.
If you're looking for a safer and smarter way to play the electric vehicle (EV) megatrend, Stephen says Albemarle (ALB) is the better play. Longtime readers know Albemarle is the world's largest lithium producer. And lithium is a key component of EV batteries.
Stephen says by owning Albemarle, you don't have to back a horse in this race. You'll make money no matter which EV maker comes out on top.
That's because all of them will need lithium-powered batteries. As the world's largest lithium producer, Albemarle is fueling practically every electric car driving on American roads today… and will continue to in 2021 and beyond.
And although it's nowhere near the 600% gains Tesla's achieved this year… ALB's not doing too bad. It's rallied 141% since bottoming in March.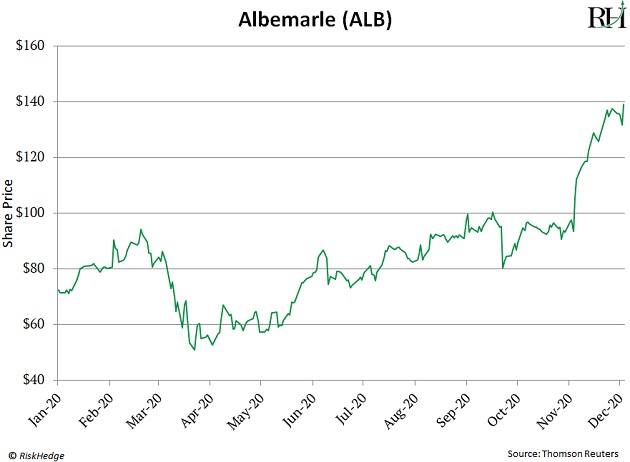 And Stephen just told his Disruption Investor subscribers to take a "Free Ride" on the stock.
Remember, a "Free Ride" is a simple strategy our guys often use to lock in profits when one of their recommendations shoots up 100%+. The idea is you sell enough shares to take your initial investment off the table, and then let the rest "ride" risk free.
It's the best way to eliminate any risk… while still going after big gains.
And speaking of big gains…
Stephen and Chief Trader Justin Spittler just delivered a monster return for their Disruption Trader subscribers.
A 182% explosion… in less than 3 hours
In Disruption Trader, Stephen and Justin pinpoint the world's fastest-growing stocks… what they call "hypergrowth" stocks.
Hypergrowth stocks can gain 200%, 300%, or upwards of 400% within months…
And in very rare cases, like the guys proved this week… even 182% in 3 hours.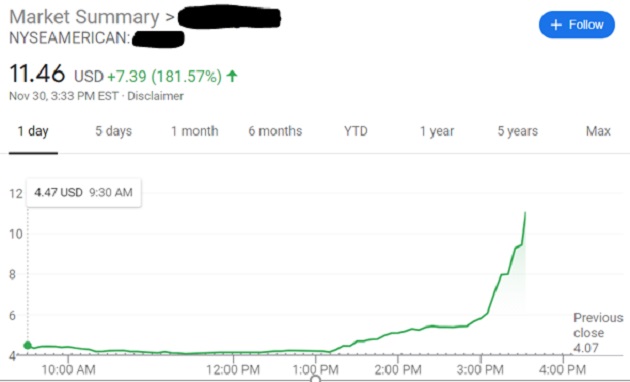 Source: Yahoo Finance
They sent their "buy" alert out a little after 1 pm last Monday. And before market close, this hypergrowth stock was trading 182% higher.
Now, let me be clear: This is a very small and "illiquid" stock. Meaning, not many shares are traded each day. So one big surge in buying can cause it to blow off like a geyser and "overshoot." Shares have since settled back into the $5–6 range—about 110% above where subscribers initially got into the stock.
But the truth is, you rarely see these types of gains in anything but hypergrowth stocks. That's because they're creating entirely new industries from scratch. This "newness" gives them a blue sky of opportunity to grow rapidly, with no competitors.
This specific stock (which I can't name out of fairness to paying subscribers) is creating a NEW way to work. Its technology delivers an experience that's like a PowerPoint presentation on steroids.
As we've emphasized, hypergrowth stocks move so fast, you really need to nail your entries and exits.
If you're interested in trading hypergrowth stocks on your own, Justin has 3 "golden rules"…
Take profits as they come… and consider "rolling" part of your profits into the next trade.
Let your winning trades run, and cut your losing trades early.
Look for "asymmetric" setups where your profit potential is at least 5X greater than your risk.
That's all for this week… let me know of any opportunities you'd like to hear more about at chrisreilly@riskhedge.com.
Chris Reilly
Executive Editor, RiskHedge