Tesla (TSLA) is the hottest stock on earth right now.
Have you seen its chart lately?
The electric car disruptor has shot up 220% since September, leaving every other S&P 500 company in the dust. Take a look: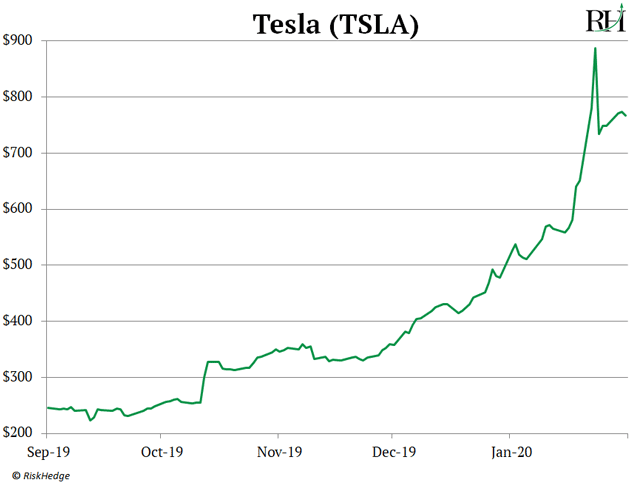 Over the past two weeks, dozens of folks have asked me… "Is now the time to buy Tesla's stock?"
Maybe you're wondering the same thing.
That's why today's RiskHedge Report is so important.
As I'll show you, the electric vehicle (EV) megatrend is ramping up… but Tesla isn't the best way to play it. Yes, it just had a spectacular runup… But its future is uncertain. It's anyone's guess whether Tesla can continue to thrive as a business. And it's far from the only game in town.
Meanwhile, there's a safer, smarter, even more lucrative way to play the electric car boom for the long haul… one that will prove to be the real winner of this budding megatrend.
Subscribers to my Disruption Investor advisory are already up 30% on this stock. And I'm sharing it with you today because I expect it to at least double from here.
I'll explain why in a minute. But first, let me update you on where we are today…
The EV revolution is getting too big to ignore…
Today, there are over seven million electric cars driving around the world. Roughly 750,000 are in America.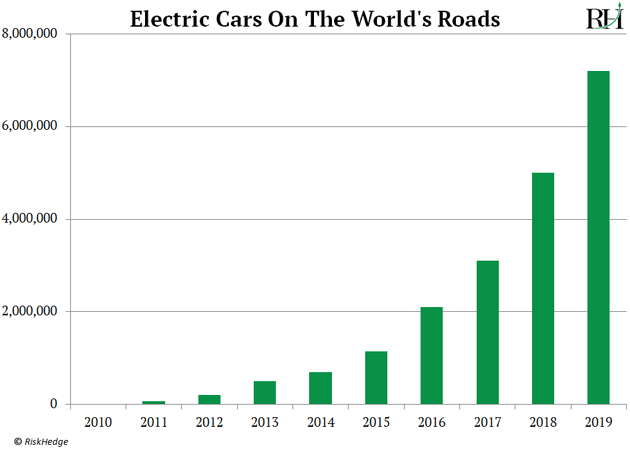 None of this is news to my Disruption Investor premium subscribers. In June 2019, I wrote:
"After years of undeserved hype, electric cars are finally ready for prime time. EV's sales have doubled over the past two years. Soon it will no longer make financial sense for most people to buy a gas-powered car."
Now, it seems everyone is going "all in" on electric cars.
✔ Audi's battery-powered SUV goes on sale later this month…
✔ The electric Mini Cooper drops in March…
✔ And you can get your hands on a rechargeable Volvo this summer.
All in all, roughly 100 new electric car models are expected to be released over the next two years!
I'm betting on the company fueling practically every electric car driving on American roads today…
Unlike regular cars, when you pop the hood on an electric car, you won't find an engine. They run on batteries, like the one in your smartphone… but 10,000X more powerful.
In fact, the battery is by far the most critical part of an EV. It determines how far you can drive before you have to "refuel" at a charging station.
In 2011, most EVs couldn't travel more than 70 miles before you had to plug it in to a socket. And it used to take anywhere from 3–8 hours to fully charge.
But now, thanks to one specific metal, batteries have drastically improved…
Now, high-end EVs like Tesla's Model S go well over 250 miles before you have to plug them in. And Tesla's new superchargers can fill the battery up to 85% in less an hour!
What's the most important metal in these super powerful batteries?
As you can imagine, batteries powerful enough to run a car for over 250 miles must be able to store huge amounts of energy. But they also have to be relatively lightweight.
In battery tech, there's always a tradeoff between size and power…
It would be great if your cell phone held enough power to last a whole month. But the battery would be the size of your fridge.
This trade-off made lithium—the world's lightest metal—the perfect "fuel" for electric cars.
In short, the metal crams more power into smaller, lighter devices. This is why lithium batteries already power your cell phone and laptop.
Lithium is probably best-known as a drug to treat bipolar disorder. Only tiny amounts of lithium are needed for these purposes. Even your phone battery contains only about a teaspoon of lithium.
But now, every electric car maker on the planet has to buy boatloads of lithium to stay relevant. Goldman Sachs research estimates there is roughly 150 lbs. of lithium in Tesla's Model 3 battery. Roughly 10,000X more lithium than is in your phone battery!
The same report estimates for every 250,000 electric cars made, lithium demand jumps 70,000 tons/year.
Here's the surest way to profit from the electric car boom.
I recommended the world's largest lithium producer Albemarle (ALB) to Disruption Investor subscribers back in June. Albemarle controls 25% of the lithium market and owns the purest lithium mines on the planet.
Shares have been on a tear over the past few months, jumping to their highest level since 2018: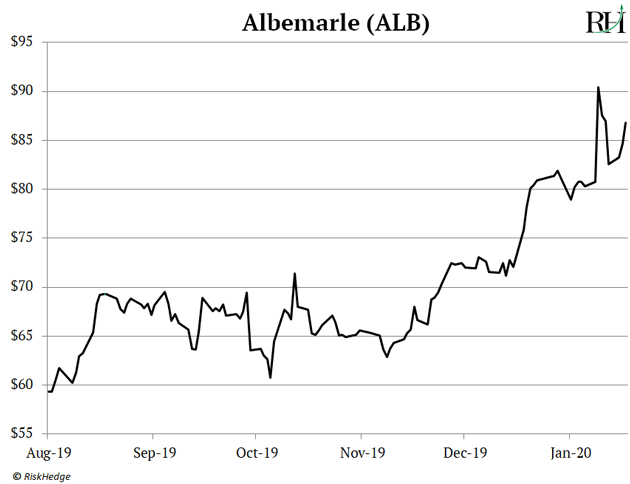 Disruption Investor subscribers are sitting on a 30% gain so far. I expect the stock to at least double from here.
Albemarle is the number one way to profit as electric cars take over US roads. Right now, Tesla makes the best electric cars on the market. But as I mentioned, every major car company in the world is going electric.
Picking a winner in the auto industry is extremely hard. By owning Albemarle, we don't have to back a horse in this race. We'll make money whether Tesla… GM… Ford… or BMW comes out on top.
The EV boom is just one of the many trends set to hand Disruption Investor subscribers big gains.
We're profiting off the 5G revolution… we have a stock set to soar ahead of the 2020 election… I've even pinpointed the next Cisco…
It all has to do with the most powerful force in the universe: disruption.
See why I've committed my entire career to it—and how you can start profiting today—here.
Stephen McBride
Editor — Disruption Investor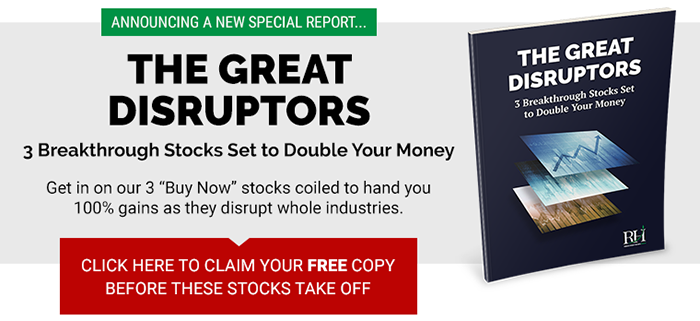 Reader Mailbag
RiskHedge reader Martin has a comment about "autopilot stocks" and my take on Netflix:
Thanks for your service. Your work has confirmed what I'd already thought. Buying and holding disruptive businesses is an excellent way to build wealth. One stock I disagree with you on is Netflix. After your good write up on autopilot stocks, I think Netflix fits this idea.
The risks of increased competition are totally overblown as you can see with Disney's latest earnings, and the rebound of Netflix's stock since last Fall. I think you should reconsider your call on Netflix.
Hey Martin, thanks for your comment.
As you mention, Netflix had a nice bounce over the past few months. But the stock is still trading below where it was when we first warned RiskHedge readers about it in June 2018.
Even as stocks have hit record highs, Netflix has struggled. And our research suggests Netflix's growth machine is headed for a brick wall.
The "streaming war" is one of the most disruptive trends on the planet. My team and I are following it closely. We'll have much more to say about it in the weeks ahead, so stay tuned…