I'm writing you from somewhere over the Atlantic Ocean (flight is packed).
Hope you don't mind if I keep it casual today.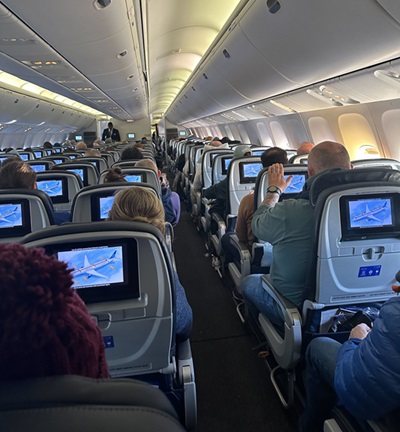 I'm on my way to New York City to film our big artificial intelligence (AI) event—the Trillion Dollar A.I. Investment Portfolio—at the studio at Columbia University.
When you sign up, you'll have the opportunity to send me questions to answer during the event.
I laughed at this one:
Can you pledge to get through the presentation on November 21 without using any acronyms?
Part of the reason many of us are skeptical of artificial intelligence… is the unnecessary jargon created to make things sound "complex" and therefore substantive. Can you please do your presentation in a language that everyone can understand? Thanks.
He nailed it. Technical, acronym-laced language is often a cover for BS.
Yes, I pledge to tell you my AI portfolio in plain English.
But I get the skepticism. The stock market is nothing if not a parade of hot, new, hyped-up ideas that usually disappoint.
AI is very, very different. Believe it or not, it's underhyped.
But it wasn't always. In 2020, I wrote this article calling AI a fraud. Because it was!
AI was hyped to the moon. Yet Nvidia (NVDA) was the only company making meaningful amounts of money from it. It didn't add up.
My takeaway was: Wake me up when AI is truly making a real-world impact and is making investors money.
That time is now.
AI is no longer far-off tech that may change the world in five years. It's happening right NOW.
I must say, the parallels to the iPhone are eerie.
The iPhone launched in 2007. It directly led to the success of dozens of companies like Uber (UBER), Instagram, Facebook (META), and—of course—Apple (AAPL).
And it indirectly unleashed many of the greatest companies everyone wishes they bought 10 years ago, like Netflix (NFLX), Google (GOOG), and Amazon (AMZN).
But it wasn't all roses.
For every Uber that returned 1,000X to early investors, there's a decimated taxi industry.
For every investor who made 10,000% on Netflix, there's an abandoned Blockbuster store blighting a strip mall.
For every Apple… there's Blackberry.
AI will create lots of incredible investing opportunities for us. But with great opportunity comes great danger.
Several big tech companies are in the firing line… for reasons I'll touch on during my AI event.
I see a new kind of wealth gap forming between those who own the wrong stocks being disrupted by AI… and those who own the right stocks doing the disrupting.
And remember… AI is running at least 10X the speed of a regular tech cycle.
Here you can see the fastest businesses to ever reach 1 million users.
ChatGPT—five days!
There's never been anything like it: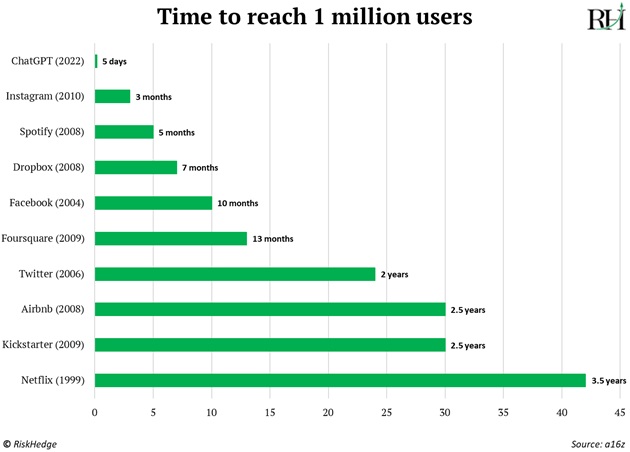 Here's my AI thesis in a nutshell:
AI will generate life-changing wealth.
But for who?
My job is to make sure the answer is "you and me."
That's what my Trillion Dollar A.I. Portfolio event is all about.
Go here now to claim your early bird ticket.
See you there!
Stephen McBride
Chief Analyst, RiskHedge
PS: Along with my five "buy now" AI stocks, I'll also name five popular stocks about to be disrupted by AI (sell immediately)... and one pre-IPO company to put on your watch list. I hope you can join me.