Uranium stocks have been on fire lately.
If you've been following my work, you know I've been pounding the table on uranium stocks.
In June, I recommended Cameco (CCJ)—the world's largest publicly traded uranium stock—in my premium service, RiskHedge Live.
Since then, CCJ has rallied 24%. It's now up 72% in 2023, making it the year's top-performing large energy stock.
Last month, I doubled down on my uranium bet when I selected the Global X Uranium ETF (URA) in Trade of the Week. URA has since climbed 18%, far outpacing the S&P 500.
This is likely just the beginning for uranium stocks. But because of their fast rise, it would only be natural for this group to take a breather before heading higher.
The good news is uranium miners aren't the only way to cash in on the "nuclear energy renaissance." That brings me to my new Trade of the Week: BWX Technologies (BWXT).
Unlike Cameco, BWXT doesn't mine uranium. Instead, it supplies reactors, generators, and other critical equipment to nuclear power plants. In other words, it's a "picks and shovels" nuclear energy stock.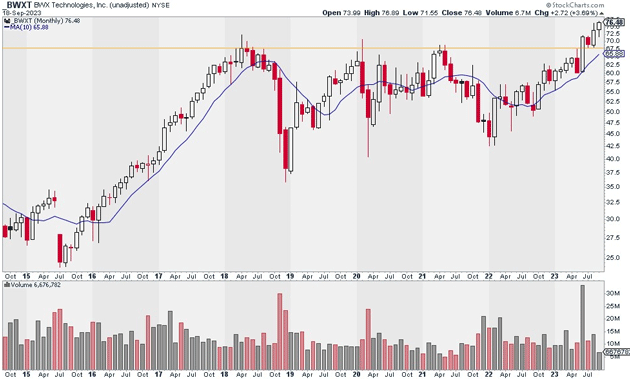 Source: StockCharts
We're picking up BWXT today because, like uranium stocks, it's in a strong uptrend.
Above, you can see BWXT broke out of a multi-year base on heavy volume back in May.
When stocks break out of powerful bases like this, it often marks the beginning of a new, long-term uptrend.
I suggest buying a starter position in BWXT today. I expect the stock to reach $100/share within the next 12 to 18 months.
Exit your position if BWXT closes below $70. That gives us a risk-reward ratio of 4:1 on this trade.
Action to take: Buy BWXT at current market prices.
Risk management: Exit your position if BWXT closes below $70.
Justin Spittler
Chief Trader, RiskHedge