Right now, all eyes are on tech stocks.
And for good reason.
Tech stocks have led the recent rally. And many investors are heavily exposed to the "Magnificent Seven," which include Nvidia (NVDA), Microsoft (MSFT), and Apple (AAPL).
But I want to discuss something different today…
A group of stocks that 99% of traders ignore.
I'm talking about small defense stocks. These companies supply weapons and equipment to the US military and its allies.
They're the kind of stocks that should perform well in today's chaotic world. And that brings me to our latest Trade of the Week: AeroVironment (AVAV).
AeroVironment is a leading US drone maker—and one of today's hottest defense stocks.
AVAV has soared 47% this year. It's absolutely crushed both the S&P 500 and the Nasdaq. And I see it headed much higher.
To understand why, take a look at AVAV's weekly chart.
We can see it bottomed in early 2022 before entering a long-term accumulation pattern. And it's just now starting to emerge from this massive base: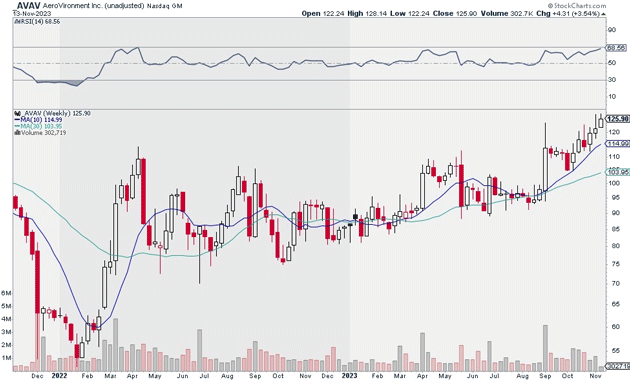 Source: StockCharts
This is an excellent long-term chart, which is why I suggest buying a starter position in AVAV today. I believe it can hit $175 within the next 12–18 months.
Exit your position if AVAV closes below $113. That gives us a risk-reward ratio of 4:1 on this trade.
Also understand that AeroVironment is a smaller company. It has a market value of just $3.3 billion, which makes it more speculative than most of my other recommendations.
So, I strongly encourage smaller position-sizing. Also, try to take a long-term view on this trade. Don't obsess over the day-to-day swings.
Action to take: Buy AVAV at current market prices.
Risk management: Exit your position if AVAV closes below $113.
Justin Spittler
Chief Trader, RiskHedge