The stock market is going nuts again.
But it's not the Teslas and Amazons of the world that are leading the charge this time.
"Meme stocks" are driving this rally.
Meme stocks, if you're not familiar, are a new phenomenon in markets. A regular stock transforms into a meme stock when a lot of investors band together to buy it all at once to spike its share price. These investors—usually young ones—coordinate their buying on internet message boards.
The chart below says it all. You're looking at the performance of movie theater chain AMC Entertainment Holdings, Inc. (AMC).
AMC could easily be out of business in a couple years. Yet it skyrocketed 478% over the past month, and an insane 2,378% since the start of the year… making it the #1-performing stock in America.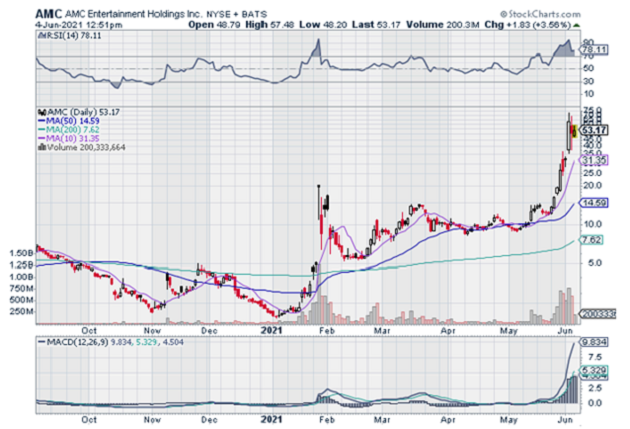 Source: StockCharts
And take a look at this…
AMC has been the #1 most actively traded stock for six days straight… doing far more volume than tech giants like Tesla, Apple, and Microsoft!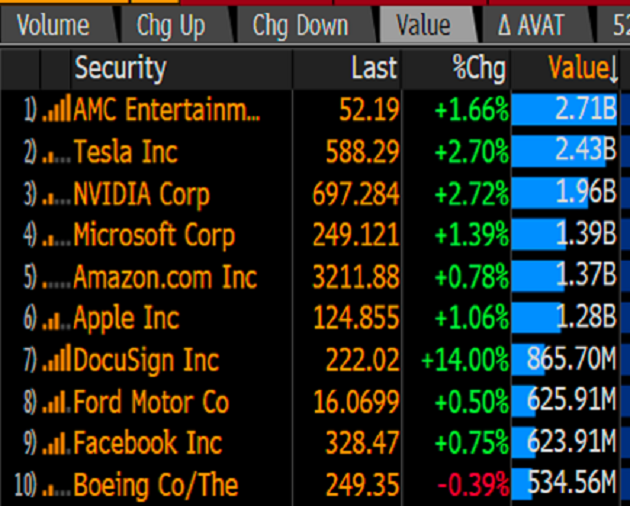 Source: Bloomberg
And AMC's not the only meme stock that's on the run.
Bed Bath & Beyond (BBBY) nearly doubled in value this week, while electronics company Koss (KOSS) jumped 72% over a couple days.
They're banding together on Facebook, Reddit, and Twitter and piling into shares of dying businesses like AMC… pushing their share prices to unfathomable heights.
What's their motivation? Mainly, they're trying to "stick it" to hedge funds that are betting against these recognizable companies.
And so far, it's worked out exactly as planned…
GameStop (GME)—the poster child of the first meme stock rally—surged 1,900% during the first three weeks in January. BlackBerry (BB) jumped 281% during the same period, while struggling headphone designer Koss Corporation (KOSS) surged nearly 6X in just one day.
Of course, these stocks came crashing down after their parabolic runs.
When that happened, many folks thought that was the end of this craziness. But they're wrong.
Because young investors are here to stay…
The data doesn't lie.
Online brokerage eToro added 3.1 million new users during the first quarter of this year… That's a 210% jump from the same period a year ago.
Robinhood—a broker that caters and markets to young people—has also seen an explosion in signups over the past year. And that helped fuel a 514% increase in sales for 2020.
And here's the thing.
These young investors are doing things their own way. They aren't investing like the old timers before them.
They're trading more actively. They're buying meme stocks. They're also investing in "causes" they believe in—like electric vehicles (EV), marijuana legalization, and green energy.
In short, young investors—often called Millennials—have "upended the natural order" of things on Wall Street…
This is not something we can afford to ignore.
After all, many of the biggest winners lately have been stocks that are wildly popular on Robinhood.
Chinese carmaker NIO (NIO), for example, has soared 2,911% since late 2019.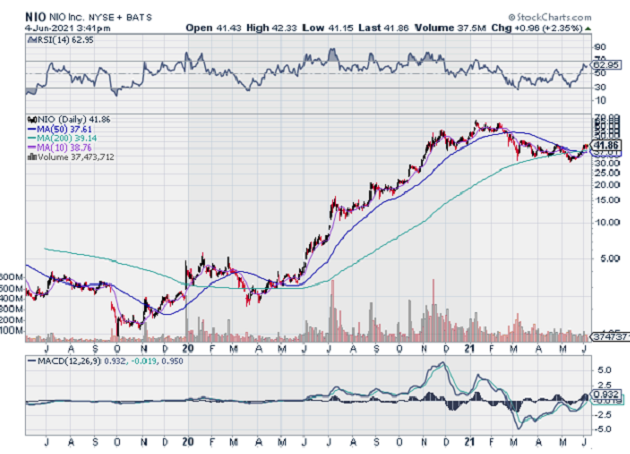 Source: StockCharts
Hydrogen energy pioneer Plug Power (PLUG)—another favorite of Millennial investors—surged 1,684% between March 2020 and this January.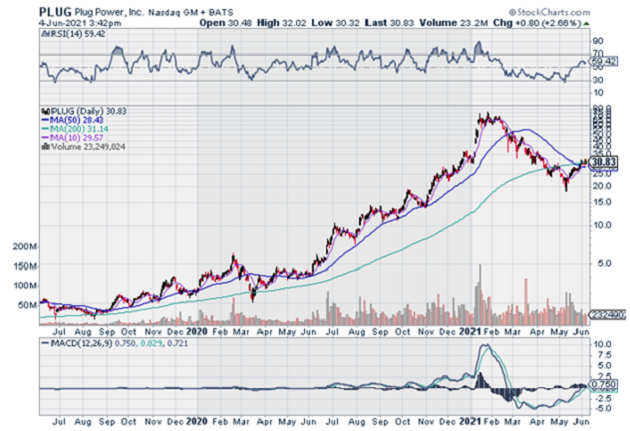 Source: StockCharts
In short, it pays to understand how young investors think… and what they're buying.
As we explained yesterday, we DON'T recommend chasing these meme stocks. It's not a sustainable, winning strategy.
But that doesn't mean you should sit on the sidelines…
Instead, you should turn your attention to top-tier SPACs.
If you've been following along, you know a SPAC lets a private company go public without doing a "regular" IPO.
SPACs have exploded in popularity. There were a record 248 SPAC listings in 2020… That's more than the total from 2014─2019 combined!
It's no coincidence that the SPAC market took off last year… at the same time that millions of young investors stampeded into the market.
Simply put: SPACs let investors buy in closer to the "ground floor." Regular investors are often locked out of participating in the best IPO opportunities. But SPACs give you early access to exciting young companies—often weeks or months before they officially debut on public markets.
This opportunity is not possible with "normal" IPOs.
SPACs delivered huge gains last year…
QuantumScape (QS) saw peak gains of 1,220%. DraftKings (DKNG) surged 270%. Opendoor (OPEN) jumped 186% in 6 months.
Churchill Capital Corp. IV (CCIV) raced nearly sixfold from September 2020 to February of this year.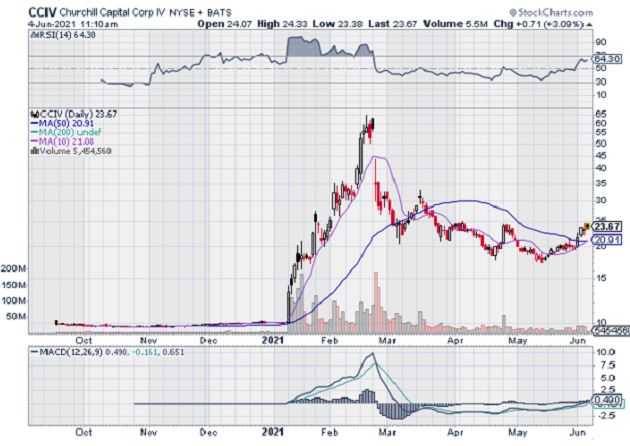 Source: StockCharts
And my IPO Insider subscribers had a chance to book a 395% return on electric trucking startup VTIQ—in just under four months.
And while the SPAC market has struggled over the past few months, we're starting to see signs of life…
The Defiance Next Gen SPAC Derived ETF (SPAK) , which invests in a basket of SPACs, is a great gauge of how the SPAC market is performing. It's officially "turned the corner," up nearly 20% in the past 3 weeks alone.
I believe the rally in SPACs in 2020 was just a taste of what's to come…
Now's the perfect time to buy the right SPACs.
By clicking that link you'll hear all about my #1 SPAC to buy right now…
This company owns world-leading "computer vision" technology for self-driving vehicles. In short, its technology lets cars "see" clearly in all conditions.
Right now, this company is just 0.1% the size of Tesla. It's almost laughably small for a company that could soon have its technology in nearly every car manufactured. But luckily, shares of this SPAC are still available for you to buy today.
Go here now to take advantage.
Justin Spittler
Chief Trader, RiskHedge
P.S. Keep in mind, this company is expected to go public as soon as this month. By then, the "ground floor" opportunity will be gone for good.
So you must act soon—and decisively—if you're interested.