Rookie traders watch the news.
The pros know better than to waste their time.
Now, this isn't to say real-world events don't affect the stock market—of course they do.
But the best traders know the reaction to the news is far more important than the news itself.
We see this play out all the time, especially during earnings season.
Think about it…
How often have you seen a stock sell off after reporting supposedly strong earnings?
It happens all the time.
We also routinely see stocks rally despite reporting "poor" quarterly results.
This is why it's important to focus on how stocks react to news, rather than the news itself.
And that brings us to our new Trade of the Week: Micron (MU).
Micron is a $74 billion market cap semiconductor company.
Over the weekend, it was reported that China is banning Micron chips from being utilized in key infrastructure projects due to "security concerns."
Many people said this news would cause Micron's share price to crash when the stock market opened again on Monday. But that didn't happen.
Yesterday, Micron closed the day down just 2.8%. That's hardly the "crash" many were expecting.
I view this small dip as an opportunity to buy Micron.
To understand why, let's pull up Micron's daily chart.
MU recently emerged out of a huge multi-month base. Breakouts from huge bottoming patterns like this often lead to rallies that last several months, or even years.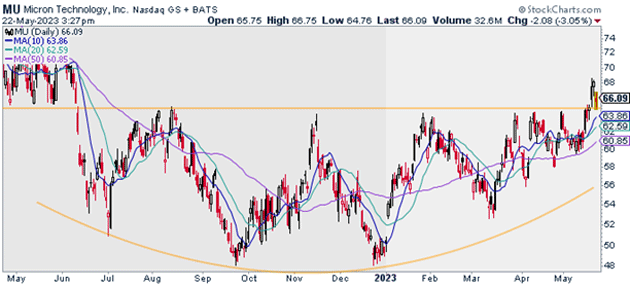 Source: StockCharts
I also like what I'm seeing on Micron's weekly chart. As you can see below, MU is above its rising 10- and 30-week moving averages. In other words, it's in an uptrend on both intermediate and longer-term time frames.
MU came back and retested its August highs during yesterday's pullback. This is perfectly normal behavior after a stock breaks out of a long-term base.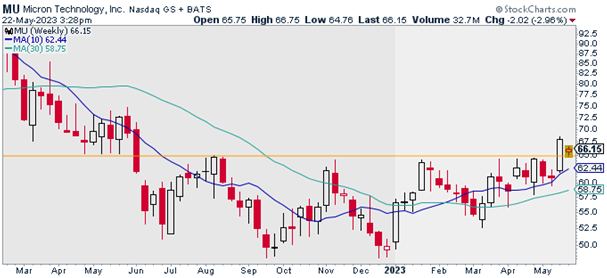 Source: StockCharts
I suggest buying a full position in MU today. I'm targeting $98 for MU over the next 12 to 18 months. I also suggest placing a daily stop-loss at $61.
That gives us nearly 50% upside, and a risk-reward ratio of 7:1.
Action to take: Buy a full position in MU at current market prices.
Risk management: Exit your position if MU closes below $61.
Justin Spittler
Chief Trader, RiskHedge