The IPO market is on the rise…
And according to some experts, the final four months of the year could be huge.
In short, 2021 could go down as the best year for IPOs in history.
That's saying something, considering 2020 was a banner year. One so hot, most folks thought IPOs had to cool off…
And they did… for a bit. But this chart shows that once again, investors can't get enough of IPOs.
You're looking at the performance of the Renaissance IPO ETF (IPO), which invests in many of the most recently IPO'd stocks on the market.
Not only did it just strike a six-month high… it's been outperforming the S&P 500 by 4X since mid-July.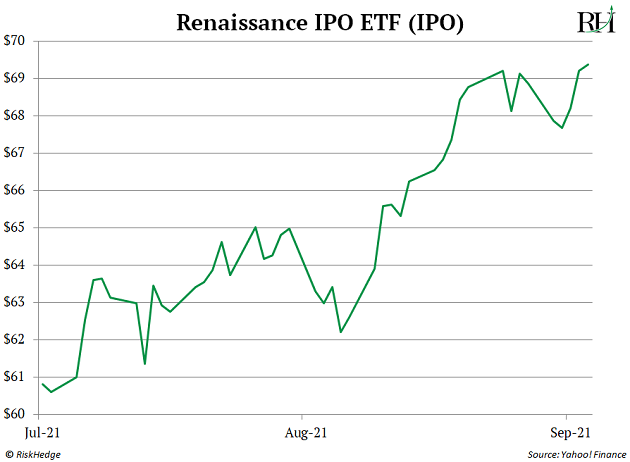 IPOs, as you likely know, are companies that recently debuted on public markets. "IPO day" marks the first time ordinary investors can buy a company's stock.
Newly IPO'd companies tend to be young, fast-growing, and exciting. For that reason, they often attract a lot of enthusiastic investors.
But as I'll show you, there's a right and wrong way to play IPOs. Unfortunately, the wrong way is by far the most popular way. That's why most IPO investors get burned.
Fortunately, it's easy to turn their mistake to your advantage. And when you do, you can often collect returns of 25–50% on IPOs within weeks… and sometimes within days.
First, let's look at how the IPO market is heating up…
According to CNBC, 279 IPOs have raised $96 billion so far this year. That's already the most money raised by IPOs in a calendar year since 2000. And it's set to grow substantially before year end.
Renaissance Capital's Kathleen Smith told CNBC she expects "to end the year with another 100 IPOs... which will be a record."
Some big-name companies that went public last week are:
Digital consulting firm Thoughtworks.
Athletic footwear retailer On Holdings.
Sports betting data company Sportradar.
Drive-thru coffee shop operator Dutch Bros.
Of course, this red-hot IPO market won't surprise you if you've been following RiskHedge Chief Trader and IPO expert, Justin Spittler.
Late last year, Justin wrote that 2021 had the potential to blow 2020's IPO market out of the water.

His reasoning was simple…
2020 was a monster year for IPOs even with COVID-19 and one of the most controversial presidential elections in history.
When COVID hit, uncertainty shot through the roof. The IPO market basically "froze" for six weeks, with dozens of companies shelving plans to go public. IPO activity also quieted down around the election.
We shouldn't have anything like that to worry about in 2021. There's no presidential election. And it's looking more and more likely that two promising COVID vaccines will be widely distributed within in the next six months.
So how do you make money from the hot IPO market?
Above all else, you must respect the clear "love/hate" pattern in IPOs.
That means you should AVOID the most popular and hyped IPOs when they first hit the market.
Justin explains:
Big, hyped IPOs rarely deliver.
Uber (UBER) and Lyft (LYFT) were two monster IPOs that disappointed investors. Both stocks crashed 35%+ during their first six months of trading.
Even Facebook's (FB) IPO was a flop. It plunged 54% in its first five months as a publicly traded company before bottoming out.
This happens all the time in the IPO market. When there's a ton of hype around an IPO, that enthusiasm gets "priced in." And most of the upside is captured before retail investors like us even have a chance to buy it.
Or look at what happened with Robinhood (HOOD), one of the most anticipated IPOs of 2021.
If you're not familiar, Robinhood is a stock-buying app marketed to young folks who are new to investing. As the first brokerage to slash trading fees to zero, it won over millions of hardcore fans who could hardly wait to buy its stock.
Robinhood's IPO was a textbook case of "overhyped."
Investors got a tiny window to make money when HOOD spiked on its IPO day in late July. But that window slammed shut within a week. The stock peaked on August 4, and has been sliding ever since.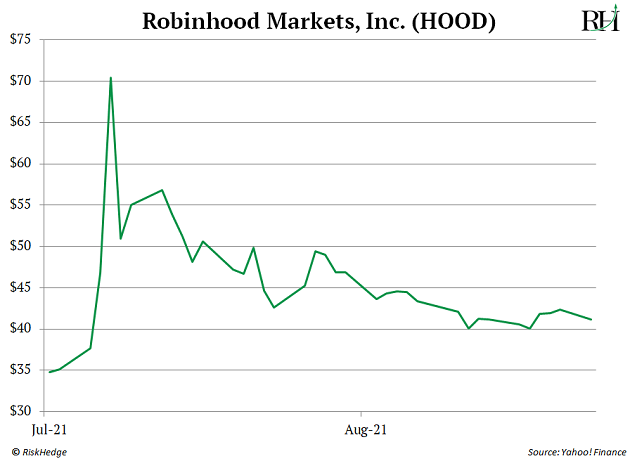 HOOD is now down 40% since August 4.
In short, avoid IPOs the market "loves"—like Robinhood, Uber, Lyft, and Facebook.
On the other hand, seek out "hated" IPOs—because they often hand out great returns.
What's a hated IPO?
It's simply an IPO that fails to live up to the hype in its first few weeks or months as a publicly traded company.
When an IPO stumbles out of the gate, investors often lose interest and dump the stock. That's your best opportunity to strike.
Here's Justin on why so many IPOs are "hated":
For one, recently IPO'd companies are brand-new stocks. That means they have no track record, zero price history... not even a single quarterly earnings report under their belt.
In short, IPOs haven't yet demonstrated they can succeed as a public company... so they tend to attract lots of doubters.
Most IPOs aren't household names yet either. And many investors avoid companies they don't "know."
Recently, Justin used his "hated IPO" buying strategy to get his IPO Insider readers into Affirm Holdings (AFRM).
Affirm is a leading "buy now pay later" company. Its platform lets customers defer payments for goods and services without racking up interest, late fees, and penalties.
When it IPO'd, Affirm was a hated stock. In fact, its shares plummeted 57% in its first three months.
But Justin recommended his readers buy the stock on August 9.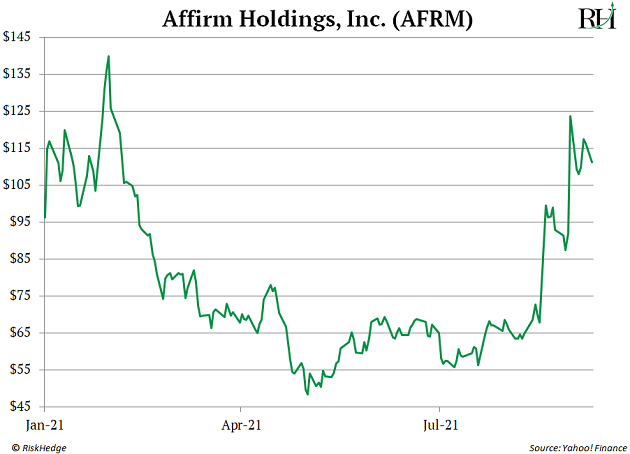 It went on to soar 47% in one day when it announced it had struck a big deal with Amazon.
Then it soared another 35% in one day, less than two weeks later, on great quarterly results.
These gains are a taste of what's possible when you buy the right hated IPO at the right time.
Justin currently has AFRM as a "hold" in his IPO Insider portfolio. He's warned his subscribers not to chase it higher after its explosive moves.
But he says you can consider buying into the stock on any pullbacks.
However, if you're looking to capitalize on the next hated IPO Justin's recommending right now, I suggest reading this presentation.
In it, Justin breaks down his hated stock strategy in simple terms so anyone can put it to use today.
And he details his #1 hated IPO to buy today for fast gains.
Click here to discover Justin's hated stock strategy, and how to access his #1 hated IPO, today.
Chris Reilly
Executive Editor, RiskHedge