Investors cannot get enough of IPOs.
Can you blame them?
IPOs continue to be the hottest stocks of 2020.
This chart says it all. You're looking at the performance of the Renaissance IPO ETF (IPO), which invests in a basket of IPOs, since the start of the year.
It's soared 86%! That's more than 8X what the S&P 500 has returned this year.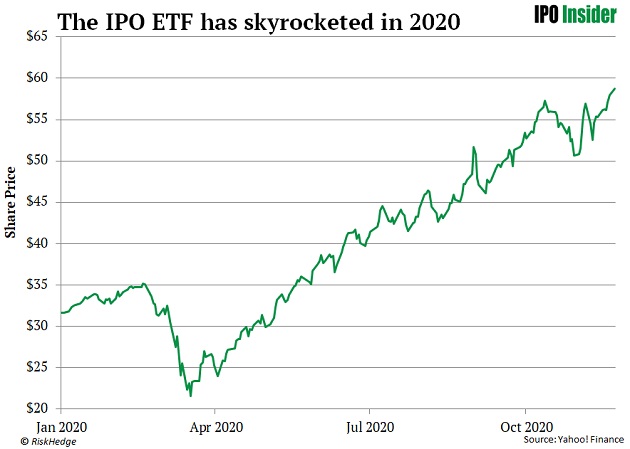 And the best individual IPOs have done far better…
Global teleconferencing leader Zoom Video (ZM) has skyrocketed nearly 550% this year.
Connected fitness disrupor Peloton (PTON) has rallied 290%.
Edge computing giants Cloudflare (NET) and Fastly (FSLY)—two stocks that I recommened in my premium advisory IPO Insider—have surged 290% and 313%, respectively.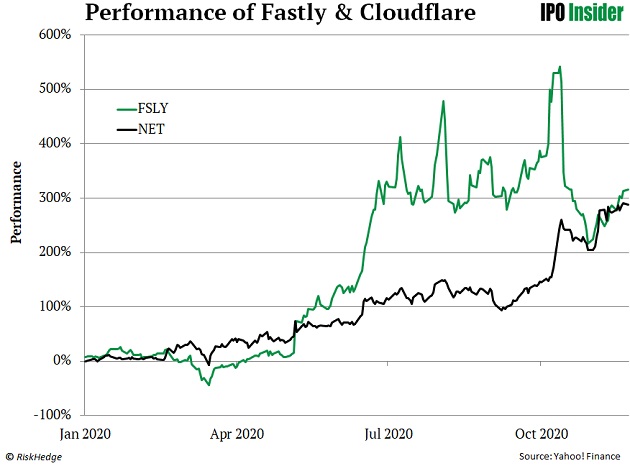 So far this year, a total of 190 IPOs have raised a staggering $67.6 billion…
That's the most since 2014… and we still have a full month to go!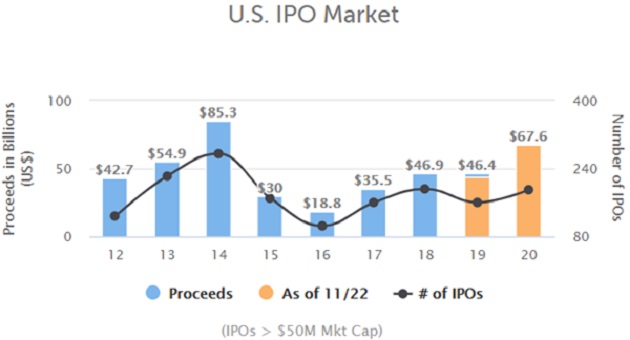 Source: Renaissance Capital
Over the past few months, we've seen a mad rush into "unicorns,"—IPOs worth $1 billion or more—including Palantir (PLTR), Snowflake (SNOW), and Unity Software (U). And just last week, Airbnb (ABNB) filed its paperwork to go public. The home sharing giant is expected to IPO next month.
This is a huge deal. Like airlines and hotel chains, Airbnb's business was crushed by the pandemic. Its sales have plunged 72% over the past year. This forced management to reduce its staff by 25% and slash its marketing and sales budget by more than 54%.
No one would've blamed Airbnb for delaying its IPO. This has been the worst year on record for the hotel and vacation industries, after all.
And yet, Airbnb is still going through with its IPO. Clearly, its leadership is confident that investors will have a strong appetite for its shares.
That tells you just how strong the IPO market is right now.
Airbnb isn't the only world-class disruptor looking to IPO before year end…
Food delivery giant DoorDash (DASH), fintech standout Affirm (AFRM), bargain online shopping platform Wish (WISH), and enterprise artificial intelligence pioneer C3.ai (AI) are also slated to IPO before the end of the year.
In short, 2020 is going to go down as one of the best years ever for IPO investors.
But I'm even more excited about what next year has in store.
Robinhood—the investing app widely popular with Millenials—is expected to go public next year. Digital lender Better.com is also preparing to IPO.
Softwate disruptors Databricks and UiPath are getting ready to go public, too.
Regular readers know UiPath is America's fastest-growing company… and one of the top IPOs on my radar. If you missed my original write-up on this opportunity, go here.
And there's a good chance that cryptocurrency leader Coinbase IPOs in 2021.
As someone who lives and breathes this market, I can tell you this:
2021 has the potential to blow this year's IPO market out of the water.
That might sound like wishful thinking. But 2020 was a monster year for IPOs even with COVID and one of the most controversial presidential elections in history.
When COVID hit in early spring, uncertainty shot through the roof. The IPO market basically "froze" for six weeks, with dozens of companies shelving plans to go public.
IPO activity also quieted down around the election.
We shouldn't have anything like that to worry about in 2021. There's no presidential election. And it's looking more and more likely that two promising COVID vaccines will be widely distibuted within in the next six months.
Still, that doesn't mean it will be easy to make money in IPOs next year…
If you want to make the most of 2021's IPO boom, here's what I suggest.
First, focus on "hidden" IPOs. Everybody already knows about companies like Instacart, Robinhood, and Coinbase. They'll command huge valuations when they IPO.
In fact, Instacart is reportedly seeking a $30 billion valuation. Robinhood will likely go public at a valuation north of $15 billion. Coinbase could begin trading at a +$10 billion valuation
Those are huge numbers. I guarantee these IPOs will also be hyped to no end.
If you've followed my work, you know hyped-up IPOs often disappoint. We saw that play out last year with Uber, Lyft, and even Pinterest (PINS)… before they ultimately rebounded.
Instead, you want to focus on the "hidden" IPOs… smaller companies receiveing little to no press. A few on my radar right now are Databricks, UiPath, and C3.ai.
Second, be patient. IPOs follow predictable patterns. Many storm out of the gate in the first few days of trading, only to quickly lose steam. If you're patient, you'll often get an opportunity to buy shares for a lower price than pre-IPO investors paid.
The trick is, once again, to not fall for the hype. Wait for beloved IPOs to fall back down to earth before buying.
If you follow these two rules, you'll set yourself up for big gains... all while reducing to a minimum the risks that come from buying brand-new IPOs.
Justin Spittler
Chief Trader, RiskHedge