Feed your winners, kill your losers.
It's one of the oldest investing sayings in the book.
It simply means you should tend to put more money into the strongest stocks in your portfolio...
And you should be quick to cut the weakest stocks in your portfolio.
It's an easy concept.
Unfortunately, most investors don't follow it. In my experience, most folks do the exact opposite.
They'll pile more money into their laggards in an attempt to "average down." And they'll neglect their strongest stocks. Or worse, sell them too early.
This is the wrong approach.
In a minute, I'll show you how my IPO Insider subscribers recently used this approach to collect 671% gains in less than two years…
We were sitting on 2 big winners. As you'll see, we cut one stock that started to show weakness... and we "doubled down" on the other, which has emerged as a true leader…
…and is still a strong buy today.
I'll share this stock with you in a moment. But first let's look at the exciting megatrend behind these gains…
I'm talking about edge computing…
Edge computing is one of today's most groundbreaking technologies.
Edge computing is all about processing data on the spot at the "edge" of the network. Unlike cloud computing, it eliminates the need to connect to a faraway data center.
And it's the "missing link" for many of today's most exciting megatrends.
Without edge computing, self-driving cars, the Internet of Things (IoT), augmented reality (AR), and the commercialization of 5G are nothing more than pipe dreams. They can't happen.
Early investors in edge computing stand to make a fortune. But don't just take my word for it.
According to the head of Intel's (INTC) IoT Group, edge computing could be much bigger than cloud computing:
The demand for edge inference is bigger than the market for cloud and data center inference and training combined. It's massive.
And it is massive because 75% of inference devices are going to be at the edge because that's where the data is. So follow the data. And that's where you find the opportunity. That's where you find the money.
Of course, as a RiskHedge reader, you know all about edge computing...
I've been pounding the table on edge computing for over a year.
We even added Cloudflare (NET) to the IPO Insider portfolio in November 2019.
Cloudflare is a global leader in edge computing. Its network spans 200 cities around the world.
At the time of my recommendation, Cloudflare was a hidden gem. It had only gone public just a few months earlier. And hardly anyone outside of serious tech circles was talking about edge computing.
A few months later, we doubled down on edge computing by adding Fastly (FSLY) to the IPO Insider portfolio in April 2020.
Fastly is another major player in edge computing. Many of the world's biggest, most disruptive companies use Fastly to rapidly and securely deliver digital content to users around the world. Think Spotify (SPOT), Shopify (SHOP), and Pinterest (PINS).
Doubling down on edge computing turned out to be the right move.
Fastly surged 390% in just over 3 months after we bought it. Cloudflare rallied 126% in less than 9 months.
Those are excellent returns.
But we didn't blindly hold onto them.
Because above all else, we feed our winners, and cut our losers...
By November of last year, Cloudflare was clearly a standout stock. It had established itself as the true market leader in the edge computing space. So, I marked it as a "best buy" in IPO Insider.
Fastly was going in the other direction. So in February 2021, we cut ties with Fastly altogether after it started to weaken.
Now, Fastly wasn't a "loser" by any stretch. We banked an official 331% realized profit on it. And I'm glad we sold when we did. Fastly has fallen 31% since we sold it. And it continues to look weak, as you can see here: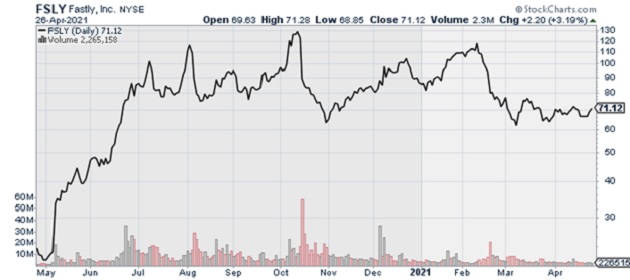 Source: StockCharts
Cloudflare, on the other hand, is still in a very strong uptrend. Not only that, it also just broke out of a consolidation pattern.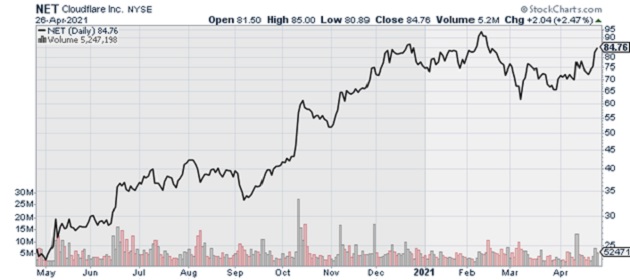 Source: StockCharts
By using the "feed your winners, cut your losers" strategy, my subscribers were able to sell Fastly for a total gain of 331%. And we're currently sitting on a 340% gain in Cloudflare.
And I see Cloudflare headed much, much higher from here.
Cloudflare just partnered with Nvidia (NVDA)…
Nvidia is one of the world's leading semiconductor manufacturers. It's also a global leader in artificial intelligence (AI).
This partnership is a huge deal. Together, the two tech giants will create a massive platform that will allow developers to deploy AI models within seconds. They will then be able to deploy them globally on Cloudflare's global edge computing network.
Cloudflare will provide industry-leading security, performance, and reliability, while Nvidia will provide AI-powered application frameworks.
Together, the two tech giants will make it possible for more developers to use AI to build applications that the entire world will use.
In short, this partnership opens up many new edge computing possibilities. It can be used in everything from robotics to healthcare to smart cities.
This is great news for both companies, particularly Cloudflare, which is a much smaller company than NVDA.
And I'm clearly not the only investor who thinks so.
As you can see below, Cloudflare jumped 11% on this announcement. And it has not looked back since.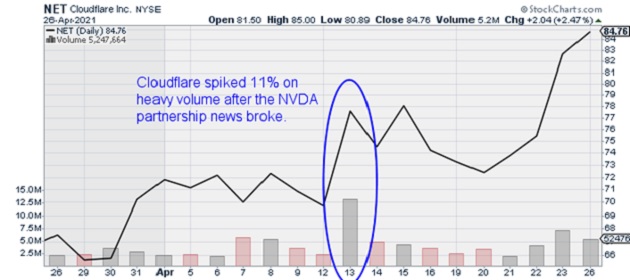 Source: StockCharts
This is incredibly bullish price action. At this point, Cloudflare isn't just the leader in edge computing. It's one of today's strongest stocks. Period.
So, consider picking up shares of Cloudflare if you haven't yet.
Justin Spittler
Chief Trader, RiskHedge
P.S.: Leaders aren't always easy to find. In fact, many start off as some of the most hated stocks on the planet.
And believe it or not, buying the right hated stocks is a proven way to make solid profits. I'm talking 70–135% in days… and potentially much more in the weeks following.
Cloudflare isn't a hated stock anymore. But there are a handful of others my signal is pointing to today. If you'd like to see how my signal works, and how to get the names of these hated stocks, go here.