Did you hear about the Tesla owner who got arrested?
He was cruising the California freeway... in the back seat of his car...
With no one driving!
The Tesla was on "autopilot"… its controversial driver assistance feature.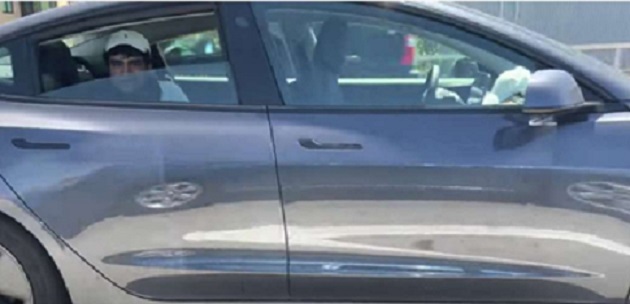 Source: MarketWatch
Tesla's autopilot is not meant to fully replace human drivers... yet.
And the media is having a field day reporting on this guy's reckless behavior.
But this story shows just how far self-driving car technology has come...
And hints at just how close we are to having truly driverless cars all over American cities.
Self-driving technology isn't years into the future. It's happening right now. And it may well be the biggest investing opportunity of the 2020s.
Unfortunately, there's been a lack of options for ordinary folks to invest in self-driving cars on the stock market.
That is… until now.
In this essay, I'll show you how to take advantage of what's shaping up to be the biggest investment opportunity in self-driving cars to date.
First, let's look at the state of self-driving car technology today... and examine why this is a generational investment opportunity.
Right now in Phoenix, you can hail a self-driving car just like you would an Uber or Lyft ride…
As RiskHedge Chief Analyst Stephen McBride told us earlier this year, Waymo, Google's (GOOG) self-driving car arm, introduced a fully driverless ride-hailing service in Phoenix.
Previously, the company only allowed a select few people to test it. Now, anyone in Phoenix can download the app and summon a ride in a driverless Waymo vehicle—one without a human safety driver in the front seat.
Then there's Amazon (AMZN)-owned Zoox, which unveiled its autonomous robotaxi late last year…
It's a fully driverless vehicle built for ride hailing. It can't be driven by a human—because there's no steering wheel.
And this isn't just happening in the US…
Take Cruise, the autonomous driving division of General Motors (GM). It just announced a partnership with the Dubai Roads and Transport Authority (RTA). In short, Cruise will be the sole provider of self-driving taxis in Dubai for the next eight years.
And Cruise's self-driving cars will be on the roads in Dubai by 2023—less than 2 years away.
Cruise… Waymo… and Zoox are all making driverless cars a reality.
And yet…
You can't directly invest in their self-driving car divisions.
Did you catch what each one has in common?
They're all owned by gigantic corporations.
Google... the world's #1 search engine and the 5th largest publicly traded company on earth.
Amazon... the world's #1 online seller and the 4th largest publicly traded company on earth.
General Motors... the largest car company by sales in America.
Tesla... the largest car company by market value in America.
Self-driving cars are no more than a tiny sliver of these companies' businesses.
Of course, that slice will grow MUCH bigger in the coming years…
According to Grandview Research, the global autonomous vehicle market is estimated to grow 63% per year over the next decade.
A study by Intel predicts the self-driving car industry will ultimately generate $7 trillion in revenue per year... which will make it one of the world's largest industries.
That same study projects self-driving cars will save around 585,000 lives by reducing car accidents.
There's no doubt the rise of self-driving cars will transform the world...
Our Chief Analyst Stephen McBride says driverless cars will "hollow out the car-ownership culture."
Think back to when ridesharing services like Uber and Lyft were new. Many experts predicted these services would kill car ownership. That didn't happen, mostly because of the cost.
By far the biggest cost of operating any car today is paying the driver. Last year, Uber paid out $22 billion to drivers and delivery people. Self-driving cars slash this to zero.
I predict tens of millions of Americans will ditch their cars in the next few years.
Why pay for car loans, insurance, registration, inspections, repairs, parking, oil, and gas when you can summon a safe, inexpensive driverless car to pick you up anytime you want?
According to the latest US Census Bureau, 80% of Americans live in urban areas. I think it's safe to assume at least half the folks who own cars in cities today will ditch them.
And remember: Self-driving cars aren't 5 years away. They're on the roads right now.
Waymo topped 100,000 trips last year. Since 2019 its fully driverless vehicles drove 70,000 miles on US roads.
It's only a matter of time before they start making their way into more and more US cities. Here's Stephen:
It's important to note that Phoenix, where Waymo's fully driverless ride-hailing service is happening, has flat, wide, well-maintained roads… and it's sunny most of the year. There's no black ice or mountainous terrain to contend with. Conditions are ideal for self-driving cars.
But there are at least 100 suburbs and metro areas around the US that are similar to Phoenix in this way… and those are the places Waymo will launch next.
Then it's only a matter of time before we see self-driving cars driving around Manhattan… Chicago… San Francisco... you name it. And it'll happen sooner than most people think.
But as I mentioned, there's always been a big caveat for investors looking to get involved in self-driving cars. The space was dominated by gigantic corporations. There were few "pure play" stocks that allowed you to bet on self-driving car tech.
Today, that's finally changing.
Our team has identified a new self-driving car stock…
In short: It's developed the world's first and only available long-range imaging radar for self-driving cars…
If you've been following our research , you know a self-driving car's ability to "see" is its single most important attribute. Its sensors must detect everything going on around it with extreme precision, so it can adapt to changing road conditions like an expert human driver would.
Today, it's still hard for most driverless cars to "see" in messy conditions like rain, dust, and sleet.
This company's tech is a game-changer because it helps cars see in almost any weather condition… up to 100 times clearer than competing solutions… and at a distance of up to 300 meters away.
We believe major car companies will be doing whatever it takes to get their hands on this company's tech. In fact, Tesla is rumored to be secretly using this company's tech already.
You're probably wondering why this stock isn't front-page news…
Simple: It hasn't gone public yet. But that doesn't mean you can't invest in this game-changer.
As we explain in this brand-new briefing, this is what we call a "pre-IPO" opportunity.
In short: Everyday investors can buy shares in this self-driving car company today, before it goes public. And you can invest through any regular brokerage account.
It's as simple as buying any stock. So, if you're interested in learning more about this opportunity, I suggest you go here.
But act soon: This company is expected to go public in the next 5─15 weeks, and as early as late May. When it does, this "pre-IPO" opportunity closes.
Chris Reilly
Executive Editor, RiskHedge