I have to admit I was a little embarrassed.
I'm not used to being the "old guy."
Tyler, the college kid I was talking to, looked genuinely confused when he asked me:
"How can you not have Snapchat??"
Then over the holidays, two of my younger cousins looked at me the same way when I said I'm not on social media platform Snapchat.
I've been following Snap's (SNAP) hot stock for a while. It tripled in 2019... and for reasons I'll explain, I think it'll continue rising in 2020.
What I didn't know was just how wildly popular Snapchat has become with kids. The numbers confirm it's in a league of its own. According to the company, 90% of 13- to 24-year-olds in the US use Snapchat.
Ninety percent! To put that in perspective, only 39% of young folks use Facebook (FB).
These days Snapchat is "cool"... and Facebook is not...
Facebook, as you likely know, is by far the world's largest social media network... and one of the most dominant companies on the planet. Worth more than $600 billion, it's the 4th-largest publicly-traded company in the US.
Like fellow tech giants Apple (APPL), Microsoft (MSFT), and Amazon (AMZN), Facebook had humble beginnings. CEO Mark Zuckerberg created it in his Harvard dorm room. And it wasn't always available to everyone. In the early days, you had to attend college in the United States to get on Facebook. Later on, Facebook made its site available to high school students.
Then in 2006, Zuckerberg did something that changed Facebook forever. He let anyone with an email address sign up. Facebook's user base exploded from 6 million to 12 million people in three months. Two years later, Facebook reached 100 million users. In 2012, Facebook eclipsed 1 billion users.
Today, Facebook has more than 2 billion users…
It's the third-most-visited website on the planet, after Google (GOOGL) and YouTube. It's also one of the world's best businesses. Facebook turns visitors into dollars by selling ad space. It generated $67 billion in revenue over the past year... and its stock has surged 1,550% since 2012.
But even global dominators have problems. According to Edison Research, Facebook has lost about 15 million US users since 2017.
Facebook's big issue is young people are turning their backs on it. As I mentioned, only 39% of teenagers use Facebook today. That's down from 60% in 2015.
Meanwhile, more older folks are logging onto Facebook than ever. 54% of people age 55 and older are active on Facebook. A 60-year-old is now more likely to use Facebook than a 16-year-old!
Snapchat is crushing Facebook with kids and young adults...
As I mentioned, 9 in 10 young people use Snapchat today. It's easily the most popular social media app with teenagers.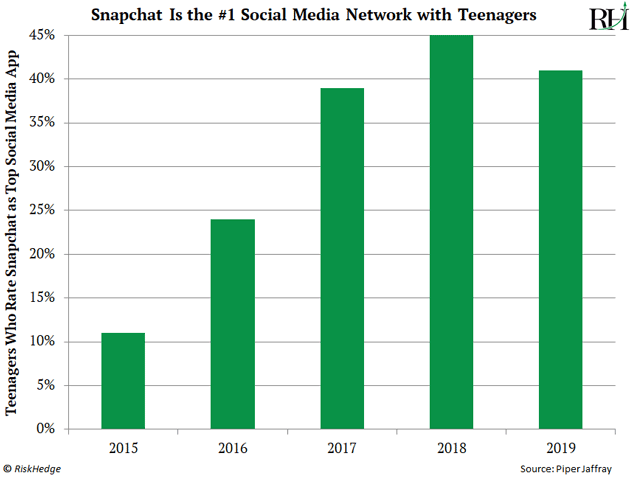 And last year, Snapchat accounted for 8.3% of all mobile internet traffic. That's below Facebook, but ahead of Instagram and Netflix (NFLX).
Here's why that's important…
Snap is emerging as a leader in augmented reality (AR).
If you read my last essay, you know AR is a gamechanger.
In the simplest sense, AR puts digital graphics on the real world. By looking through a device like your phone's camera or a pair of AR glasses, AR enhances what you see.
Most people think of AR as some futuristic technology that's many years out. But you've probably used AR without realizing it.
Have you ever played around on a video chat with your kids or grandkids? The bunny ears or silly mustache "filters" that go on your face are AR.
It's still "early days" for AR…
AR will transform our lives in ways most people haven't thought about. The industry is poised to grow nearly tenfold over the next five years. A top executive at Adobe (ADBE) even claims AR could be bigger than the internet.
Snap is one of maybe two or three companies that will truly bring AR to the masses. Its massive user base of young people is a big reason for this.
See, young people are tech trailblazers. They're usually first to experiment with new technologies. Young "early adopters" first pushed social media, video games, and online dating into the mainstream.
Young people will most likely introduce AR to the masses, too.
Snap's been pioneering AR for years…
The company's focus is—and has always been—on its camera. Snap introduced "filters" long before Facebook copied them. These filters use AR.
Snap also introduced its Snapchat "Lens Studio" in late 2017. This allows users to create their own 3D effects, objects, characters, and transformations.
Today, 75% of Snapchat's 210 million users play with its Lens Studio every day. Users have already created more than 600,000 lenses through its app. And a typical Snapchat user uses this AR feature nearly 30 times a day!
In short, Snap is laser-focused on bringing AR experiences to its young Snapchat users. And it's paying off big time.
Snapchat is highly addictive…
Its user engagement is nearly three times higher than Facebook's, and even higher than Instagram's.
That's important because social media advertising is already a giant $90 billion industry. By 2023, it will be a $125 billion industry.
The more people use Snapchat, the more ads Snap can put in front of them. And the more engaged these users are, the more effective ads on Snapchat will be.
In short, Snapchat's a gold mine for advertisers who want to reach younger consumers.
The market is starting to recognize Snap's enormous potential…
The stock has tripled since the start of 2019.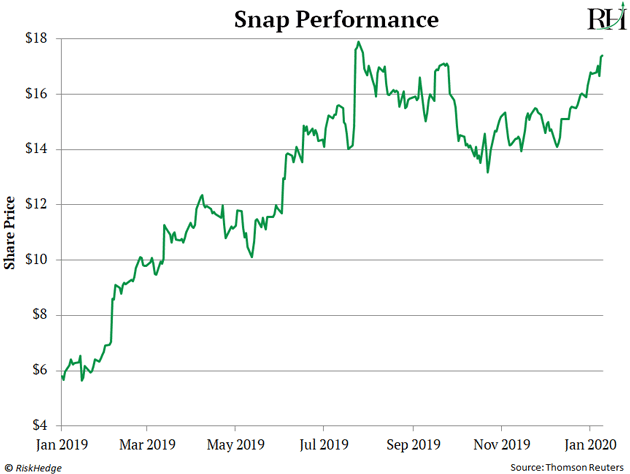 That's a phenomenal run. But the stock's likely headed much higher. Because Snap isn't just winning over new Snapchat users. It's monetizing them, too.
The chart below shows the acceleration of Snap's annual sales growth over the last three quarters: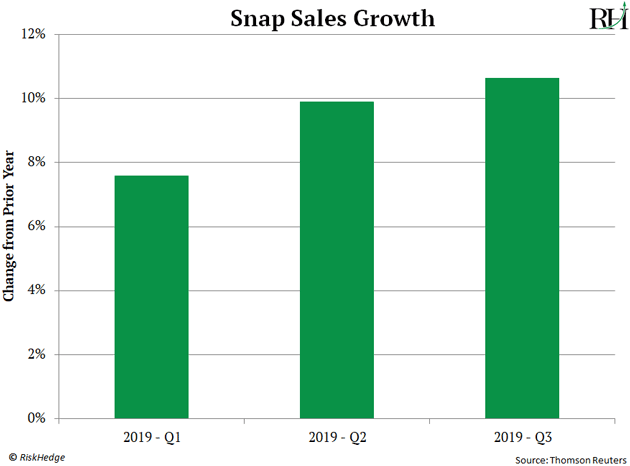 If Snap keeps this up, its stock could easily surge another 50% or more in 2020. There's also a chance that a tech giant like Google (GOOGL) or Amazon (AMZN) buys Snap for its young user base and leading position in AR.
Either scenario would be a huge win for Snap shareholders.
Justin Spittler
Omaha, Nebraska