The chaos started at 11:40 am ET…
Last Monday, social media giant Facebook went "dark."
As did its suite of apps including Instagram, WhatsApp, and Messenger.
It was a massive global outage that impacted more than 3.5 billion users.
Maybe you were one of them. But even if you weren't, you can probably understand why this is a big deal.
Facebook is the third most visited website in the world behind Google and Yahoo.
Millions of businesses, and even some countries, rely on Facebook.
For many folks, Facebook is the internet.
So… what happened?
While many people assumed it was a hack for the ages… Facebook came out and said the problem was on their end—a "faulty configuration change."
I'll save you the long-winded technical explanation.
But here's what matters to you as an investor…
In the middle of all the chaos, all eyes were on RiskHedge's favorite "internet watchdog." It was one of the first companies to let everyone know exactly what was going on…
Ever see this message pop up on your computer screen before a website loads?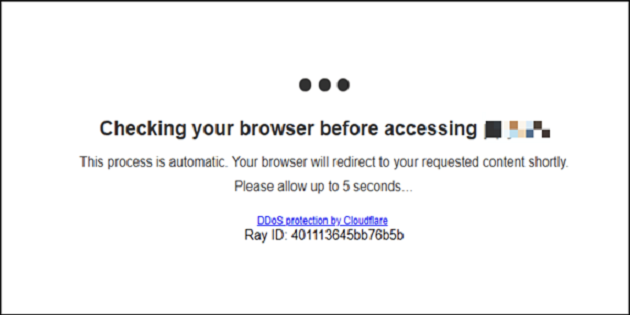 Source: Cloudflare
In short, while you might not realize it, the company behind this message protects you from threats like spam and hackers… and keeps your websites running fast and safe.
I'm talking about Cloudflare (NET). Cloudflare mainly works "behind the scenes." But it's no stretch to say it's one of the most important companies on earth. Nearly 10% of all global internet requests go through Cloudflare's network.
When Facebook went offline, people were searching for answers. Facebook itself wouldn't clearly explain the situation until hours later. Cloudflare, on the other hand, rushed out a detailed explanation of exactly what was going on.

Source: cloudflare.com
Cloudflare wrote, "It was as if someone had 'pulled the cables' from [Facebook's] data centers all at once and disconnected them from the Internet."
The company was ready to step in to help if need be. CEO Matthew Prince tweeted:

Source: Twitter
Although this Facebook outage wasn't the result of a cyberattack, Cloudflare would have been well equipped to help with that too.
Back in July, the company stopped the largest "denial of service" attack ever reported. In a denial of service attack, hackers flood a network with traffic to try to shut it down.
According to Cloudflare, its system "detected and mitigated a 17.2 million request-per-second denial of service attack." That was three times larger than any previous one it had recorded.
As Chief Trader Justin Spittler showed us last month, cybercrime is projected to cost the global economy $6 trillion in 2021. That sum of money is bigger than any country's economy except for the US and China!
As longtime RiskHedge readers know, Justin's been "pounding the table" on cybersecurity stocks for almost two years now…
In fact, Cloudflare is one of the very first stocks he recommended in his premium IPO Insider advisory back in November 2019.
Justin didn't just recommend Cloudflare. He urged his subscribers to buy it, saying:
"Cloudflare is rapidly establishing itself as a cornerstone of the modern internet. I have no doubt it will be among the world's elite cloud computing companies within a few years."
Needless to say, a lot has happened since November 2019. We got a pandemic… a new president… and saw the market crash 30% at the onset of COVID-19.
One of the few constants has been Cloudflare's steady march higher. Its stock is now up 628% since Justin recommended it:
Justin still rates Cloudflare as one of his top buys.
According to him, "Cloudflare should no longer be viewed as simply an edge computing or internet infrastructure company. It has the makings of becoming one of America's greatest tech companies."
Cloudflare is a company you want a piece of as cybercrime gets more serious.
Chris Reilly
Executive Editor, RiskHedge
P.S. If you're hesitant to buy Cloudflare because it's already soared 7X… you should know that Justin and Chief Analyst Stephen McBride recently recommended another cyberstock. Like Cloudflare, its upside potential is enormous.
This company is a pioneer in "endpoint security." Its network defends laptops, phones, tablets, and other smart devices from cyberattacks. In fact, it's believed to have invented the Cloud Security category.
And just like Cloudflare, this stock isn't a household name… but it probably should be.
You can access this stock in Justin and Stephen's research report: "Hypergrowth America's Top 5 Stocks to Own Now."
If you'd like to learn how to claim your copy, go here for more details.