Facebook (FB) just made a HUGE statement.
As you know, the tech giant already rules the social media world…
And now, it has its sights on something much bigger.
In short: Facebook seeks to dominate one of today's most exciting new industries…
I'm talking about virtual reality (VR) and augmented reality (AR).
If you read yesterday's RiskHedge Report, you know I believe the combination of VR and AR will be the biggest—and most lucrative— investing megatrend over the next 5 years.
The companies that bring AR and VR to the masses will hand out minimum 500%–1,000% gains.
Together, these technologies will change how we work, learn, shop, entertain ourselves, and interact with loved ones.
VR refers to computer-generated simulations that you interact with using devices like a headset.
AR, on the other hand, enhances the real world through your phone's camera or a pair of AR glasses.
In the simplest sense, VR replaces your vision while AR adds to it.
Most people think of AR and VR as futuristic technologies that are many years out. But you've probably used them without realizing it.
American Airlines (AAL), for example, developed an AR app that helps passengers navigate airports. It will direct you to your gate, inform you of wait times, and help you find the nearest Starbucks to buy a cup of coffee.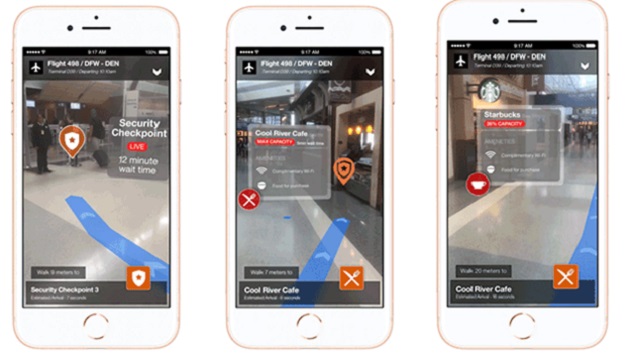 Source: Groove Jones
Swedish furniture company IKEA uses AR, too. Its app shows you how a coffee table or chair would look in your living room.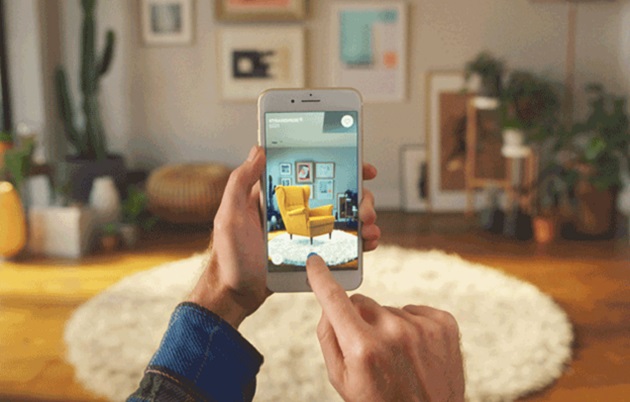 Source: Engaget
Trendy sunglass company Warby Parker uses AR too. Its app helps people shop for glasses without setting foot in a store. You simply scan your face and "try on" different glasses to see how they look.
You could have even watched last week's US Open golf championship through Deloitte's realistic AR app.
AR and VR have now emerged as the next big tech battlegrounds.
Earlier this month, Facebook acquired BigBox VR, a Seattle-based startup which produces the popular VR game Population: One.
Population: One is similar to the wildly popular game, Fortnite. It's also one of today's most popular games on the leading VR platform Oculus.
Facebook acquired Oculus in 2014 for $2 billion. It was Facebook's first major move in the VR space.
But Facebook made another announcement last week…
On Wednesday, Facebook announced that it would start testing ads in its Oculus VR platform…
This was only a matter of time... and it shows what Facebook is really after.
Facebook, if you don't know, is an advertising company at its core.
Advertising is a lucrative business. It's made CEO Mark Zuckerberg the fifth richest guy on Earth.
It's made shareholders rich, too…
Facebook has handed investors 10X their money since 2012… by selling ads on the internet. 97% of Facebook's revenue comes from advertising sales.
At this point, the "regular" internet is saturated with advertising. AR and VR are the next big frontier. There's a huge pot of gold waiting for the company that can figure out how to profitably advertise on AR and VR.
Facebook is gearing up to dominate this entirely new world of advertising.
But it won't be easy for Facebook to corner this lucrative market.
Every major tech giant wants to dominate the AR/VR space…
Apple (AAPL) CEO Tim Cook recently called AR the "next big thing." The $2 trillion company is also investing heavily to build out its own VR/AR hardware.
Microsoft (MSFT) has also made VR/AR a top priority. In fact, it's developed AR technology for the US military.
It's easy to see why these companies are so excited about the space. The industry is poised to grow nearly tenfold over the next five years.
But here's the thing.
Competition in the VR/AR space is already stiff…
Regular readers know what I'm talking about.
In January 2020, I explained how social media company Snap (SNAP) was laser-focused on the booming AR market.
You see, Snap's been pioneering AR for years…
The company's focus is—and has always been—on its innovative camera. Snap introduced AR "filters" long before Facebook copied them.
More recently, it shelled out $500 million to acquire an AR display component supplier.
In short, Snap has centered its entire business around AR. And that's already paying off massively for the company.
To understand why, look at this chart. You can see that Snap shares have surged 235% since I wrote about the company back in early 2020.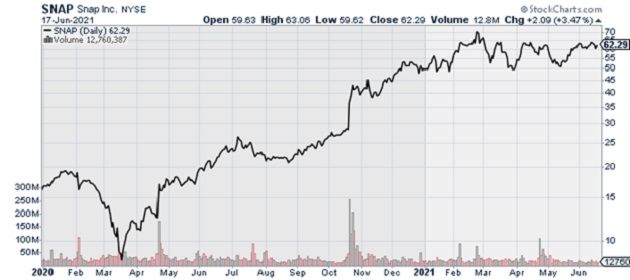 Source: StockCharts
It's not the only threat to Facebook's dominance.
Adobe (ADBE)—the software company that pioneered photo editing with its groundbreaking Photoshop program—is also invested in AR.
In November 2019, it introduced Aero. It's the first tool for designers to create immersive AR experiences. In short, it's like photoshop for AR.
A top Adobe executive claims AR could be bigger than the internet.
This is why I've been pounding the table on AR for over a year now. When the world's biggest companies are all fighting for the same industry, it means big profits are on the line.
Mark my words: Fortunes will be made off the AR/VR megatrend…
I have no doubt that this will be the #1 big tech battleground for years to come.
However, I don't recommend buying Facebook, Microsoft, Apple, Snap, or Adobe.
They aren't "pure plays" on this megatrend.
Instead, if you want to make the most of this opportunity, I suggest focusing on smaller, lesser-known companies.
In fact, I recently recommended two little-known stocks at the heart of this megatrend in my advisory, IPO Insider. Both of these stocks have multi-bagger potential written all over them.
If you'd like to subscribe to IPO Insider, now's the perfect time.
We've put together a special offer for you to gain access to not just IPO Insider, but ALL of the premium advisories we offer at RiskHedge—for life…
At a massive 90% savings.
Justin Spittler
Chief Trader, RiskHedge