**

Your smartphone can fix our healthcare crisis


**

Chris Wood does it again…


**

Talk about a comeback!
Can ANYONE fix the healthcare crisis in America?
Last week, we learned that Haven—an ambitious healthcare venture started by Jeff Bezos, Warren Buffett, and Jamie Dimon—is disbanding.
The corporate titans formed Haven back in 2018 to attack soaring healthcare costs. It sounded promising at the time… but the plan never got off the ground.
And it begs the question:
If 3 of the most powerful men on Earth can't solve America's healthcare crisis… who can?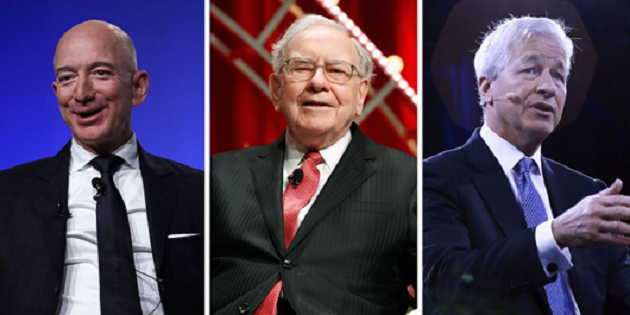 Source: Bloomberg Opinion
Longtime RiskHedge readers know healthcare is America's most broken industry. As Chief Analyst Stephen McBride says, the surest way to go broke in America today is to get sick.
Healthcare accounts for one in five dollars spent in America, topping $3.8 trillion in 2019. Over half a million folks filed for bankruptcy last year due to medical bills. It's now the #1 cause of personal bankruptcy.
According to Stephen, there's no "dream team" that can magically fix this massive problem. Instead, the answer's in your front pocket. That's right—Stephen says your smartphone is the key to solving the national healthcare crisis.
Innovators are already working on health apps that can diagnose thousands of different medical conditions. Soon these apps will be pre-installed into smartphones all over the world.
Imagine it... your phone is a tiny EKG machine that can check your heart rhythm.
Worried your kid has an ear infection? Take a picture of the eardrum and the app will tell you. Diabetic? Automatically control your insulin levels with this app.
Fever? Scan your forehead and instantly know if you have the latest scary virus.
Based on my exhaustive research, I am confident saying... healthcare on your smartphone is hands down the greatest revolution in computing since the internet.
It will shape the next 20 years of health tech innovation. And that means 20 years of breathtaking profits as well.
In fact, in Stephen's recent RiskHedge Report, he shared 3 specific smartphone apps currently disrupting the healthcare market as I type. If you missed it, you can catch up here: "The doctor in your pocket will see you now…"
And if you're looking for a specific way to profit, here's Stephen again:
I first alerted my Disruption Investor members to this opportunity back in March. And I shared my #1 stock to profit from it. This little-known stock is up 65% since then. But my research shows this is just the beginning. I believe this tiny disruptor could hand out 1,000%+ gains over the coming years as its eye-tracking technology finds its way into millions of smartphones.
Moving on…
Our microcap mastermind Chris Wood does it again…
If you're a longtime RiskHedge reader, you won't be surprised.
Chris has a long history of nailing big, profitable calls time and time again. Calls that may seem "far-fetched" to those not familiar with his track record.
For instance, back in March, he was pounding the table on a rare opportunity to make a killing off video streaming technology. He didn't recommend the usual suspects like Roku, Netflix, or Disney. Instead, he urged readers to put their money into a tiny "superdisruptor" stock.
This stock a) had a proprietary technology centered around targeted ("dynamic") advertising… and b) was about to merge with another important player in the space.
I don't know anyone else who was talking about this at the time. Chris broadcasted his urgent video on March 20 (which, if you remember, was when the markets were melting down).
Less than two weeks later, the merger was official. The 2 powerhouses combined to form Magnite (MGNI), which has marched around 400% higher since his presentation.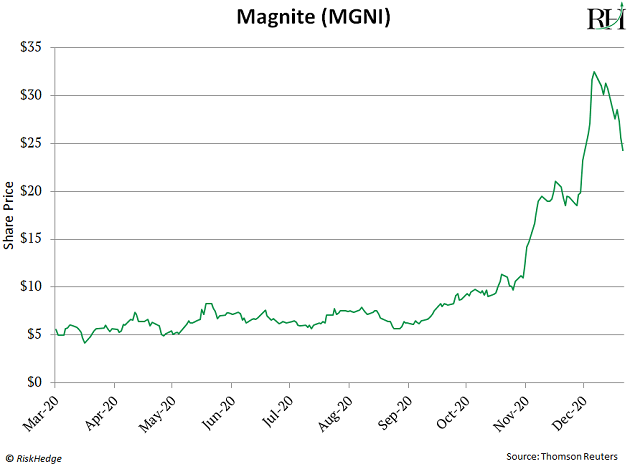 Then there's his augmented reality microcap Kopin (KOPN). This one was far from a smooth ride. At one point during the depths of the COVID lockdowns, the stock was down 72%. (Keep in mind, a stock that's declined 70% needs to rise 233% just to get back to even.)
But Chris insisted on holding on, telling subscribers their patience would be rewarded—and soon. It takes serious courage and conviction to make a call like that. But sure enough, Chris was right. From its bottom, the stock has soared 921% in just 4 months.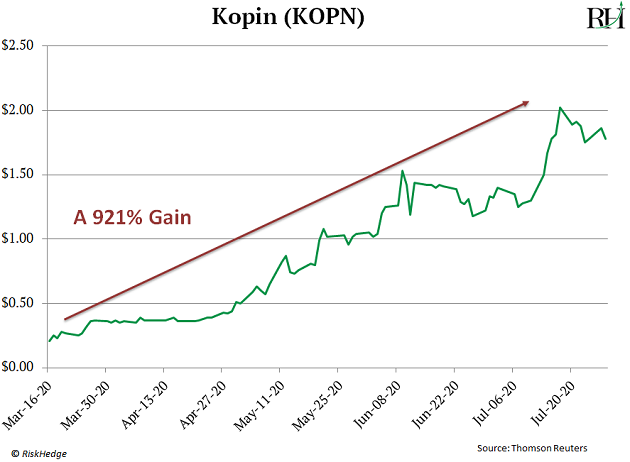 Last week, his latest call came true…
If you've been following along, you may have seen his briefing on the tiny "109X Microcap." In short, it developed a breakthrough microchip material that's superior to regular silicon.
But there's much more to this story. See, Chris believed that this microcap—Atomera (ATOM)—was on the verge of announcing a landmark royalty deal. One that could send its share price soaring in short order.
As he told his Project 5X subscribers on December 16:
I think they're nearing the finish line on at least one major deal. My best guess is the announcement could occur in the first quarter of 2021.
Although we can't know the exact timing of the announcement, this isn't something you want to wait on. The announcement will come without warning, and once it does, the stock could be off to the races.
Last Monday, that's exactly what happened. Before market open, Atomera announced that it had entered into a Joint Development Agreement (JDA) with a leading semiconductor provider.
The stock jumped more than 50% on the news. And it's continued to surge, now up 79% since the announcement, and up over 200% from just two months ago. Congratulations to all Project 5X members who took advantage.
It's important to note that Atomera has soared well beyond Chris's buy-up-to price and is NOT a buy right now. But he's currently investigating another microcap that's working on a similar breakthrough. We'll let you know when his research report is available in the coming weeks.
Finally… Chief Trader Justin Spittler also nailed a big call last week…
The "comeback story" of 2021 is off to a blazing-hot start…
If you read Justin's RiskHedge Report on Tuesday, you know the 3D printing industry is poised to have a big year. As Justin said:
A few years back, 3D printing stocks were the hottest stocks on the planet… before ultimately falling on hard times.
The good news is that these high-flyers are on the launch pad once again. In fact, I wouldn't be surprised if these are among this year's hottest stocks.
And this time, big, quick gains aren't just on the line. We have the chance to generate massive, long-term wealth.
The comeback is already underway.
On Thursday, 3D Systems (DDD) soared 104%. Stratasys (SSYS) rallied 39%. And the 3D Printing ETF (PRNT)—which Justin says is the simplest way to capitalize off this megatrend—climbed 13%.
What caused the spike? Seemingly nothing but a shift in investor sentiment. After getting burned by 3D printing stocks a few years ago, investors are waking up to its incredible potential.
Over the next decade, the 3D printing market is projected to grow 11X, or about 25% per year. By 2030, it's forecasted to be a $146 billion market. It's not too late to take advantage.
That's all for this week. Let me know what trends you're most excited about for 2021 at chrisreilly@riskhedge.com.
Chris Reilly
Executive Editor, RiskHedge