**

Can you name the world's most important company?


**

Stephen on how to handle the recent volatility


**

A new video from our friends at Mauldin Economics
"Investors are going wild over a Dutch chip firm. And you've probably never heard of it."
Did you see this recent headline from CNBC?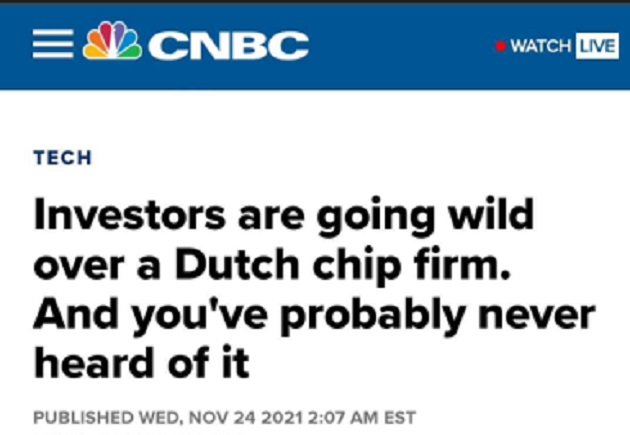 Source: CNBC
Our publisher Dan shared it with our team, saying: "Clearly CNBC does not read RiskHedge."
Because we've been writing about (and profiting off) this "mysterious" Dutch chip firm for over two years.
I'm talking about ASML (ASML). Chief Analyst Stephen McBride recommended it in his first-ever RiskHedge Report in June 2018. And he's been pounding the table to buy it ever since. Most recently, Stephen predicted ASML will go "much higher" as the global chip shortage worsens.
Stephen even got on camera with me earlier this year at the prestigious Strategic Investment Conference, held by our good friends at Mauldin Economics. Not only did Stephen recommend ASML to an audience of thousands of mostly high-net-worth investors… he declared it "the most important company in the world."
That may seem like a stretch. But not when you understand what ASML does…
Regular readers know the whole world runs on semiconductors, or chips, these days. They're the "brains" of modern electronics.
As Stephen says, "Virtually all human and tech progress over the past half century—from smartphones, to cloud computing, to genomic sequencing—has been driven by chips getting faster and faster."
So where does ASML fit in?
ASML is the only company on the planet that makes the machine capable of producing the world's fastest chips.
It's called an extreme ultraviolet lithography (EUV) machine. For companies looking to invent the future, there is no alternative. Here's Stephen with more on how it works:
ASML's EUV machine "burns" a blueprint of transistors onto a silicon wafer. It does so with the precision equivalent to shooting an arrow from Earth and hitting an apple placed on the moon.
This was impossible with older technology. But after 20 years, ASML "cracked the code." ASML's machines are so heavy it takes three Boeing 747 cargo planes just to deliver one.
Not only that… they come with a $160 million price tag!
ASML has a total monopoly on EUV machines. Stephen:
ASML shipped 10 EUV tools in the second quarter of 2021 and received orders for dozens more, which represents over $9 billion in future revenues. It also issued strong guidance, expecting quarterly sales to top $6 billion for the first time ever.
In fact, ASML is now on track to grow 35% in 2021… its fastest growth rate since 2010. That's impressive given the company is 15X larger than it was a decade ago.
ASML is now the 26th largest company in the world in terms of market cap… and the second largest in Europe behind Louis Vuitton. And yet: CNBC's right—most non-RiskHedge readers still haven't heard of ASML.
The stock's climbed 265% since Stephen first recommended it back in 2018: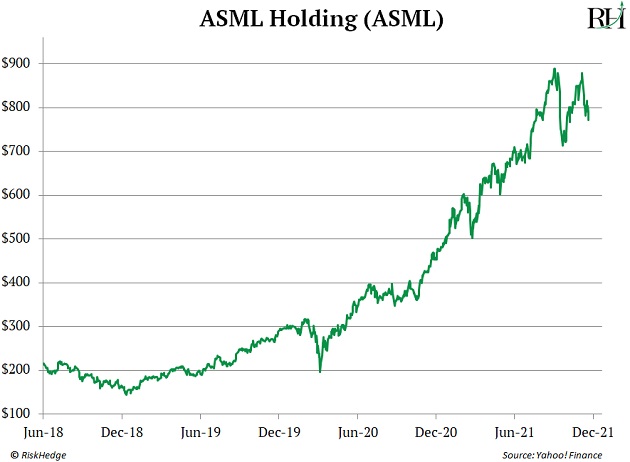 But his research shows you can still double your money or better if you buy in today. It's one of Stephen's top "set it and forget it" picks for the 2020s.
Moving on…
I'm sure you've noticed it's been a wild ride recently in the stock market…
The gyrations started right after Thanksgiving, when news of the new COVID-19 Omicron variant hit.
Stocks had their worst Black Friday in history. Per Barron's:
The Dow Jones Industrial Average had its worst day of the year, falling 905 points, or 2.5% in holiday-shortened trading. The S&P 500 ended 2.3% lower, while the Nasdaq Composite declined 2.2%. This was the worst Black Friday on record for all three indexes.
Omicron fears aren't the only thing weighing on stocks. Last Tuesday, the Dow plunged more than 600 points after Fed Reserve Chair Jerome Powell stated "the threat of persistently higher inflation has grown." Powell also announced the central bank might end its stimulus program faster than expected.
And it's been a back-and-forth ride since. Stocks plummeted on Wednesday… before rallying on Thursday. Then they fell again on Friday.
What should you do? Stephen says take a deep breath. And focus on this:
If you're concerned about the market, this is the time to buy world-class disruptors you're happy to hold for 5+ years. In other words, businesses you'd be happy to own regardless of what the market does tomorrow.
I suspect this new variant won't cause a big, sustained drop in stocks. But I could be wrong. And you should always invest like you might be wrong, as I explain here.
Be smart with your investments. Practice proper position sizing and risk management. Remember, it's impossible to know what will happen on any given day in the markets. Have a plan that accounts for these risks, and stick to it.
You may also want to consider having a portion of your portfolio dedicated to high-quality, well-run, mispriced small caps…
The type of companies my good friend Thompson Clark, Mauldin Economics' newest analyst, specializes in.
Thompson and I worked together at a different investment research firm from 2016–2019. I was always impressed with his in-depth research and analysis, specifically in under-followed small caps.
In his career, Thompson's picked Mitek (MITK) before it shot up 600%... Luna Innovations (LUNA) before it rallied 1,000%... and Green Brick Partners (GRBK) before it jumped 420%.
It's why, after our time working together, I highly recommended Thompson to our partners at Mauldin Economics. I knew he'd be a perfect fit.
I'm telling you this because Thompson just sat down for his first interview as a Mauldin Economics analyst. During his brief talk with Mauldin Economics publisher Ed D'Agostino, Thompson shares his unique strategy… why you can't be a "passive" investor in today's climate… and much more.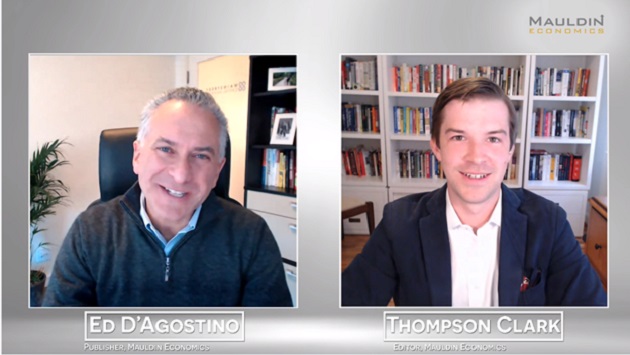 Sincerely,
Chris Reilly
Executive Editor, RiskHedge
Monday Mailbag
What questions would you like our analysts to answer? Shoot them to me at chrisreilly@riskhedge.com and we'll do our best to feature them in the Monday Mailbag.
This week, we congratulate our paid-up Project 5X members who just scored a nice win in Beyond Air (XAIR) thanks to microcap expert Chris Wood's recommendation.
Although XAIR's 100% gain is smaller than many of Chris's wins… it's one of his more impressive accomplishments. That's because it came while microcap stocks continue to struggle. While it's harder to "swim against the tide" and profit while a sector is moving against you… Chris proves it's not impossible.
I sold out half my position of XAIR on 9/16/21 (103.25% gain). The rest of my position is sitting up 156.4% as of today! —Damian
First MGNI and now XAIR. I've made almost $10,000 in the past year on these two recommendations alone. I really appreciate what you do for us, including the regular updates on earnings and the business performance. I know we're down on several recs right now, but your track record and diligence has given me the conviction to hold and even buy more when we get discounts. Thank you for everything. My kid's college savings is looking brighter thanks to you and the entire RiskHedge team. —Joseph
Hi Chris, I took your advice and took a free ride. My initial position at the end of May was 2000 shares at exactly $5, so the $10,000 has turned into $30,600. —Chris
**The profits and performance shown may not be typical and do not guarantee future trade results.