"Revenge travel" is taking off… The dumb way to play China's reopening… The smart way to play China's reopening… A warning from our publisher...
Are you a "revenge traveler?"
You probably weren't traveling much during the pandemic.
COVID restrictions forced most folks to stay home.
Thankfully, those days are over.
People are booking vacations again. They're doing it in a big way… and it's causing big moves in the stock market.
There's even a new buzzword for it—"revenge travel."
Worldwide tourist arrivals doubled in 2022 compared to 2021…. And they're set to surge even more in 2023.
That's because China has opened the floodgates…
China and its 1.4 billion people are the largest source of international travelers.
In 2019, 155 million Chinese traveled abroad. But after Beijing imposed its ultra-strict zero-COVID lockdowns, that plunged by 95%.
But Beijing has finally relented. Last month, China opened its borders after three long years.
A flood of tourists is just beginning to burst out of China.
Investors are trying to front-run this trend. Some are making a big mistake…
Macao is the Chinese version of Las Vegas. Except much bigger…
Before the pandemic, Macao made almost 4X as much money from gambling as Las Vegas.
Of course, much of this business vanished once Beijing put restrictions in place.
But with things back to normal, a rapid recovery should be underway.
Many investors are piling into stocks like Las Vegas Sands (LVS), MGM Resorts International (MGM), and Wynn Resorts (WYNN). Their stocks are up 79%, 59%, and 103% respectively over the past eight months. All operate in Macao and earn a huge chunk of sales from the Chinese gambling mecca.
These stocks have been on a nice run over the past couple weeks, but I wouldn't call them great investments.
In the last 15 years, LVS returned -36%, MGM -29%, and WYNN eked out a 10% gain.
I don't expect the next 15 years to be any different. Casinos are a dying business. Global casino revenues peaked way back in 2013.
Now, look at this stock for comparison. It's up 2,000% in the last 15 years:
Wouldn't you rather own a quality stock like this…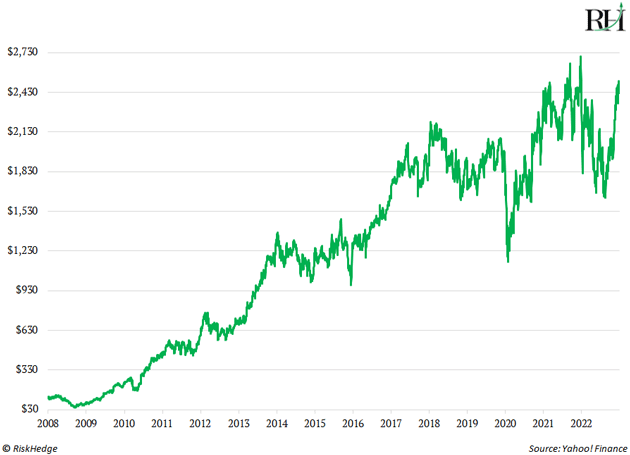 The chart you see is Booking Holdings (BKNG).
Booking pioneered the online travel agency (OTA) model.
Before the internet, the only way to find out which airline flew where was to pick up the phone and call. It was a huge hassle.
Then, online disruptor Booking came along. With a few clicks of a mouse, you could compare any flight or hotel in the world. I use Booking all the time. It made traveling a lot easier and cheaper—and its stock took off like a rocket and never looked back.
Today, Booking is the largest OTA in the world. It processes about 35% of global travel sales and earns billions from commissions in the process.
If the world as a whole travels more, Booking's profits rise.
Which is why BKNG is my #1 revenge-travel stock.
In fact, I bet BKNG will reach new all-time highs before the year is over.
We'll wrap up with a warning from our publisher Dan Steinhart...
"The bank tried to scam my mom."
Is your money locked in a CD (Certificate of Deposit)?
Then your bank might not be paying you a fair rate.
Here's why…
When a CD matures, most banks will automatically roll the funds over into a new one.
Problem is… with rates on the rise… some dishonest banks are quietly placing their customers' money into CDs with indefensibly tiny yields, then presumably keeping the extra profits for themselves.
Dan:
The bank automatically rolled my mom's money into a one-year CD that yielded just 0.5%.
It wouldn't be a stretch to call this a scam. You can get 8X that rate of interest in a simple savings account without locking your money up at all.
And one-year CD rates are approaching 5%! That's $5,000 in interest income a year… vs. the $500 the bank was trying to pay my mom.
The bank simply hopes its customers aren't paying attention… and I'm sure many millions aren't.
Go check on your savings. If you're not earning at least 4%, move your money.
Stephen McBride
Chief Analyst, RiskHedge