Happy Friday!
I'm writing you from The Yale Club in midtown Manhattan.
Nice, huh?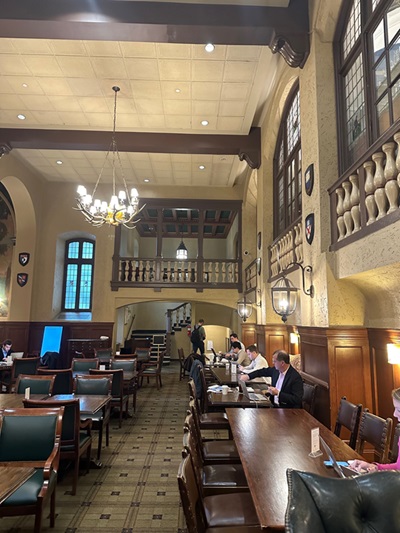 I'm here with my RiskHedge partners to discuss how AI might disrupt our business and how we'll get ahead of it. Every business should be having these meetings right now.
My NYC travel schedule is also taking me to the Columbia University studio, where we're filming our big upcoming AI event—the Trillion Dollar A.I. Investment Portfolio.
If you'd like to participate, now's the best time to act. The "early bird" ticket discount expires tonight at midnight. Go here to take advantage of it, and I hope to see you there.
For today's Jolt, something different. We've received 71 questions and counting from over 1,300 event registrants on AI. I can't answer them all at the event, so let me run through a few here.
Q: I've been around long enough to know that an investment frenzy over a new theme can get overdone and then fall back to Earth. What timeframe do you give for the AI theme to really catch on; that is, when will it get to the "back to Earth" phase, from which true long-term growth will emerge?
Your instinct is good, and AI will probably end in a blowoff bubble someday. But that day is not close. Believe it or not, the facts show the AI boom has barely started. For all the media hype, as recently as 12 months ago, there were few publicly traded AI-focused companies even available to invest in besides Nvidia (NVDA).
That has changed, and I'll be covering my five favorite AI stocks at the event.
Venture capitalist Mark Yusko, who is part of our event, agrees. He often emphasizes how early we still are in the AI megatrend. You'll hear more from him and other leading AI experts at the event.
Q: What is the most basic thing that AI cannot live without, and which company is the master at supplying AI with that basic thing?
The AI boom is fueled by two things: chips and data… lots of data. Two of the five stocks I will recommend in my AI event are leaders in these sectors.
Q: Long-duration stocks are likely to face a higher-interest-rate headwind for some time. Do the AI plays you're recommending make money now, and are they on reasonable valuations?
Smart question: I like your thinking. I only recommend profitable AI companies. This filters out the hype and all the "might make money someday" AI companies, of which there are many.
Q: I'm interested in your perspective of winners and losers, and on AI overall and its rate of adoption. It all seems to be happening so quickly...
You're spot on. AI is running at 10X the speed of a normal tech cycle. ChatGPT is less than a year old. 100 million people use it every week. Whoa!
As for winners and losers, that's what our event is all about. Losers include cloud computing stocks, any company in the streaming business, and at least two of the five giant FAANGs. Winners include "next-generation" chip stocks and certain AI robotics stocks.
Q: Hey Stephen, I have been following you for years and am really excited for the event. I share most of your opinions and am excited to hear your take on AI and what the future will look like. Which will be the first kinds of jobs that will disappear, how fast, and what kinds of new jobs will appear as AI takes a bigger part in our lives?
Every technology both creates and destroys jobs. But on balance, tech almost always creates more "better" jobs than existed before.
I think customer service jobs are at the most imminent risk of being displaced.
Meanwhile, AI has created a new job category called "prompt engineers." They specialize in talking to and getting the most out of AI. They're already earning six-figure salaries, and the best ones earn high six-figure salaries.
Q: My daughter is looking to move into the cybersecurity and/or AI field. She is already successful at what she does, but she sees the future in AI and wants to be a part of it. What characteristics in an AI company should she be looking for?
Great question. I received several similar questions from concerned parents worried about their kids' career prospects. As a father of two young kids, this is something that's been on my mind. I'll answer this one on camera during my Trillion Dollar A.I. Investment Portfolio event.
You can join me here and ask me anything AI-related.
Stephen McBride
Chief Analyst, RiskHedge
PS: Remember, your chance to claim an early bird ticket to the event ends tonight at midnight. So this is your last call to get half off the regular price of admission.