Netflix (NFLX) is getting hammered.
The streaming pioneer and former stock market darling recently plunged 35% in one day (!) after whiffing on earnings:
Management expected to gain 2.5 million subscribers in Q1.
Instead, Netflix lost 200,000 subscribers.
It's the first time NFLX lost subscribers in a decade.
And the company warned it expects to lose another 2 million subscribers in Q2.
Keep in mind, NFLX stock was already plunging before the news. Now, it's the worst-performing stock in the S&P 500 this year… down an abysmal 65%.
RiskHedge Report Exclusive: SIC 2022 IS LIVE!
But it's not too late to join us. You can still get your Virtual Pass and receive immediate access to SIC sessions from the top minds in finance.
Virtual Passes include videos, audio, and transcripts—so even if you can't watch all the live presentations, you won't miss a thing.
Click here to get your Virtual Pass at 44% off. (From Our Partners)
For NFLX investors, this is unchartered territory.
For the longest time, NFLX was in the same league as the Amazons and Microsofts of the world… the stock seemed to only go up.
Not only was it a top stay-at-home play in 2020… it was the #1 performing stock in the S&P 500 from 2010‒2019, posting a 4,000% return.
But now look…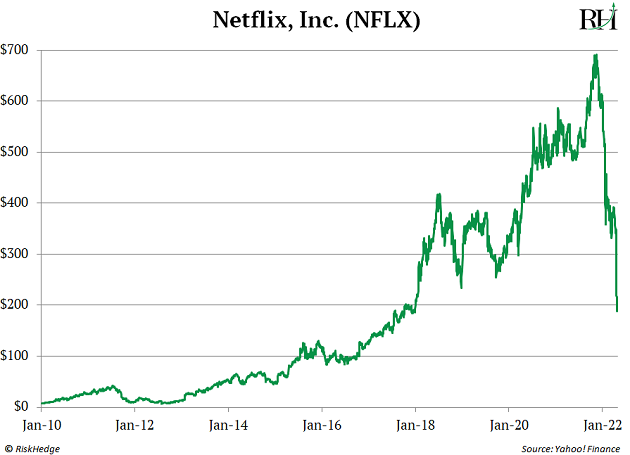 Most of the world is wondering what the heck happened to Netflix?
But long-time RiskHedge readers know exactly where it all went wrong.
Back in 2018 and 2019, RiskHedge Chief Analyst Stephen McBride wrote a series of bearish Netflix articles that went viral…
Being "anti-Netflix" was practically unheard of at the time. The brand was beloved and the stock was red-hot—reaching above $400.
But Stephen's key point was simple… and undeniable.
Netflix achieved its incredible success by being the "first mover" in streaming. It disrupted how people watch TV. For years, Netflix was one of the only streaming games in town… and its stock rewarded investors with 12,921% gains during that golden period with little competition.
For years, Netflix had no real competitors. This allowed it to practically monopolize all the best shows and movies. Although content producers like Disney and NBC Universal had a big cable presence, they had no streaming services…
That world is gone forever... We're going from a world where Netflix enjoyed zero competition, to a world where the biggest, most powerful media companies on earth will directly compete with it.
Disney (DIS) launches its Disney+ streaming service this November. AT&T (T) launches its streaming service later this year. AT&T owns HBO, the most successful premium TV network. Comcast (CMCSA) owns NBC Universal. It launches a streaming service in April 2020.
Fast forward to today… and there are over 200 streaming services available.
In the news, you'll see all sorts of little excuses why Netflix is struggling…
It had to raise subscription prices…
Folks aren't streaming as much TV as during the height of the pandemic…
More than 100 million households share passwords and use Netflix without paying for it…
But above all else, none of this matters even one-tenth as much as the main reason Netflix has tanked.
Netflix CEO Reed Hastings simply calls it "great competition."
We call it: the lifecycle of disruptive businesses.
In the simplest sense, Netflix reached the "decline" stage all great disruptive businesses eventually endure.
It's a repeating pattern that plays out time and time again, take a look: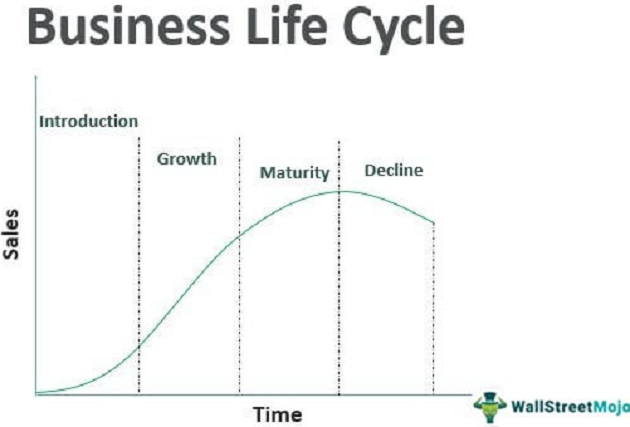 Source: WallStreetMojo
In Netflix's introduction stage, it disrupted the status quo by selling movies via a subscription model.
Netflix started off mailing DVDs in red paper envelopes. Then when high-quality internet became widely available… it turned into a streaming company.
The growth phase had begun. Instead of driving to a Blockbuster Video store, we could get new movies anytime we wanted, at the touch of a button. No more late fees, either.
Blockbuster went bankrupt, and Netflix's revenue and user base shot through the roof. Netflix enjoyed one of the most historic growth phases of any disruptive business we've ever seen… and its investors enjoyed 12,921% gains from 2007 to NFLX's peak in 2018.
But by 2018‒2019, Netflix entered its maturity stage. It got harder and harder to find new subscribers… serious and well-funded competitors came online… and growth tapered off.
Netflix's plunge confirms it's now in the decline stage. That doesn't mean it's going bankrupt. Netflix can still be a profitable, long-lasting, slow-growing business.
But as we've seen, its high-flying stock price must adjust to that new reality.
So how can you use the disruption lifecycle to your advantage?
Simple: Find a great business entering its growth stage, not on the tail end of its maturity stage.
The more disruptive the business… and the bigger the industry it's going after… the higher the odds that its runway for growth will be long lasting, just like Netflix.
Stephen calls businesses that fit this bill "megawinners"…
And here's the key:
During their pivotal growth stages, megawinners are driven by an obscure mathematical principal most investors don't know exists.
This principle explains why just two teams, the Boston Celtics and the Los Angeles Lakers, have won nearly half of all the championships in NBA history...
Why even more wealth flows to the already rich 1%...
And why only a small fraction of all stocks generates almost all of the stock market's returns.
Click here to learn more about this phenomenon… and how you can access Stephen's report which lays out 3 "buy now" megawinner stocks.
Chris Reilly
Executive Editor, RiskHedge