Chris' note: Markets are closed today in observance of Memorial Day. So for today's essay, I'm sharing one of my favorite pieces from RiskHedge Chief Analyst Stephen McBride… one that shows why every American should be proud right now…
Why I'll never bet against America
It made the hairs on the back of my neck stand up.
It's July 2014. I'm in the StubHub Center in Carson, California.
The sun has just disappeared behind the beam, but it's still hot as hell. And I'm standing with 9,000 other spectators watching the CrossFit Games.
Before the final heat kicks off, there's dead silence for "The Star-Spangled Banner."
The flag was blowing in the wind… and every American had their palm over their chest.
It sent shivers down my spine and brought a tear to my eye.
At that moment, I felt like something I'm not.
That is… an American.
I wasn't raised in a leafy US suburb—I grew up in the inner city of Dublin, Ireland. It was kind of a dank place. I remember my childhood like a black and white movie.
The best that most kids my age could hope for was to find a job on some construction site.
Getting rich? That was something that only happened to folks in faraway lands. Millionaires were works of fiction in my neighborhood.
America injected color into my life.
I took my first trip to New York City when I was 17.
The skyscrapers entranced me… I've never been more inspired in my life than when I first laid eyes on the Empire State Building.
I wanted to be one of those Wall Street hotshots. So I started learning everything there was to know about finance and investing.
I dropped out of high school a year early. But that trip to the Big Apple had lit a fire under me. Fast forward a couple of years, and I was working at a multibillion-dollar financial institution halfway across the world.
Wall Street is great. But honestly, corporate life sucks. That's why our publisher Dan Steinhart and I started RiskHedge with two laptops at a coffee shop in Vermont.
Today, I'm living my dream as a professional investor. More importantly, I'm able to help thousands of readers grow their wealth with my recommendations.
And I owe it all to America.
The US is still the only country on earth where you can be whatever you want… if you're willing to work for it.
I laugh every time someone says the US is in decline.
It's open season on America these days.
Every time I turn on the TV or open a newspaper, "experts" are bashing the country. We're told the US is falling apart at the seams.
These folks are just plain wrong. Having lived on four continents, I can tell you America is the most innovative, resilient place on earth.
Did you see how Americans responded when coronavirus shutdowns caused a recession and mass layoffs?
Unlike folks in many other countries, ambitious Americans didn't sit at home and wait for the government to take care of them. Instead, they adapted and got to work.
The numbers show that, during the shutdowns, Americans started their own businesses at the fastest rate EVER.
That's not a typo…
The Economist magazine even wrote a feature story, saying: "The number of new businesses in America is booming."
During a recent three-month period, more small businesses were launched in America than at any other time in history: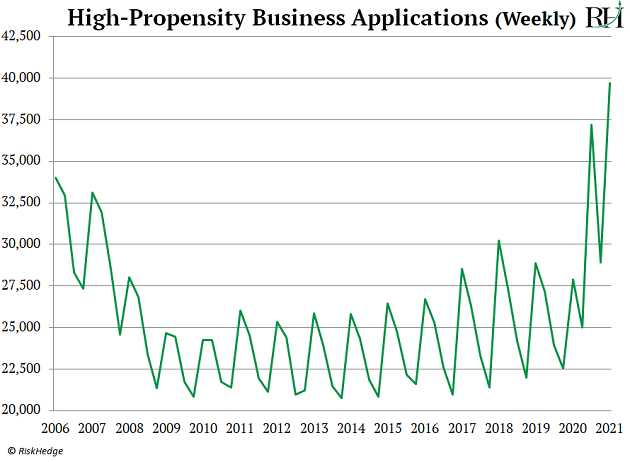 Some say America "botched" its reopening after covid. But nothing could be further from the truth.
Unlike most countries, America is opening back up for business.
Today, anyone 12 years and older in the US is eligible to get the vaccine.
Hotel occupancy stands at its highest level in a year.
According to the Transportation Security Administration (TSA), more than 1.8 million Americans went through airport checkpoints on Sunday. That's the highest daily number since March 8, 2020.
Americans have a "get up and go" attitude that I've yet to find anywhere else in the world.
Just look at how they've responded during the biggest crisis of our lifetimes…
And what's happened to a batch of American stocks.
Americans couldn't go to the office… so they worked on Zoom (ZM), which shot up 388% in 2020.
They couldn't go to college campuses anymore… so they continued getting their educations online. 2U (TWOU)—which runs online classes for 73 of the world's best colleges—saw its stock double last summer.
Americans couldn't go to the gym… so they worked out from home, sending connected fitness stock Peloton (PTON) up a whopping 353% in 12 months.
They couldn't open up physical stores… so they started selling stuff online on Etsy (ETSY), which finished 2020 as the year's second highest-performing stock in the S&P 500.
In other words, this pandemic couldn't stop the most resilient nation on the planet.
It's an amazing accomplishment—one every American should be proud of.
Enjoy the holiday with your friends and family.
I'll be back on Thursday with a brand-new RiskHedge Report.
Regards,
​Stephen McBride
Editor — Disruption Investor