It's time to buy one of America's most iconic tech stocks…
Long-time RiskHedge readers will remember I said, "buying Uber (UBER) is the dumbest thing you can do with your money."
That was a few days before the taxi disruptor IPO'd back in 2019. And we've been on the right side of the trade.
Look at Uber's performance since…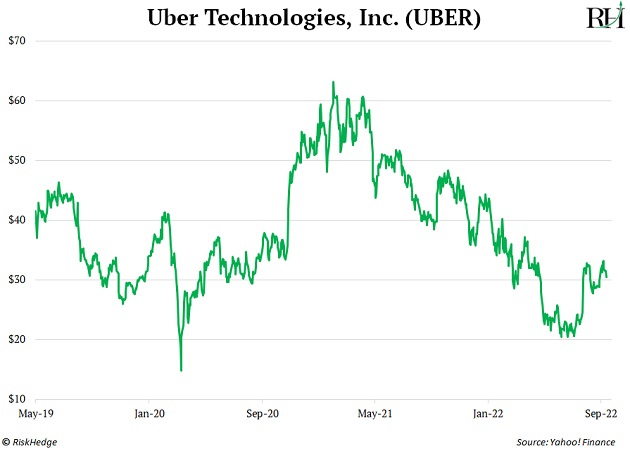 Today, I'm changing my mind—it's time to buy the disruptor. Because Uber stock is set to double within the next year.
It's been three and a half years of pain for Uber shareholders…
Uber turned the taxi industry on its head. It allows anyone with a smartphone to drive their own personal vehicle like a taxi. It then connects these drivers with folks looking for a ride.
But Uber's business has been a money furnace since it IPO'd…
[Attention] RiskHedge Chief Investment Officer Chris Wood reveals how investors can capitalize off these stocks primed to enter "The 5X Phase."
It hasn't turned a profit. And Uber burns through cash quickly.
In 2019, Uber raked in $14 billion in fares… yet it lost $8.5 billion. In other words, the company was losing 61 cents on every dollar of revenue.
Also, when Uber invented ride-hailing, it had the market all to itself.
Then dozens of "copycats" popped up…
Depending on where you live, you can hail a cab from Lyft (LYFT), Grab, Didi, Juno, Ola, or Taxify.
Fierce competition meant Uber couldn't raise the prices of its rides. That would forfeit customers and market share.
So, it kept burning through cash, trying to outspend the competition. It was a race to see who could lose the most money.
These ride-hailing apps survived through "donations" from some of the world's richest people…
Softbank, the world's largest venture capital firm, invested $20 billion into ride-hailing firms in 2018.
Another Japanese VC investor, Rakuten, wrote a check to Lyft for $500 million.
Sequoia Capital and Fidelity invested around $700 million in Uber's rival, Bolt.
These unprofitable companies stayed afloat because big players were paying their bills.
But the market turned against money-losing companies over the past year.
And the same investors who were throwing money at ride-hailing firms are tightening their belts.
In April, Softbank announced it would reduce spending. It needs to cover its massive losses from investing in profitless firms. And others are cutting back too. Investments in US tech start-ups plunged 25% over the last three months. That's the steepest fall since 2019.
It's a huge problem for ride-hailing firms. Funding has dried up. For the first time ever, they must stand on their own two feet. They have to turn a profit or else go out of business.
It's a race to see who can generate the most cash…
And that's a race Uber is winning.
Uber CEO Dara Khosrowshahi laid out his game plan in an email to employees back in May.
Uber would freeze hiring, cut marketing costs, and exit money-losing markets.
The company is now focused on turning free cash flow (FCF) positive. In short, that means the business was raking in more cash than it was spending
Last quarter, Uber turned free cash flow positive for the first time ever…
It generated $670 million in cash over the past 12 months.
That's a HUGE turnaround from the $2.5 billion it burnt through during the same period last year.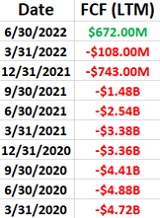 I was against buying Uber back in 2019 for a simple reason: there was no sign it could ever generate a profit.
I even said, "Uber will never make money."
Turns out… I was wrong.
Uber has turned the corner.
Uber's stock has likely bottomed and will stage a big rally over the next year.
Uber just turned cash-flow positive. That's one of the best things that can happen to a stock.
Tesla (TSLA) turned FCF-positive on January 29, 2020: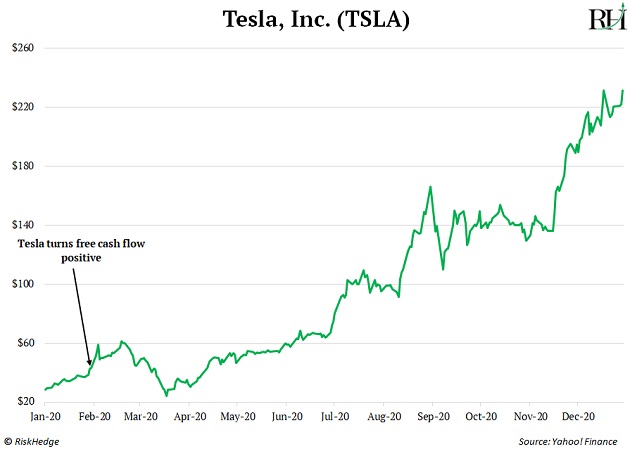 It skyrocketed 700% in the next year.
Amazon (AMZN) went FCF-positive in 2002. Investors had a chance at 400% over the next two years.
Decades of stock market history tell us once disruptors show they can make real money, their stocks usually take off.
Uber looks like it bottomed and is headed much higher. It's crushing its largest competitor, the still "unprofitable" Lyft.
Summing up…
Uber just achieved record profits and revenues… but its stock is trading near its cheapest valuation EVER.
It trades at less than 2X sales today. It sold at 4.5X sales this time last year.
In other words, we have the chance to buy a business performing better than ever—that's more profitable than ever—at its cheapest valuation in history.
When I wrote about it in 2019, I called it dumb for a reason. Uber was over-hyped. A great idea but with bad execution. An endless money pit.
Now Uber is printing money, and investors are taking note.
I expect Uber to double over the next year.
Stephen McBride
Editor — Disruption Investor