Are your stocks ahead of schedule?
One of the biggest misconceptions about the market is that all stocks move together.
Many investors assume all stocks top at roughly the same time… and bottom in unison.
But that's simply not true.
For example, during the last financial crisis, Amazon (AMZN) stopped falling in November 2008. The S&P 500 wouldn't bottom out until March 2009… four months later.
By then, AMZN had already rallied more than 70%. It would go on to soar 10,800% over the next 13 years.
The same thing happened with Advanced Micro Devices (AMD). Like Amazon, AMD bottomed out in November 2008. By the time the market stopped falling in March, AMD had already rallied 30% off its lows.
Over the next three months, AMD soared 131%—more than double what the S&P 500 returned over the same stretch.
This is why I'm always on the hunt for stocks that are ahead of schedule.
Simply put, the further along a stock is into its bottoming process, the better shot it has at becoming a market leader.
And that brings us to our Trade of the Week: Flywire Corporation (FLYW).
Flywire is a software company that offers secure and streamlined global payment solutions.
FLYW caught my eye a few months ago for a simple reason: It bottomed out last June… four months before the S&P 500 and Nasdaq stopped falling.
Since then, FLYW has put in a series of higher lows and higher highs. It's also trading above its rising 10- and 30-week moving averages.
In short, FLYW hasn't just bottomed. It's well into a new uptrend: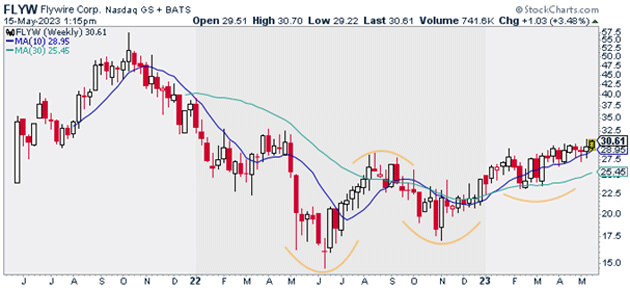 Source: StockCharts
I also like what I'm seeing from FLYW when we turn to its daily chart.
Below, you can see FLYW reclaimed its 200-day moving average in late 2022. A couple months later, its 200-day moving average turned higher… signifying a major change in character for the stock.
FLYW is also trading above its rising 20- and 50-day moving averages. And we've seen huge buying volume pour into the stock in recent months: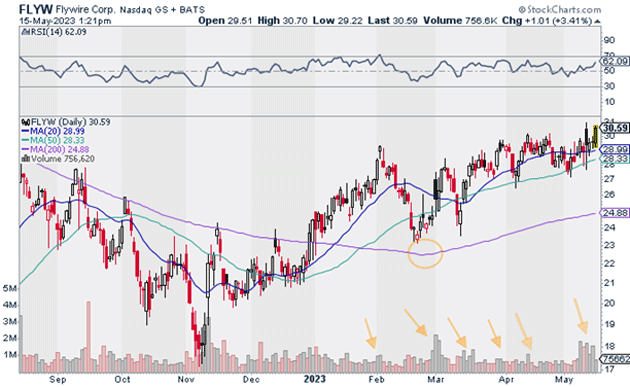 Source: StockCharts
Those big buying volume bars I've highlighted are what I like to call "footprints." They tell me big insitutions are loading up on the stock. These are the market participants we want to invest and trade alongside.
I suggest buying a half position in FLYW today. I'm targeting $45 for FLYW over the next 12 to 18 months. That gives us a potential upside of 50%, and a risk-reward ratio of 4:1 on this trade.
Action to take: Buy a half position in FLYW at current market prices.
Risk management: Exit your position if FLYW closes below $27.
Justin Spittler
Chief Trader, RiskHedge